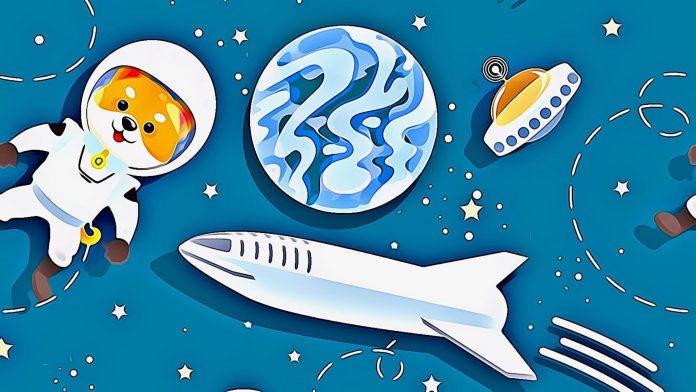 Dogelon Mars (ELON) is a meme coin that has been gaining popularity in recent months. The token is named after the dog of Elon Musk, Dogecoin co-founder Billy Markus, and Dogecoin mascot Floki Inu.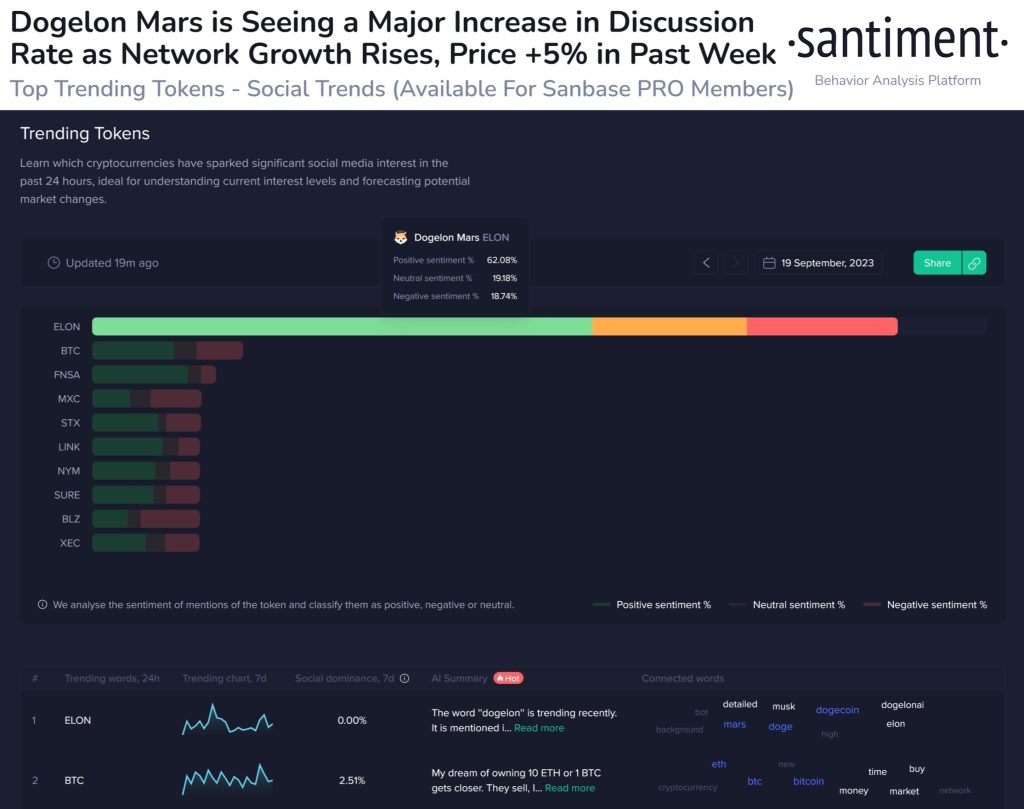 ELON is the fastest rising asset in crypto, ahead of Bitcoin (BTC), Chainlink (LINK), and Bluzelle (BLZ), in terms of discussion rate percentage increase. The token has also been seeing recent spikes in network growth, indicating new addresses are being generated at an increased rate.
There are a few reasons for Dogelon Mars' recent surge in popularity. First, the token has benefited from the overall positive sentiment in the crypto market. Second, ELON has been promoted by several high-profile figures. Third, the token has a strong community following on social media platforms like Twitter and Telegram.
Dogelon Mars is still a relatively new token, and it is important to note that the crypto market is highly volatile. However, the token's recent performance and strong community support suggest that it is a project to watch in the coming months and years.
Here are some of the factors that could contribute to Dogelon Mars' continued growth:
Increased adoption:

As more people learn about Dogelon Mars and its potential, the token is likely to see increased adoption. This could lead to higher demand and prices.

New developments:

The Dogelon Mars team is actively working on new developments, such as the launch of its own decentralized exchange (DEX) and non-fungible token (NFT) platform. These developments could make the token more attractive to investors and users.

Positive sentiment in the crypto market:

If the overall sentiment in the crypto market remains positive, Dogelon Mars is likely to benefit. This is because investors are more likely to invest in risky assets when the market is on the rise.
Of course, there are also some risks associated with investing in Dogelon Mars:
Volatility:

The crypto market is highly volatile, and Dogelon Mars is no exception. This means that the price of the token could fluctuate wildly, even in the short term.

Newness:

Dogelon Mars is still a relatively new token, and it is not yet clear how well it will perform in the long term.

Competition:

There are many other meme coins and cryptocurrencies on the market, and Dogelon Mars will face competition for users and investors.
Overall, Dogelon Mars is a promising project with a lot of potential. However, investors should carefully consider the risks before investing.
Disclosure: This is not trading or investment advice. Always do your research before buying any cryptocurrency or investing in any service.
Follow us on Twitter @nulltxnews to stay updated with the latest Crypto, NFT, AI, Cybersecurity, Distributed Computing, and Metaverse news!
Image Source: velishchuknatali/123RF // Image Effects by Colorcinch