Enjin Coin has been one of the top performers today on Crypto.com, registering a 12% gain in the past 24 hours. Let's take a closer look at what Enjin Coin (ENJ) is and why the price is rising.
What Is Enjin Coin?
Founded in 2009, ENJ is the ERC20 token powering the Enjin Platform. The goal of the Enjin Platform is to:
"make it easy for individuals, businesses, and brands to use non-fungible tokens (NFTs)."
Moreover, ENJ is used to back the value of NFTs minted on the Enjin platform. Enjin is currently focusing on the NFT side of things as anyone can now buy, sell and trade NFTs on the platform. The goal is to make NFT accessible to anyone and make it easy for everyone to participate in the NFT ecosystem.
Why Is Enjin Price Rising?
Enjin's most recent announcement has to do with the $100M Metaverse Fund.
Enjin said: "Today, we formalize our approach to building out the cross-chain #Metaverse and our NFT ecosystem in a more systematic way."
🌌Announcing the $100M #Efinity Metaverse Fund🌌

At Enjin, we believe the Metaverse should be decentralized.

Today, we formalize our approach to building out the cross-chain #Metaverse and our NFT ecosystem in a more systematic way: https://t.co/GfCMao5sTn pic.twitter.com/Se4iViW04L

— Enjin (@enjin) November 4, 2021
As all the media hype surround Facebook's rebrand into Metaverse, Enjin believes that the Metaverse should be decentralized. That's why they've built Efinity, a next generation blockchain for NFTs.
The Efinity Metaverse fund aims to help developers working on metaverse, gaming, NFTs, dApps, and a host of other projects to integrate into the Enjin decentralized ecosystem.
The Enjin team will be looking at projects to invest in and potential adopt on their own platform.
Forking over $100M to support developers working on their platform is a huge announcement for the Enjin community. It's no surprise that Enjin's price increased as a response to the newly created fund.
Enjin Coin Price & Tokenomics
Enjin has a total market cap of $2.85B placing it the top 61 largest crypto on the market.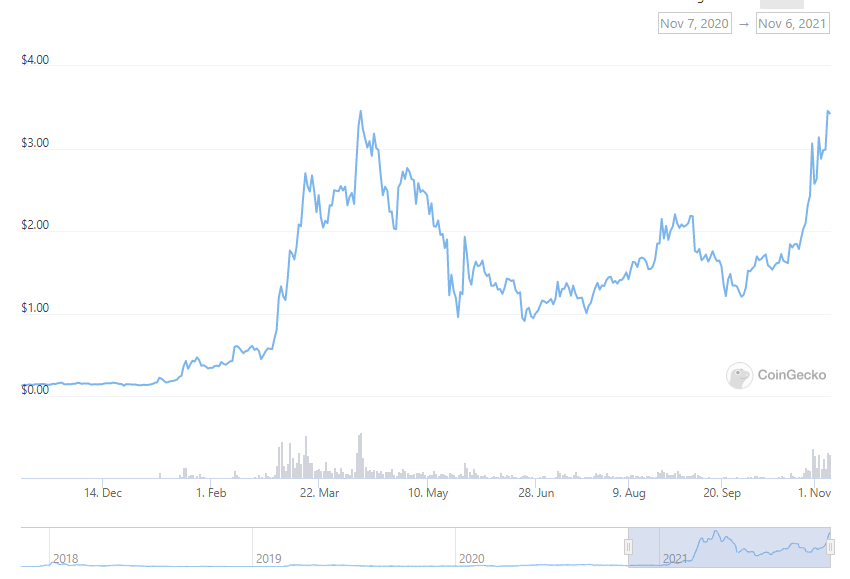 Looking at the 1 year chart we can see that Enjin's previous all time high was in May. This is an extremely critical point in Enjin's market as the current price of $3.42 is a new all time high for ENJ.
If ENJ can hold support at this level and continue trading sideways that would be a good sign that Enjine is ready for takeoff. However, if the current price dips below $3.3 we might see short term bearish momentum.
Overall Enjin is an extremely reputable project that has been around since 2009, even if you lose in the short term the long term outlook of ENJ is extremely positive.
Follow us on twitter @nulltxnews to stay up to date with the latest cryptocurrency news!
Originally Published on The VR Soldier