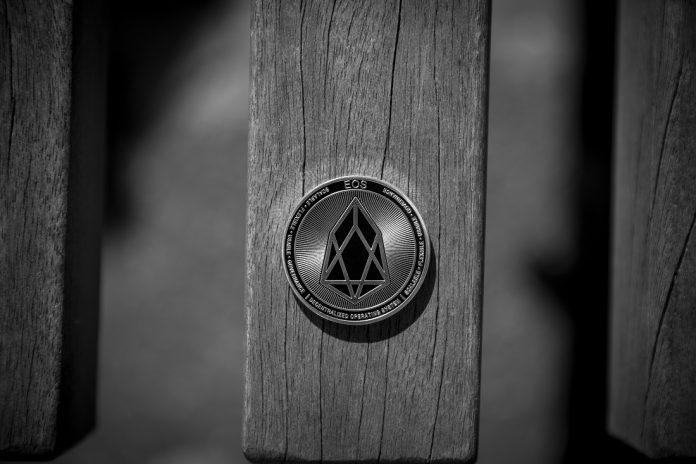 Most of the top crypto markets are currently in the process of moving up again every so slightly. When Bitcoin goes in the green – albeit ever so slightly – the other currencies will usually follow suit pretty quickly. For the EOS price, these current gains can prove to be crucial. Its "flippening" with Litecoin in terms of market cap will continue for quite some time to come, it seems.
EOS Price Mounts Another Mini Surge
The past week and a half have been relatively positive for EOS watchers. The value of this currency has risen significantly, and it appears most of the bearish pressure can be negated without too many problems. There is also the recent push to the market cap top 4 lately, although EOS has dropped to #5 again after Litecoin noted some higher quick gains. It seems likely both currencies go one-up one another for some time to come.
Over the past 24 hours, the momentum in cryptocurrency has turned from semi bearish to semi bullish. Such shifts tend to occur quite regularly, although this is a pretty interesting development, all things considered. For the EOS price, it means a 0.8% gain can be noted in both USD and BTC value. One EOS is now valued at $2.82 or 0.000777 Bitcoin. Both levels are seemingly sustainable based on the current trading volume.
Behind the scenes of the EOS ecosystem, it would appear a new partnership has been formed between Unlimited Tower and EOS Park. Both entities partner to build better API and full node endpoints for the items and user activities provided by Unlimited Tower. It is a pretty significant development for this alternative currency itself, as EOS continues to grow and evolve at an accelerated pace.
We are thrilled to collaborate with @eospark_com for providing the world class Full node EOS endpoints for our items and user activities! We can't wait to work with industry leaders and game changers! #BuiltOnEOS #EOS #Explorer #NFT #UTG #Pandahttps://t.co/a7BmfIxGSU

— Unlimited Tower ⚔️ (@UnlimitedTower) February 15, 2019
Secondly, it would appear a new gaming dApp built on EOS is getting some attention. Known as Ready Player One – nothing to do with the actual movie or book – it offers Monopoly-esque gameplay elements. It is a game which has been in development for some time now. Efforts like these can make more people aware of EOS and how its blockchain can function. Not all dApps have to be gambling related or DExes, after all.
#Dapps #Blockchain #EOS
The EOS blockchain has launched an interesting Dapp, Ready Player One. It is a monopoly-type Dapp with a variety of beautifully played games. I have to say that after more than half a year of development, EOS is not just a game of gambling type, EOS!👍👍 pic.twitter.com/t5MBhE5HKC

— DappOnline.io (@DappOnline) February 15, 2019
For traders and speculators who are not too bothered about the current market value of EOS, there are some interesting arbitrage opportunities to take note of as well. Different platforms maintain a variable price for EOS at this time, which can make for some easy profits along the way. Considering how most traders yield a 1% profit or more, there is a good reason to exploit these price gaps for profit.
#EOS
Buy at #Gobaba and sell at #Bitfinex. Ratio: 1.28%
Buy at #Poloniex and sell at #Bitfinex. Ratio: 1.31%
Buy at #Gate.io and sell at #Bitfinex. Ratio: 1.54%
Buy at #Koineks and sell at #Bitfinex. Ratio: 1.67%#bitcoin #arbitrage #arbitraj #arbingtool https://t.co/xiFUPzcOcC

— Arbing Tool (@ArbingTool) February 15, 2019
Based on all of these developments and circumstances, it would appear as if this may be the beginning of a new EOS mini bull run. Although it is still too early to say so for sure, these developments can all impact the price in a positive manner. Unfortunately for EOS and other currencies, that will primarily depend on how the Bitcoin price evolves over the coming hours and days. Anything can happen ahead of a weekend, after all.
---
Disclaimer: This is not trading or investment advice. The above article is for entertainment and education purposes only. Please do your own research before purchasing or investing into any cryptocurrency.
Image(s): Shutterstock.com