Ethereum has remained a prominent player with its versatile applications and robust ecosystem. However, recent data points to a significant surge in Ethereum-related discussions and on-chain activity, indicating heightened interest and engagement within the community.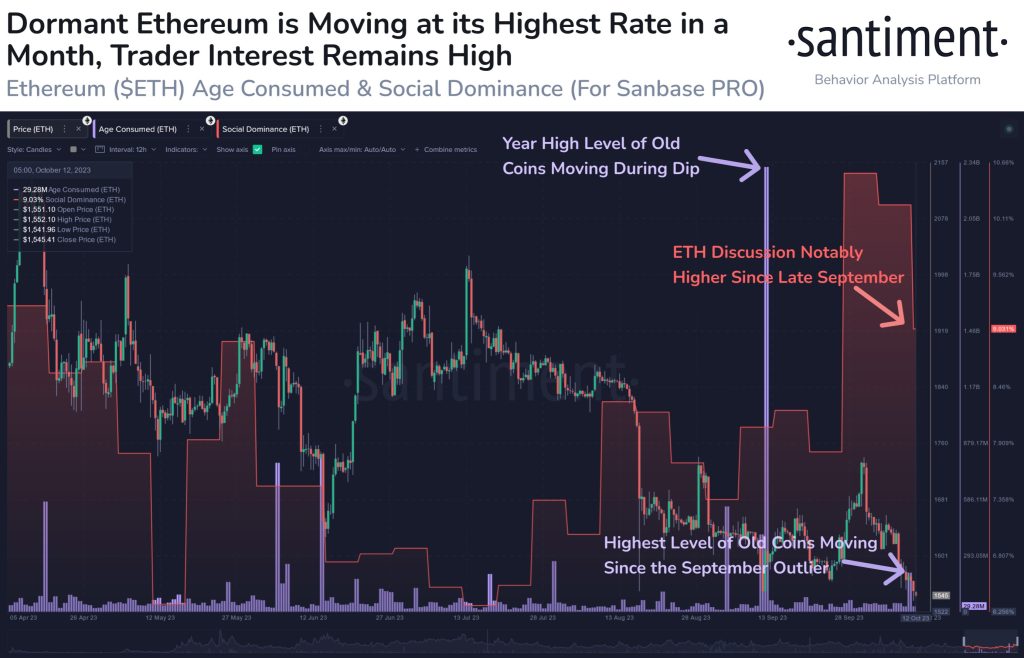 Ethereum Discussion Spikes
The rate of Ethereum discussions on popular platforms like X, Discord, Telegram, Reddit, and 4chan has experienced a notable uptick since late September. This surge in conversations reflects the growing enthusiasm surrounding Ethereum's development, upgrades, and potential price movements. 
But it's not just discussions that are on the rise. The Age Consumed metric, which measures the movement of previously dormant Ethereum, has seen a spike, indicating that long-held ETH is being transferred. This suggests that Ethereum holders are not only actively engaging in discussions but also making on-chain moves.
What's driving this increased activity? Several factors could be contributing to the Ethereum buzz. First, Ethereum's network upgrades, including Ethereum 2.0 and EIP-1559, have garnered significant attention due to their potential to improve scalability, security, and transaction fee efficiency. These developments are crucial for Ethereum's long-term success.
Furthermore, the overall growth of the decentralized finance (DeFi) sector, non-fungible tokens (NFTs), and various other blockchain applications built on Ethereum has likely contributed to the surge in discussions. Ethereum's blockchain serves as the backbone for many of these innovative projects, making it a focal point of interest and conversation.
Final Thoughts
As Ethereum enthusiasts eagerly anticipate the network's evolution and upcoming upgrades, the increased chatter and on-chain movements are a testament to the vibrant and dynamic nature of the Ethereum community. These indicators suggest that Ethereum's role in the crypto space is far from fading and continues to evolve, drawing both existing and new participants into the fold.
Disclosure: This is not trading or investment advice. Always do your research before buying any cryptocurrency or investing in any services.
Follow us on Twitter @nulltxnews to stay updated with the latest Crypto, NFT, AI, Cybersecurity, Distributed Computing, and Metaverse news!
Image Source: iloveotto/123RF // Image Effects by Colorcinch