Ethereum, the second-largest cryptocurrency by market capitalization, has recently seen its price tumble to $1,570, raising concerns and sparking debates within the crypto community. The drop in Ethereum's value has led to a growing polarization among traders, as market sentiment becomes increasingly divided.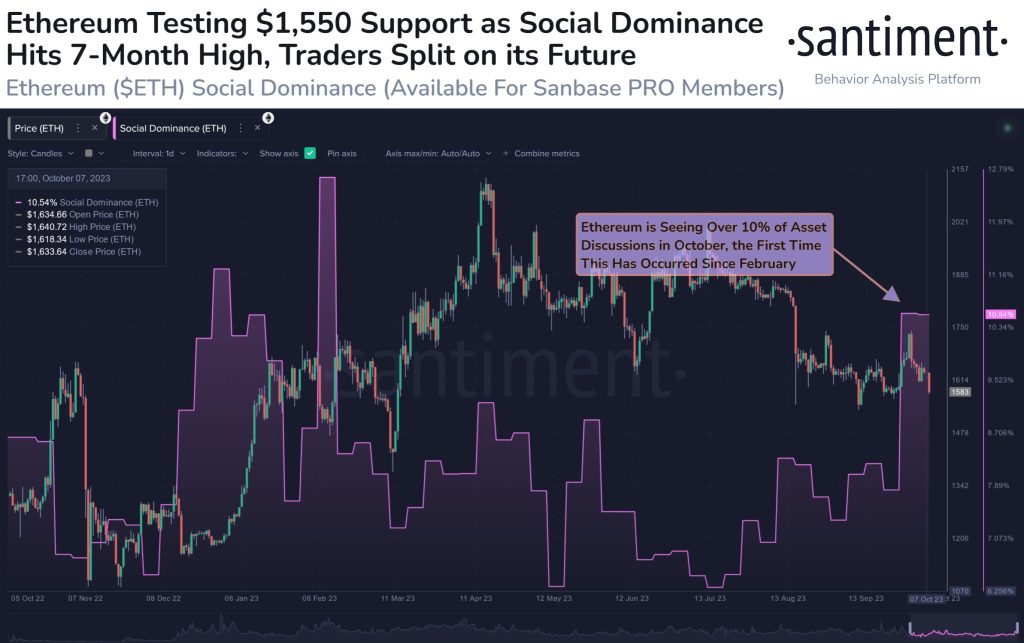 Ethereum Historical Low Fees
One notable aspect of Ethereum's current state is the historically low fee levels it is experiencing in 2023. While this may be frustrating for traders and users accustomed to higher fees, it could also be seen as a sign of an impending turnaround. Low fees can attract more users and make the Ethereum network more accessible, potentially leading to increased adoption and demand.
Increasing Bearish Sentiment
Another intriguing development is the rising bearish sentiment surrounding Ethereum. While bearish sentiment can be concerning, it is often a contrarian indicator. In other words, when a significant portion of the market is bearish, it can be a signal that a market bottom is near. This sentiment shift can precede a change in market dynamics, potentially leading to a bullish reversal.
Ethereum Discussion Spikes
The importance of Ethereum is reflected in its level of discussion within the crypto community. In October, Ethereum accounted for over 10% of the overall discussion related to cryptocurrency assets. This marks the first time Ethereum has achieved such prominence since February, indicating that despite its recent challenges, it remains a central topic of interest and conversation.
Final Thoughts
In conclusion, Ethereum's recent price drop and the polarizing sentiment surrounding it should not be dismissed as merely negative developments. Instead, they can be viewed as potential opportunities for the cryptocurrency and its community. The combination of low fees, rising bearish sentiment, and increased discussion could set the stage for a notable turnaround in Ethereum's fortunes. As always, caution and diligence should guide any investment decisions in the volatile world of cryptocurrencies.
Disclosure: This is not trading or investment advice. Always do your research before buying any cryptocurrency or investing in any services.
Follow us on Twitter @nulltxnews to stay updated with the latest Crypto, NFT, AI, Cybersecurity, Distributed Computing, and Metaverse news!
Image Source: forplayday/123RF // Image Effects by Colorcinch