In the fast-paced world of cryptocurrency, news travels at lightning speed, and its impact can be equally swift. Recently, a false report from Cointelegraph claiming that the SEC had approved the iShares Bitcoin Spot ETF sent shockwaves through the market, leaving a trail of financial casualties.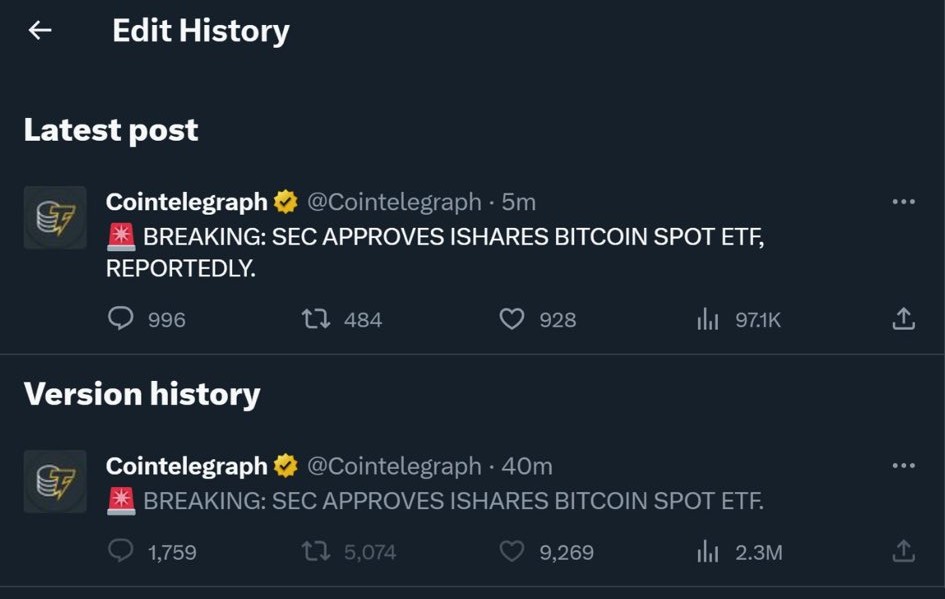 FOMO, or the "Fear of Missing Out," is a well-known phenomenon in the crypto space, and it reared its head once again. Many users rushed to invest in the iShares Bitcoin Spot ETF following the news, hoping to capitalize on what they believed was a game-changing development.

One particular whale in the crypto sea demonstrated the dangers of acting on unverified information. This individual spent a substantial $613,201 in USDC to acquire 20.5 Wrapped Bitcoin (WBTC) tokens. The rapid response to the news was astounding. However, as the truth emerged and the news was debunked, the same whale sold their WBTC for $563,970, incurring a staggering loss of $49,000 in a mere 10 minutes.
JUST IN: $65 million $BTC liquidated within minutes following fake reports that BlackRock's Spot #Bitcoin ETF was approved. pic.twitter.com/Uxb6pCfhdu

— Watcher.Guru (@WatcherGuru) October 16, 2023
The repercussions of this misinformation didn't stop there. The crypto market, known for its volatility, saw $65 million worth of Bitcoin liquidated within minutes as a result of the fake reports. Traders who had entered positions based on the false news found themselves in turbulent waters as the market corrected itself.
This incident serves as a stark reminder of the importance of verifying information in the cryptocurrency world. It's a space where misinformation can lead to swift and significant financial losses, and the onus falls on both traders and news outlets to exercise caution. In the end, it's a valuable lesson in the age-old wisdom of "trust but verify," especially in the ever-evolving landscape of digital assets.
Disclosure: This is not trading or investment advice. Always do your research before buying any cryptocurrency or investing in any services.
Follow us on Twitter @nulltxnews to stay updated with the latest Crypto, NFT, AI, Cybersecurity, Distributed Computing, and Metaverse news!