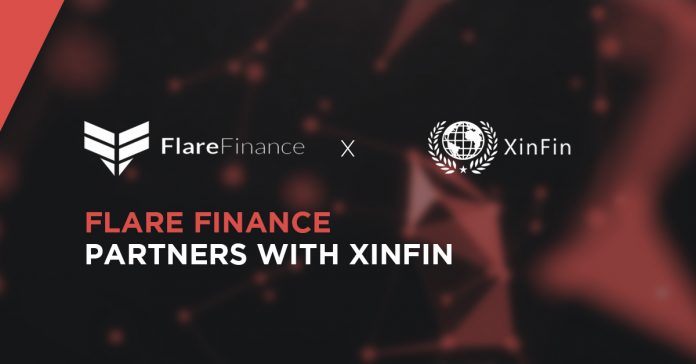 Strategic partnerships are a good way to expand the horizons of the crypto universe and create unified ecosystems. The partnership between Flare Finance and XinFin Network is aimed to achieve the same purpose by making them truly interoperable.
A bidirectional bridge will be created that enables free flow of assets from one blockchain to another. For example, XDC (the native token of XinFin) could be wrapped and sent to Flare Finance, and on the other hand, XinFin Network could bring F-Assets to its platform.
Flare Finance will be supporting XDC across all the six products to be released by Flare Finance. XDC holders would be able to mine the YFIN token using FlareFarm or use XDC as collateral to get loans from FlareLoan and earn a variable APY. XDC holders can also leverage Flare Finance's other products and generate passive income.
For the mass adoption of cryptocurrencies and for DeFi to become a viable alternative of traditional banks, interoperability of different blockchains would be the key. Average users cannot be expected to use ten different products to replace one bank account. Flare Finance with its range of partnerships is on the right track to become the centre of the DeFi ecosystem.
Flare Finance is the first DeFi platform built on Flare Network supposed to go live a month after Flare Network. The Flare Network is a distributed network running the Avalanche consensus protocol adapted to the Federated Byzantine Agreement and leveraging the Ethereum Virtual Machine. It aims to unlock the value of assets on blockchains lacking smart contracts.
Flare Finance will operate as an independent DeFi platform on Flare Network with its arsenal of six products FlareX, FlareWrap, FlareFarm, FlareLoans, FlareMutual, and FlareUSD.
XinFin Network is a hybrid blockchain network that focuses on international finance and trade. The company offers a highly scalable, independent, secure, and commercial blockchain architecture. This architecture is considered to be better than the existing Ethereum network.
The blockchain is powered by XDC01 protocol built using XinFin's hybrid blockchain architecture to tackle the inefficiencies in global financing and trade. The company streamlines real-time settlements and enables cross-border smart contracts.
XinFin offers a faster and more scalable solution to Ethereum Network with the capacity of 2000 TPS with low fees. The average time of 2 sec to process a transaction is also applaudable considering its low energy usage of 0.0000074 TWh. The protocol plans to add Private Chain Generation, Hardware Integration, and EVM Parallelization in its services shortly.
XinFin Network's target market clearly indicates that this partnership with Flare Finance could become huge for both networks. Flare Finance currently enlists several valuable assets such as FLR, XRP, LTC, XLM, DOGE, ALGO, $ADA, SHIB, SANSHU, TEL, CEL, BNB, CAKE, and XDC will be the latest addition to the mix. With a wide range of assets and their respective communities ready to participate in the DeFi space with Flare Finance, the future seems bright for Flare Finance.
Will it become the best DeFi network out there or will it face competition for the present leaders? This partnership with XinFin Network only makes its case stronger to become the best DeFi platform.