There's never been a better time to start using a crypto trading bot than RIGHT NOW. The market has been trading sideways for quite some time which is where trading bots shine the most. The creators of the HaasBot have recently rolled out their drag-and-drop visual algo editor that allows anybody to quickly create functional crypto trading algorithms. You no longer have to learn complex programming languages to create custom trading strategies. Let's take a look at what HaasBot is and how you can take advantage of their latest features.
Who is HaasOnline?
HaasOnline develops and maintains advanced cryptocurrency trading bot software and related technologies. It was started back in 2014 by two brothers Stephan and Quintus de Haas from the Netherlands. After gaining popularity on a well-known crypto forum, it earned the nickname HaasBot, which it's now commonly referred to by thousands of users. Their software has since evolved to a full-fledged trade automation platform called HaasOnline Trade Server with several key components that distinguish them from competing products.
What are some of HaasOnline Trade Server's features?
HaasOnline saw significant growth during the infamous crypto boom of 2017, when interest in cryptocurrency rose to extraordinary heights. That's about the time that HaasOnline released the third version of their flagship product, HaasOnline Trade Server, and with it came an unprecedented set of features.
HaasOnline Trade Server is comprised of several key components, let's take a look at a few of their most popular features.
A new generation of crypto trading bots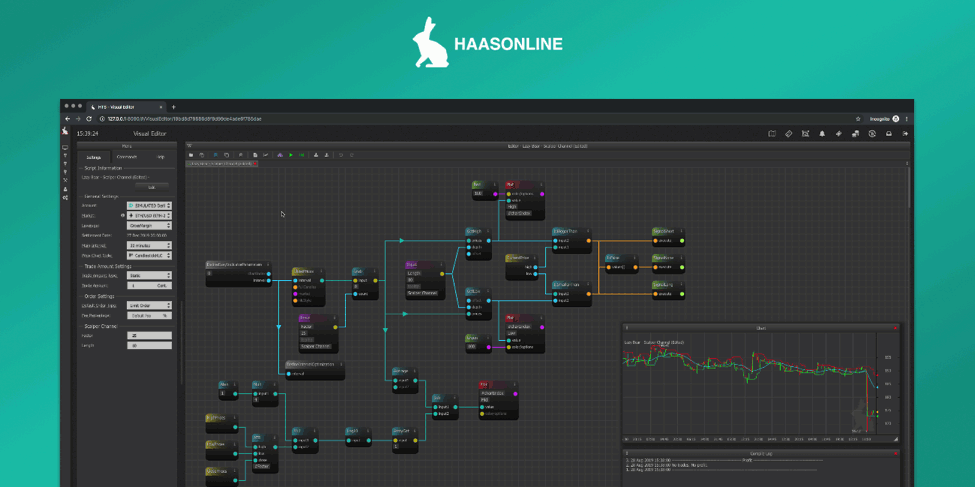 Unlike traditional markets that close for short periods of time, the crypto markets are always open for trading and on hundreds of exchanges. While traditional traders and investors are quite familiar with automated trading, crypto is finally on its way to catching up in popularity. 
Have you ever watched a specific market waiting to enter at the perfect time, but had to run an errand, sleep, or deal with daily life? That's where trade automation from a HaasBot comes into action. Once configured, tested, and ready for live trading a user can deploy trade bots that run autonomously and not having to worry about manually executing orders while sleeping or carrying about daily business. Automated trading allows traders, investors and speculators to step away from monitoring the charts all day because a HaasBot will monitor multiple markets and execute precise trades according to the active strategy.
Using a HaasBot will help a trader take advantage of successful strategies like arbitraging, scalping, flash crash, or even managing their own crypto index fund. Users aren't locked into a few basic exchanges because HaasOnline only partners with reputable exchanges. For instance this allows a user to deploy a Bittrex trading bot strategy with confidence while still having access to dozens of exchanges that support a mix of spot, margin, or leverage trading methods. 
Now users are opting to use the brand new Visual Editor, which allows for the rapid creation of automated trade scripts, instead of using their preconfigured trade bots. This new feature reduces the learning curve in order to create quality trading strategies. It's a great tool for users who have very little programming knowledge or experience, but still want to get the most out of their trading experience.
Optionally, users have access to a text-based editor with intelli-sense that can be used when creating scripts using HaasOnline's updated crypto scripting language known as HaasScript.
HaasScript a scripting language built for crypto automation
While using the visual editor, it's clear that it's designed to improve the speed and ease of script development while creating technical indicators, automated trade strategies, insurances, and safeties to be used with HaasOnline Trade Server. However, the scripts that are generated from the drag-and-drop algo designer are stitched together using the latest version of their automated crypto scripting language, HaasScript.
Users can develop custom technical indicators and automated trading strategies with unprecedented reliability and complexity than ever possible with the current generation of HaasScript. The library comes with over six hundred commands giving traders granular configurations unmet by any competitor.
Putting your trade strategies to the test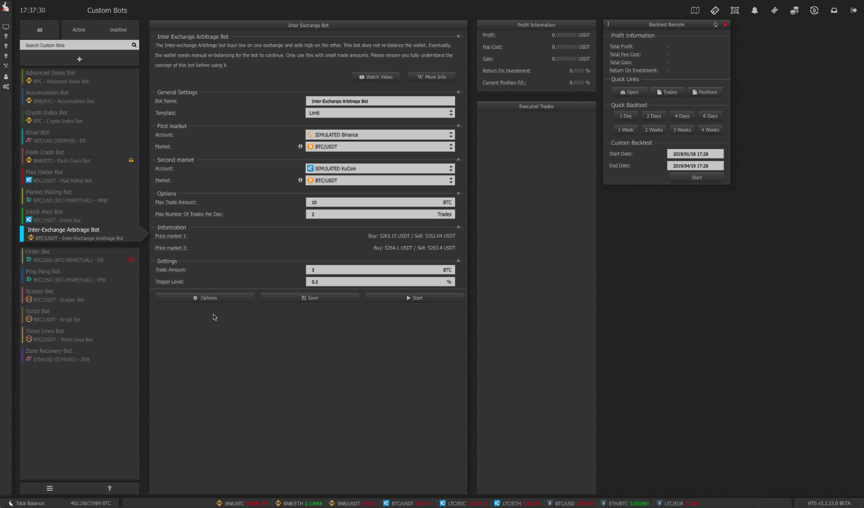 Seeing how strategies perform in real-world conditions should be a requirement before traders even begin to think about trading with their hard earned crypto assets. With the HaasBot traders are able to backtest up to thirty-six weeks of historical exchange data. If a trader is happy with how their strategy performed with historical data, it's time to move on to paper trade with live exchange data and see how the strategy handles current market conditions. 
It should also be noted that the backtesting and simulated trading engines give users the option to change how they want to interpret closing price. With the backtesting engine a user can switch between selecting the close price or the bid & ask price and for the simulated trading engine they have the options of using price reached or price breached.
Robust charting and market data
Their charting library and features essentially work the same way as TradingView. Users can perform technical analysis on selected crypto pairs from dozens of the integrated exchanges or   chart with various popular indicators, including Fibonacci retracements, moving averages, and more. Moreover, users are able to compare a crypto asset's performance across multiple exchanges from a glance using the market compare feature. The market compare feature is especially useful when a trader is looking for arbitrage opportunities with specific pairs on multiple exchanges.
User-centric privacy and security
Their current product is built for privacy centric customers, who not only want complete control of their trades, but their information as well. They're one of the very few software companies that do not track or sell a user's trade activity. HaasOnline has extended account security, including 2FA, IP whitelisting, and auto-logout to help protect a HaasOnline Trade Server instance against unauthorized access. One of the biggest security draws is that HTS does not request withdrawal permission from the integrated exchanges. This helps alleviate some of the worry about crypto funds being stolen, unlike other automated trading platforms that require direct deposits or full access to exchange accounts.
For an overview of the new Visual Editor inside HaasOnline Trade Server, check out the video below:

Disclosure: This is a sponsored article