The price journey of Binance Coin (BNB) serves as a testament to the wealth-generating potential of Initial Coin Offerings (ICOs). In this regard, market watchers suggest the Bitcoin Spark (BTCS) launch could generate immense wealth like BNB did.
The BNB price
Binance Coin (BNB) has experienced a remarkable price evolution since its Initial Coin Offering (ICO). The ICO took place between June and July of 2017, offering 50% of the total BNB supply. The issue price was 1 ETH for 2,700 BNB or 1 BTC for 20,000 BNB, which was around $0.15 per token. By the end of 2017, BNB had already surpassed the $1 mark. Over the following years, BNB's price experienced significant fluctuations but with steady growth. And in 2021, the crypto reached an all-time high (ATH) of over $690.93. Despite being currently below its ATH, the BNB price is still significantly higher than its ICO days.
What is Bitcoin Spark (BTCS)?
Bitcoin Spark is a new blockchain project that crypto enthusiasts believe could be rewriting the history of Bitcoin (BTC). This BTC fork merges innovative features and technologies with a limited supply of 21 million coins to bring a new generation of digital transactions.
Bitcoin Spark's blockchain boasts fast and inexpensive transaction processing, facilitated by a combination of features, including a low block time, high individual block transaction capabilities, and large network of nodes. Additionally, Bitcoin Spark will be able to support smart contracts and decentralized applications (dApps) relevant to diverse use cases. Its blockchain is designed with multiple layers to enhance scalability. The dedicated smart contract layer will have separate execution systems with singular network finality, enabling smart contract deployment in Rust, Solidity, Vyper, and other high-level languages compilable to EVM bytecode. This will allow for a wider variety of developers and smart contract styles on the Bitcoin Spark network, fostering innovation and a larger scope of technical systems.
Moreover, Bitcoin Spark uses its proprietary consensus mechanism, the Proof-of-Process (PoP), which underpins another pioneering concept: decentralized CPU and GPU renting. The PoP will non-linearly reward users for confirming transactions and contributing their processing power to the network. The PoP's reward system, combined with the extensive node network, will enable Bitcoin Spark to accommodate a large number of validators. The Bitcoin Spark team is even set to launch the mainnet along with a user-friendly network validation application compatible with macOS, Linux, Windows, iOS, and Android devices.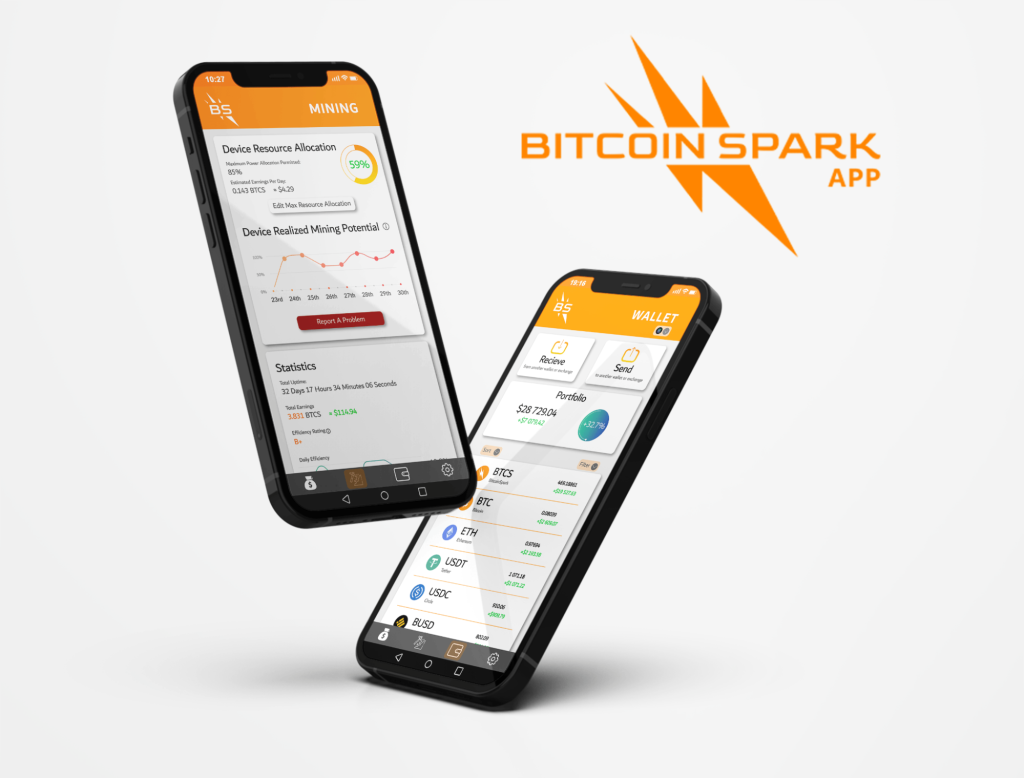 Going further, the Bitcoin Spark network will enable institutions and individuals to use the validators' power for remote computing in exchange for BTCS. Network validators will receive 97% of the revenue earned plus minted BTCS and transaction fees from confirming blocks (mining).
Additionally, Bitcoin Spark will have small spaces for community-policied advertisements on its application and website, which will also be paid for in BTCS. The network participants will receive 50% of the generated revenue plus extra incentives for those involved in ad policing.
The Bitcoin Spark launch
The Bitcoin Spark Initial Coin Offering (ICO) started on August 1st and entered its penultimate phase on November 1st. BTCS is currently selling at $3.5 with a 5% bonus but is expected to launch at $10 on November 30th, denoting a 300% increase for investors in the current level and an 800% for those who joined in the opening phase. Analysts suggest Bitcoin Spark's launch just before the potential bull run in 2024 could catalyze unprecedented price surges in the short term. They also point to the crypto's capped supply, groundbreaking technology, and real-world use cases as indicators of continued price appreciation in the long term.
To get more on Bitcoin Spark:
Website: https://bitcoinspark.org/
Buy BTCS: https://network.bitcoinspark.org/register
Disclosure: This is a sponsored press release. Please do your research before buying any cryptocurrency or investing in any projects. Read the full disclosure here.
Photo by Shubham's Web3 on Unsplash