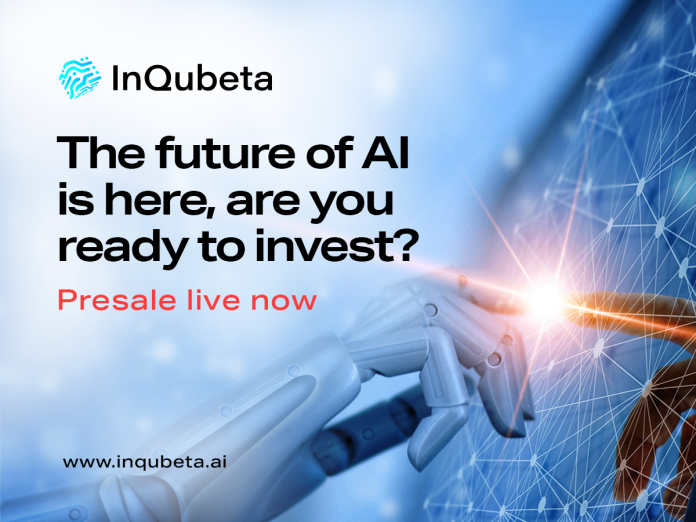 The crypto market is highly dynamic, and sentiments can change rapidly. This may be influenced by a wide range of factors, including the latest trends, economic events, regulations, and news. Recently, an upcoming crypto crowdfunding platform, InQubeta, has garnered strong investor interest amid declining trading volumes for Ripple (XRP) and Near Protocol (NEAR). Its unique value proposition and growing community reflect the increasing demand for new and exciting projects in the crypto space. 
AI investment simplified with InQubeta
InQubeta is the world's first crypto crowdfunding platform that enables fractional investment in AI start-ups using $QUBE tokens, which are deflationary ERC20 tokens. The investment opportunities are minted into NFTs and fractionalized, allowing investors to invest in a way that suits their budget. InQubeta's NFT marketplace allows AI start-ups to raise funds and offer reward and equity-based NFTs. $QUBE token holders can easily invest in the projects they believe in, thus creating a unique ecosystem that benefits both parties.
The QUBE token has a 2% tax on all buys and sells going to a burn wallet, which helps boost the token's value over time, and a 5% sell tax that goes to a dedicated reward pool, allowing investors to earn rewards by staking their tokens. InQubeta's goal is to create a seamless and efficient investment process that benefits both investors and start-ups. This is achieved by leveraging the power of blockchain and smart contracts to create a more transparent, secure, and democratic investment ecosystem that empowers the growth and success of AI technology start-ups.
Since the presale has gone live, there has been a huge demand for $QUBE, with investors from all verticals converging. AI has become quite a topic on social media, and InQubeta is very much aligned with this emerging trend.
XRP and NEAR encounter a drop in their trading volumes
Ripple (XRP) is a digital currency and blockchain technology designed to provide fast, secure, and low-cost cross-border payments. The native asset XRP is used as a bridge currency for international transactions, enabling banks and payment providers to avoid the high costs and delays associated with traditional payment methods. However, Ripple has faced legal challenges from the U.S. Securities and Exchange Commission (SEC) regarding the sale of XRP as an unregistered security. The crypto hasn't performed that well in the last bull run, and the trading volume has been on a consistent decline.
On the other hand, the NEAR token, which powers a decentralized blockchain protocol, has also witnessed declining volumes. It has been in a downtrend for quite some time, as many holders are flipping their investments to new projects like InQubeta. While this doesn't really raise concerns about fundamentals, it shows the impact of the ongoing trend. As a high-performance blockchain platform, NEAR Protocol offers an alternative to other popular blockchain platforms, such as Ethereum. It is positioned to play a significant role in the decentralized application ecosystem.
Closing Thoughts
The crypto market has come a long way since its inception, and its maturity is evident in the increased adoption and recognition by governments and financial institutions worldwide. The market has evolved from being a niche domain to a mainstream asset class with the potential to disrupt multiple industries. Its intersection with AI presents an excellent opportunity for growth, and InQubeta is the best platform to bridge the gap between the two. Early backers of this technology are bound to benefit from this revolution.
Disclosure: This is a sponsored press release. Please do your research before buying any cryptocurrency or investing in any projects. Read the full disclosure here.