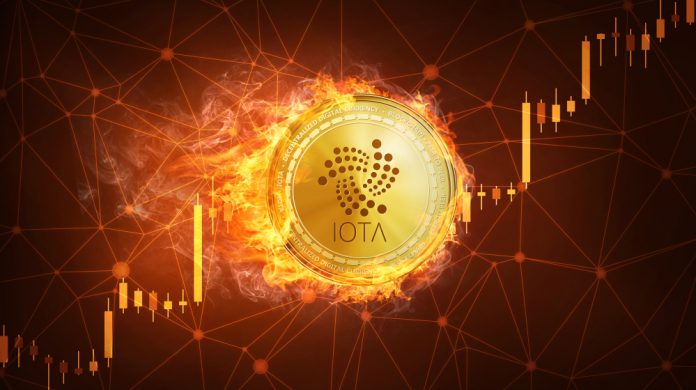 There are still a lot of unknown factors affecting the cryptocurrency industry at this time. With the Bitcoin momentum slowing down a bit, it remains highly unlikely altcoins will see any real changes. Despite this trend. It would appear the IOTA price is still on a roll after very steep gains yesterday.
IOTA Price Rally Continues
These are very interesting times for the cryptocurrency industry as a whole. Although it remains unclear how things will evolve in the days to come, the current momentum seems to allow for altcoin gain first and foremost. iI the IOTA price is an example, things are looking quite good, for the time being. At the same time, these current gains may not be sustainable for very long, as that is usually how cryptocurrency markets evolve.
Over the past 24 hours, there has been a 14.9% increase in the ITOA price. That in itself is pretty surprising, especially when considering how the altcoin noted rather similar gains yesterday. Sustaining growth in the cryptocurrency industry is virtually impossible, especially when it comes to doing so for more than a few hours at a time.
This current IOTA price growth is facilitated by improvements in the MIOTA/BTC ratio over the past 24 hours. Such strong gains are not unheard of either, as a 14.16% increase has been achieved by other altcoins in the past. Even so, it remains to be determined how this situation will involve, primarily because the Bitcoin price appears to be on the verge of declining once again.
The overall cryptocurrency trading volume has not improved in the slightest, although that doesn't necessarily impact iOTA in a negative manner as of right now. More specifically, IOTA has a volume of $62m, which is acceptable for this particular altcoin. It is not necessarily a great amount of volume, although there have been lower totals in the past as well.
Contrary to most other cryptocurrencies, IOTA is primarily trading on Bitfinex. Its USD pair is on top, followed by USDT and BTC pairs found on the Binance exchange. OKEx enters the top four with another USDT pair, followed by Bitfinex's BTC pair. A healthy collection of trading markets, and especially the USD market shows there may be some life left in this IOTA price run.
Today may prove to be a very interesting day for cryptocurrency, albeit it remains to be seen what the next couple of hours will bring. Things are looking somewhat decent, for the time being, but if Bitcoin were to decline in value, the IOTA price will be affected as well. Wiping out most of the current gains is not impossible, as it has happened before.
Image(s): Shutterstock.com