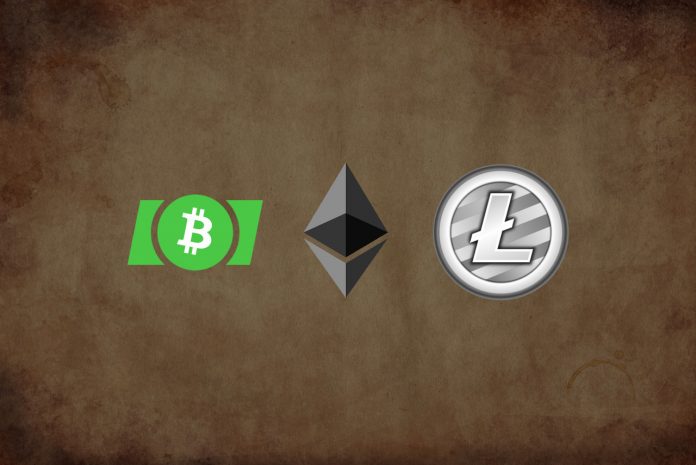 Litecoin Price Analysis (LTC/USD)
The slight recovery of the top cryptocurrency (BTC) has improved the price of many altcoins. LTC/USD pair has today record an intraday gain of 2.7%, after having escalated from $57.29 to $58.93. The bullish move has thereby made traders believe that LTC coin is ready to test the next resistance level near $70.00, especially after breaking $57.00 resistance level.
The pair's price has also formed an ascending triangle with the moving averages, which indicates a high possibility of an extended bullish trend. Besides, a healthy support level was found near $57.09 that later pushed the price higher to a high of $60.14 before embarking to a steady flow below $58.80 level.
Additionally, the technical indicators are also indicating a continuation of upside rally, as the short-term SMA is still above the long-term SMA. The RSI also shows a positive outlook since is above average, which means increased interest in higher price levels.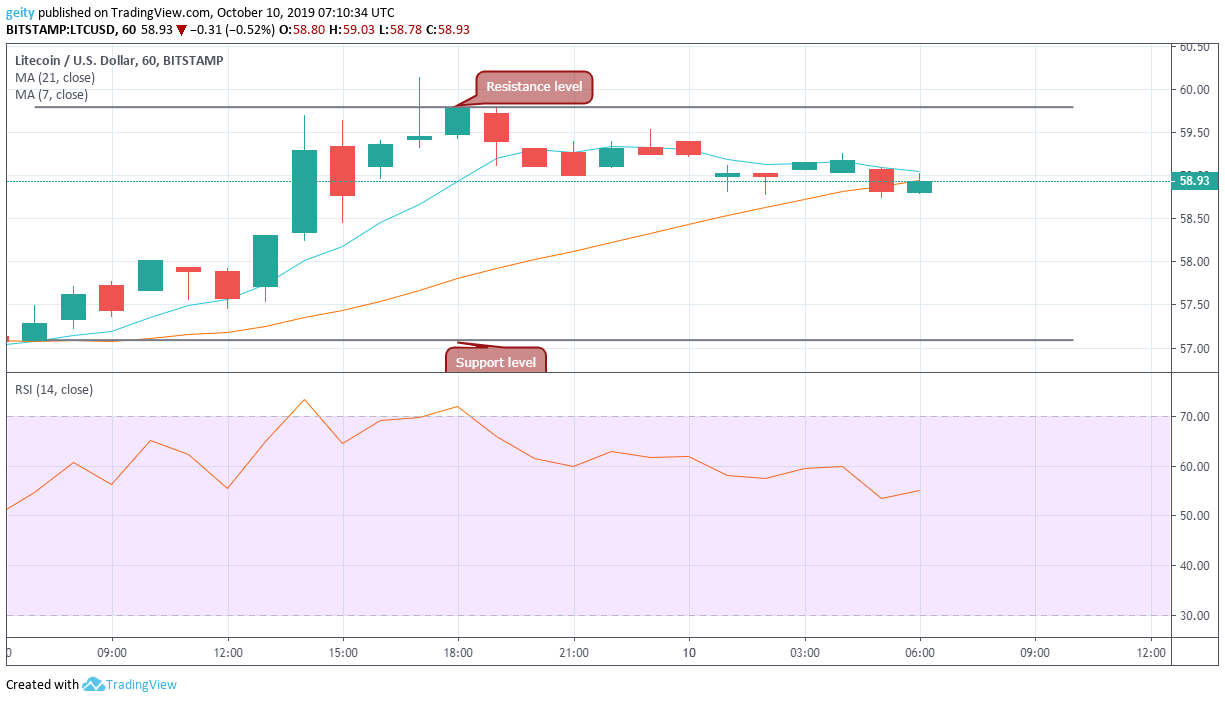 Litecoin Price Prediction (LTC/USD)
Investors should go long after the pair's price manages to break above $59.80. New targets should be stood below $70.00.
Ethereum Price Analysis (ETH/USD)
ETH/USD pair is also on the safer side today as it has given a bullish outlook over the intraday. Investor's sentiments are likely to increase as the coin seemed to have gain trust. ETH/USD pair has an intraday gain of 5.6%, having moved from $182.70 to $193.53. It also managed to overcome $181.15 resistance level and find a new resistance level at $194.00, which is a positive sign for the investors.
The long-term SMA has formed a strong ascending line below the short-term SMA that confirmed an increase in buying pressure. The RSI indicator was also seen hovering above the overbought zone most of the time that signifies that the bulls have full control over the market momentum.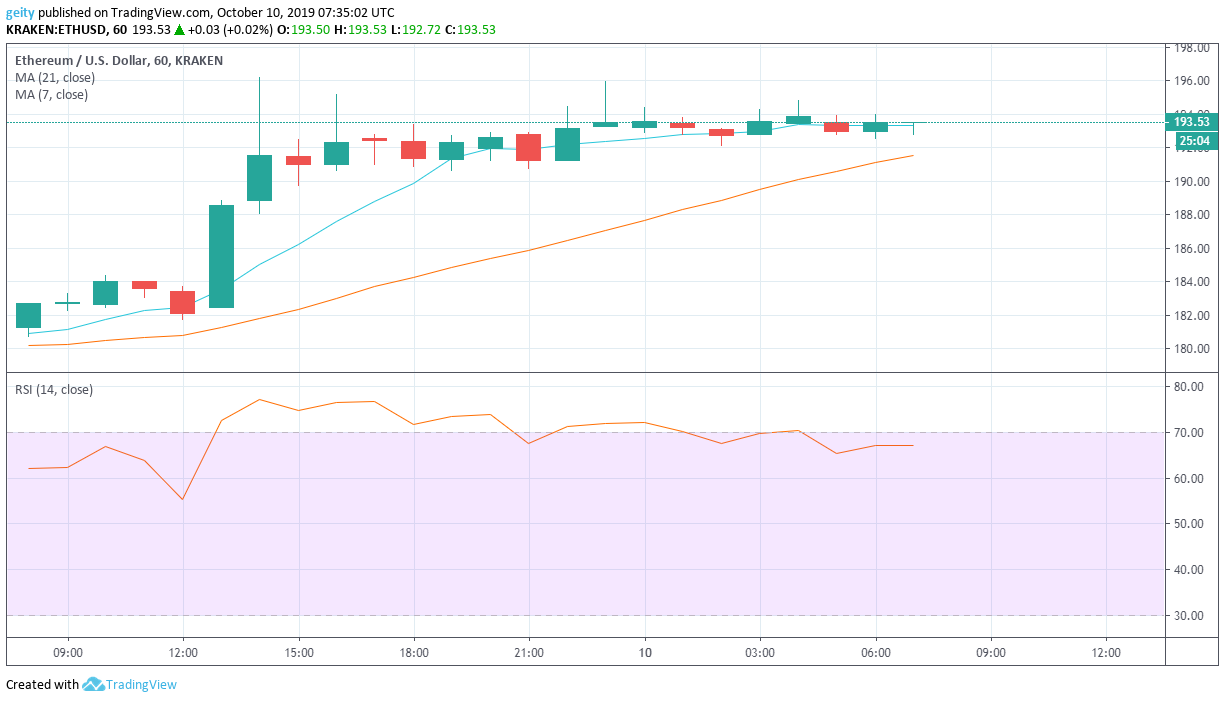 Ethereum Price Prediction (ETH/USD)
Currently, the pair's price is on a consolidation phase below $190.70 level. This might foreshadow incoming breakout in the short-term. A break above $194.00 may correlate gains near $210.00.
Bitcoin Cash Price Analysis (BCH/USD)
BCH/USD pair is on the Bull Run and is up by 2.3% over the last 24hrs. It began the day trading at $232.4 and is currently changing hands at $237.9. The bulls pushed the price to an intraday high of 242.2 before it took a break to trade below $235.4. However, there seemed to be a struggle to break a $240.0 resistance level, and if the bulls succeed, they may have room to run further north.
Looking at the technical indicators, the moving averages have currently met and are seen below the price that shows a high chance for more upside correction. The RSI indicator is also above average that gives positive signs.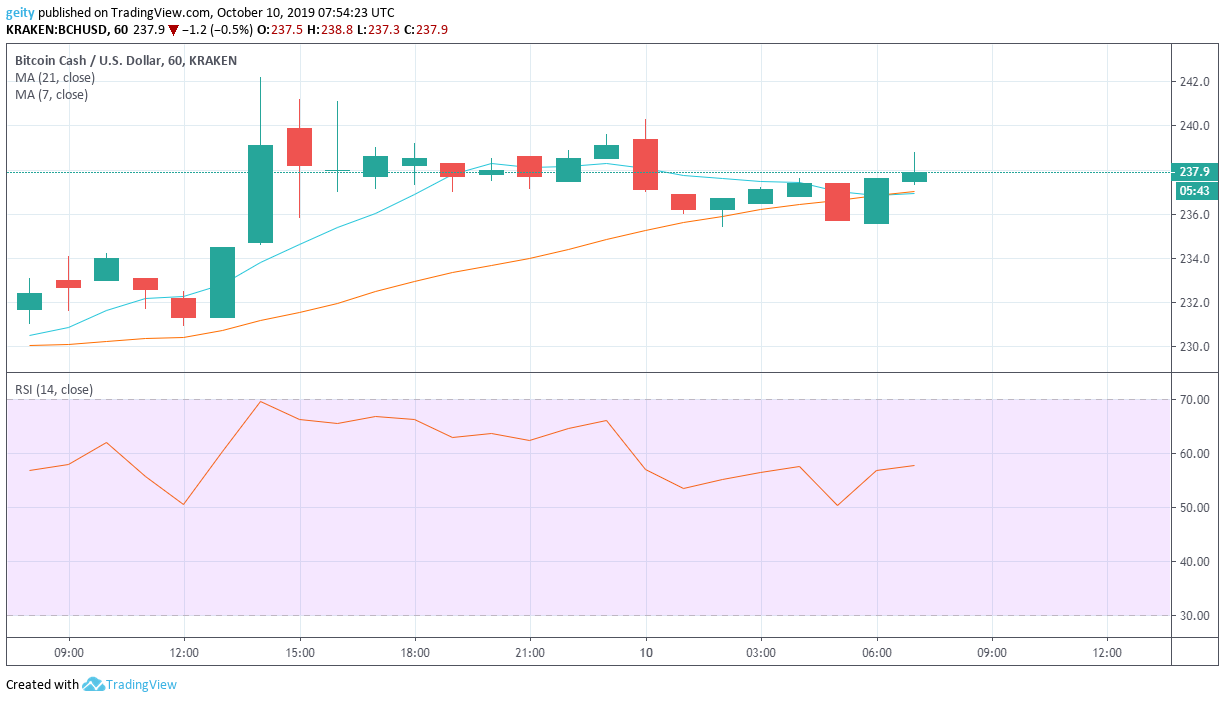 Bitcoin Cash Price Prediction (BCH/USD)
If the RSI indicator maintains its position above level 50 further upside rally near $250.00 is to be expected. However, a break below $235.4 might result in a downside correction near $225.00.
Cryptocurrency Charts By Tradingview
Disclaimer: This is not trading or investment advice. The above article is for entertainment and education purposes only. Please do your own research before purchasing or investing into any cryptocurrency or digital currency.