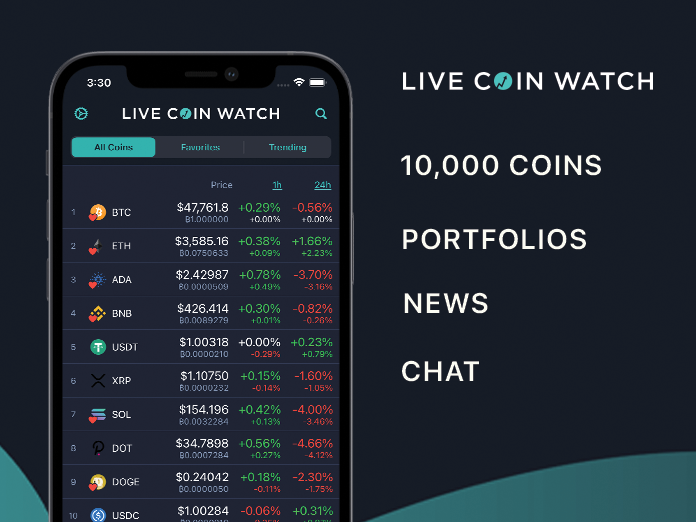 Live Coin Watch is a popular cryptocurrency index and portfolio tracker launched in 2017. For years, users from all over the globe have enjoyed our highly customizable website to help them navigate the wild west of crypto. Today we are pleased to announce the perfect companion to this platform – the Live Coin Watch mobile application. Available now on the Apple App Store, and coming soon to Google Play, it's a must-have for traders looking for the fastest, most reliable data on the go.
With almost 10,000 cryptocurrencies and over 300 exchanges, the LCW platform is the last app you'll need for real-time prices. To name just a few features
Up to 8+ years of historical data

Use our unique base currency feature to compare historical data for any two cryptos

Build a watchlist of your favorite coins so they're never out of reach

Create a free account to sync your watchlists, portfolios, and personalized settings between all your devices.
Just like the website, the mobile app will give you access to unlimited portfolios with multiple tracking options to suit all your needs. Looking for a quick way to track your current bags?  We got you! Need an advanced platform to log each and every transaction? No problem! We have all the tools you need to track your investments, profit and more, with new features being added regularly. In fact, we're so confident that you'll love our portfolios, we even make it easy to leave. Export your portfolio and all its transactions with one click – nobody else does that!
But it's not all just numbers! That's why we've added a built-in news feed right alongside the portfolios. Now you can always stay up to date with the latest stories from top news sites like NullTX. See a story that piqued your interest? Pop into our chat and discuss! We took the popular trend of crypto price bots in telegram and built an entire platform of our own. Tag coins to discuss investment strategies and buying options with other members. Or just hang out and have fun!