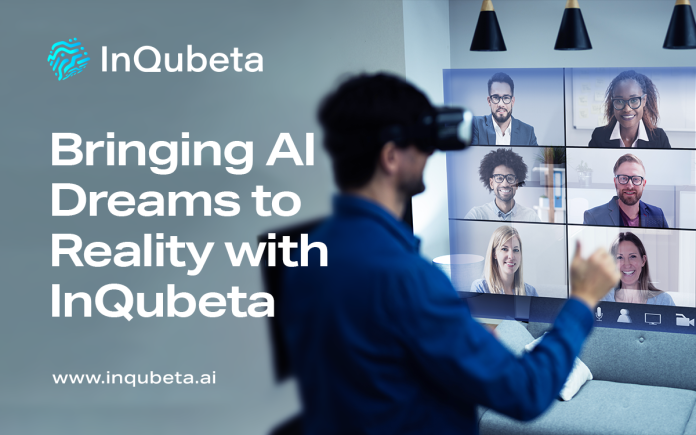 The success of the InQubeta (QUBE) presale is excellent news for developers of blockchain gaming firms and its platform will make it easier for investors to connect with them. InQubeta is the newest player in the artificial intelligence (AI) cryptocurrency space that's already generating massive interest with crypto and mainstream investors. 
The success of platforms like InQubeta impacts the blockchain gaming industry since many rely on AI models to simplify an extremely labor-intensive and time-consuming process. Thanks to AI, smaller companies will be able to create games that can compete with the products put out by major players in the gaming industry like Rockstar Games.
The InQubeta project will send more capital into AI startups that push advancements in the generative AI space. AI software like ChatGPT is already capable of performing many of the tedious coding tasks required to make video games, making it easier for anyone with an interesting game concept to make it a reality. Blockchain gaming companies make it easier to monetize these games and be appropriately rewarded.
InQubeta's (QUBE) presale success is a positive sign for projects that depend on AI
Artificial intelligence is poised to be the next major tech breakthrough as its viability increases. Ideas that once seemed far-fetched like cars with self-driving features are now a reality while concepts like humanoid robots that can perform manual labor tasks are already being worked on.
AI software already plays a substantial role in many industries, and it'll play an even larger role in the next several years. Artificial intelligence is set to be the next major tech breakthrough and most tech experts like Bill Gates agree.
The InQubeta network makes investing in AI as easy as it's ever been, increasing the flow of capital into the industry while allowing a broader range of people to invest in companies that could make them exponential returns.
How it works
InQubeta blockchain was built on the Ethereum Network and it incorporates the use of non-fungible tokens (NFTs) and smart contracts to create its investment process. AI startups raise capital on the QUBE blockchain by making NFTs that denote equity and listing them on the marketplace after going through InQubeta's review process.
Investors can purchase the tokens of any firms they think have the potential to push advancements with $QUBE tokens. They get full ownership of their tokens once sales are concluded and are free to sell them for profits or hold on to them long-term for the opportunity to enjoy exponential returns.
Partnering up with AI startups isn't the only way for investors to make profits in the QUBE ecosystem. Holding on to $QUBE might turn out to be just as profitable given the 1.5 billion cap on tokens and deflationary systems like a burn tax that reduce the supply even more. These systems virtually ensure the long-term price growth of $QUBE. Holders can stake their $QUBE to earn even more tokens, which also helps long-term price growth since the tokens that are staked aren't available for trading, reducing the available volume of tokens and driving prices upward.

Bright future ahead for blockchain gaming platforms
The success of projects that push advancement in AI will help blockchain gaming platforms that depend on generative AI to help with the repetitive aspects of developing video games like 3D modeling and smart editing.
AI models already play a major role in the development of blockchain-based games, but improved models in the future might allow people with zero programming experience to create quality products.
Summary
InQubeta's success will impact other AI-driven cryptocurrencies and blockchain gaming platforms that rely on AI to help during the game creation process. InQubeta prices are set to grow by more than 3x by the end of the presale, making it one of the most profitable altcoins to buy in 2023.
Disclosure: This is a sponsored press release. Please do your research before buying any cryptocurrency or investing in any projects. Read the full disclosure here.