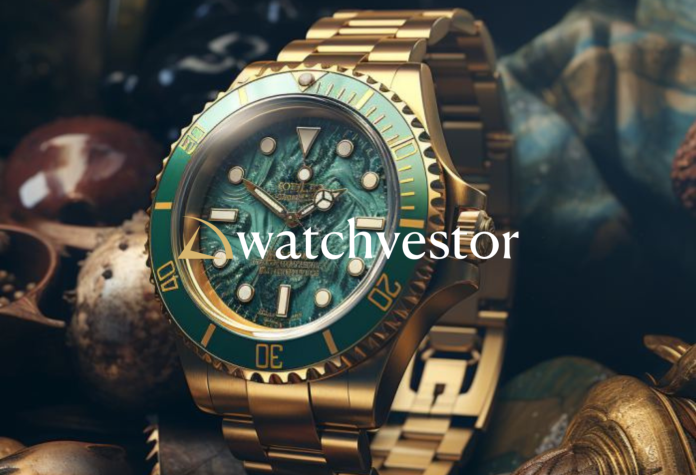 Non-fungible token (NFT) connected projects have always appealed to collectors, as they can provide far more value and utility. NFTs can be fractionalized and can be bought, sold, or traded on third-party marketplaces, providing even more value. Out of the many projects available, Gala Games (GALA), The Sandbox (SAND), and Watchvestor (WVTR) have stood out to analysts. Today, we will go over why this has been the case.
Invest in Rolex, Patek Phillippe, Richard Mille, AP for as little as $10 
Gala Games (GALA) Future Outlook
The Gala Games (GALA) cryptocurrency has seen a volatile year and could soon be headed toward a breakout, according to analysts. As the crypto market continues to heat up, traders have turned to the Gala Games crypto in order to diversify their holdings and manage their risk.
With that in mind, Gala Games has a market cap of $493,667,858, with a trading volume of $511,902,137. This makes it the 75th largest crypto. During the past year, the Gala Games price decreased by 63.8%.
However, analysts are bullish on its future and predict a breakout soon. It's so far been trading between $0.01 and $0.02 during the year. However, according to the Gala Games price prediction, it can surge to $0.03 by the end of the year.
The Sandbox (SAND) Price Protection
Then there's The Sandbox (SAND), another cryptocurrency that gained a significant level of attention. The cryptocurrency traded at values between $0.31 and $0.40 during the past few months; however, in the past year, The Sandbox dipped by 69.7%.
However, the cryptocurrency has a market cap of $666,983,915, and a 24-hour trading volume of $60,054,334, making it the 56th largest crypto. With it being one of the largest NFT-related projects, The Sandbox is still a project that appeals to thousands of investors.
According to analysts, it needs to break past $0.50 in order to reach new heights. Based on The Sandbox price prediction, it can reach $0.54 by the end of the year. As a result, those who aim to diversify with NFT-related projects will want to buy The Sandbox before this surge in value occurs.
Watchvestor (WVTR) Creates Fractional NFTs for Luxury Watch Collectors
But alongside Gala Games and The Sandbox, Watchvestor (WVTR) grabbed a lot of attention as well. Watchvestor has been getting a lot of attention with its presale, where at Stage 1, the value of a single WVTR token is at just $0.03. However, analysts have projected that it can reach $0.35 when the project launches.
The Watchvestor platform is the world's first blockchain-powered marketplace in the watch-collecting sector. Traditionally, getting access to watches from the likes of Rolex, Patek Phillippe, Richard Mille, and Audemars Piguet has been difficult.
These watches, while being rare, are also extremely expensive for the average person. This platform fights this through the introduction of NFTs in the industry. Each watch gets minted as an NFT and then it gets fractionalized.
This means that an individual can just buy a $10 share in the watch. Moreover, if someone does buy the entire watch, they can request a delivery in any of the 150 supported countries. As a result, Watchvestor can disrupt the industry and is appealing to many NFT enthusiasts.
Find out more about the Watchvestor (WVTR) Presale Today
Website: https://watchvestor.com/
Telegram Community: https://t.me/WatchvestorOfficial
Disclosure: This is a sponsored press release. Please do your research before buying any cryptocurrency or investing in any projects. Read the full disclosure here.