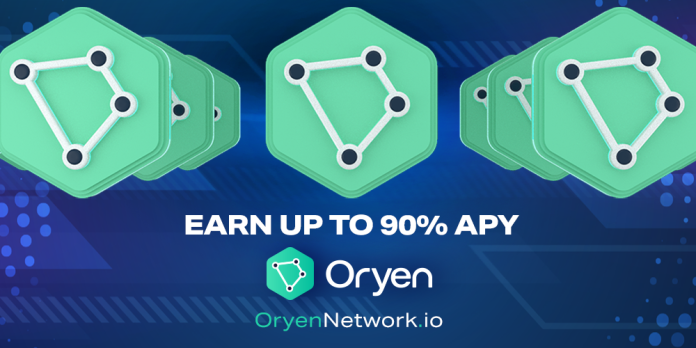 Oryen is quite a contending protocol as its presale encapsulates dynamic stats that highlight growth in a relatively short period of time. Its achievements speak volumes in the crypto market and its ongoing presale is a major event that seems to be attracting the holders of Cardano and Fantom as they hint at diversification of portfolio.
Oryen (ORY)
Oryen is a crypto project that employs a unique set of features that perform various roles to provide a sustainable means to achieve predictable yield. Its financial protocol, OAT (Oryen Autostaking Technic), plays a fundamental role in the operation of Oryen's ecosystem.
A feature of Oryen is its very own treasury. The treasury takes on an important role in Oryen's OAT protocol by providing exceptional functionalities to see to the growth and sustainability of Oryen. It functions as extra financial support for the RFV or Risk-Free-Value wallet, which is another feature of Oryen. This additional support is very beneficial in events of rare extreme price drop of the ORY token as it aids to create a floor value for the token.
The treasury is also used to provide funding for new Oryen products, services, and projects that will cater to the expansion and diverse use cases for Oryen's economy. According to Business2Community, Oryen is one the best defi coins to buy in 2022.
In addition to the amazing benefits, the treasury offers, it also provides funding for marketing Oryen. Oryen displays industry-standard infrastructure and it is built on the Binance Smart Chain with its smart contract audited by SolidProof.
Cardano (ADA)
Cardano is an open-source decentralized blockchain platform that operates on a proof-of-stake consensus protocol. Its development took off in 2015 and was led by Ethereum co-founder Charles Hoskinson. Its native token, ADA, facilitates peer-to-peer transactions and was named after Ada Lovelace, a 19th-century mathematician. Its proof-of-stake protocol helps to validate and verify transactions without the high energy cost. Cardano also implements the Haskell programming language to enable the blockchain platform to develop unparalleled security and stability.
Fantom (FTM) 
Fantom is a scalable blockchain platform that operates on high-throughput open-source smart contracts to facilitate digital assets as well as the development of decentralized applications. its consensus protocol, aBFT enables speed, reliability, and security while interacting with the blockchain. FTM, its native cryptocurrency, enables low-fee transactions and can be exchanged among traders. Fantom seeks to solve issues surrounding smart-contract platforms in terms of transaction speed.
Conclusion:
Oryen's top-tier features actualize an ecosystem of uncommon benefits, never before seen in DeFi. Its functionalities are the epitome of automated processes to ensure a safe, easy, and reliable means to ensure ultimate value generation.
Find out more here:
Join Presale: https://presale.oryennetwork.io/register
Website: https://oryennetwork.io
Disclosure: This is a sponsored press release. Please do your research before buying any cryptocurrency or investing in any projects. Read the full disclosure here.