One of the longest-running and oldest centralized exchanges in cryptocurrency is Poloniex. If you've been in crypto for several years, you have likely heard of this exchange. As one of the most reputable exchanges on the market, Poloniex is a must-check if you're looking for an easy-to-use low-fee cryptocurrency exchange to trade digital assets. Today we will review the Poloniex cryptocurrency exchange from an average investor's point of view.
Note: The author of this article isn't affiliated with Poloniex. Any opinions expressed in this article are the author's and do not reflect NullTX's position on Poloniex or the services provided herein.
What Is Poloniex?
Founded in 2013 and owned by Polo Digital Assets, Ltd, a company operating out of Eden Islands, Seychelles, Poloniex is a centralized exchange offering services to clients worldwide. Initially offering services to US users, the exchange later shut down access to US residents in December 2019, citing regulation issues. Several businesses shut down services to US users in 2019, where a crackdown on unregulated crypto exchanges forced many companies to shut their doors to US users. However, the exchange remained functional for users outside the United States.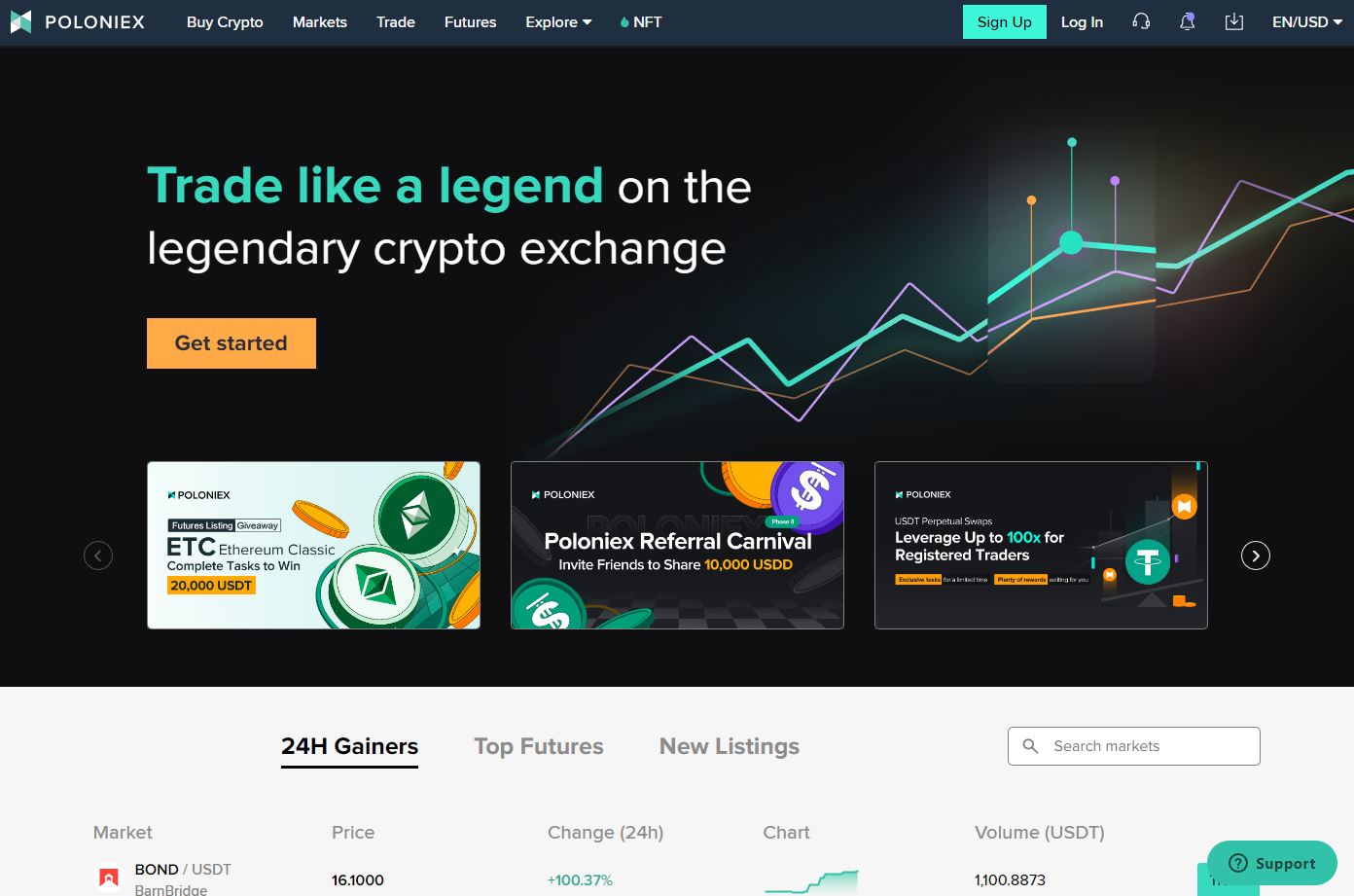 Poloniex was a significant exchange several years ago. However, its purchase by the company Circle caused the exchange to lose a substantial number of its customers. Two years later, Poloniex managed to spin out of the acquisition to an Asian investor group, which has been running the exchange ever since.
Poloniex is now in the hands of an independent international company, and the exchange has been a critical player in the cryptocurrency space ever since. One could say the new management for Poloniex is successful as the exchange hasn't suffered any substantial downtime or losses during the past several years.
The most significant hit to Poloniex's reputation was an exchange hack in 2014, where hackers stole $4 million worth of digital assets. To recover from the losses and continue operations, the exchange reduced its customer balances by 12.3% to offset the losses, which left a sour taste in the mouths of Poloniex users, who promptly left the exchange without looking back. However, the good news is that the exchange remained breach-free for over eight years.
Key Features of Poloniex
Poloniex offers a classic-style UI with a minimalistic menu that offers various trading features and miscellaneous sections like Referrals, a Rewards Center, and more. Let's go over each feature:
Buy Crypto
Poloniex offers users an option to purchase cryptocurrency with a debit or credit card, accepting VISA, MasterCard, or ApplePay. In addition, users can buy cryptocurrency via a Simplex bank account or classic bank transfers.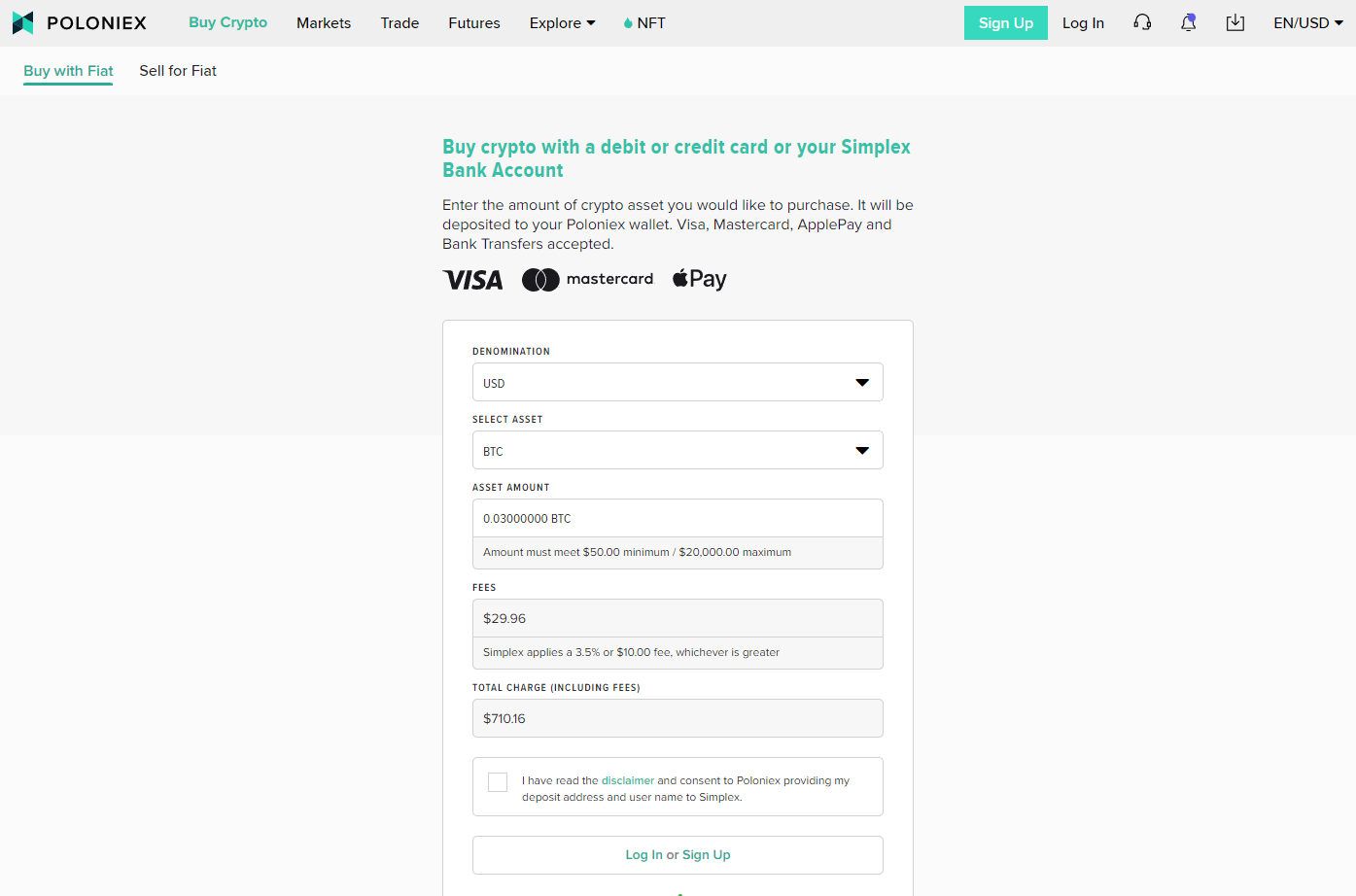 Users can either buy crypto with fiat or sell crypto for fiat. The purchasing of digital assets is powered by Simplex, a fiat-crypto broker acquired by Nuvei, a financial service company operating out of Canada. Essentially Poloniex offers a third-party integration with Simplex to offer its clients an option to buy/sell crypto.
Markets
The Markets section offers an overview of cryptocurrency markets available on Poloniex. It shows the various trading pairs on the exchange, their price, the 24h change, and the volume. The trading pairs also feature categories based on stablecoins, cryptocurrencies, or categories.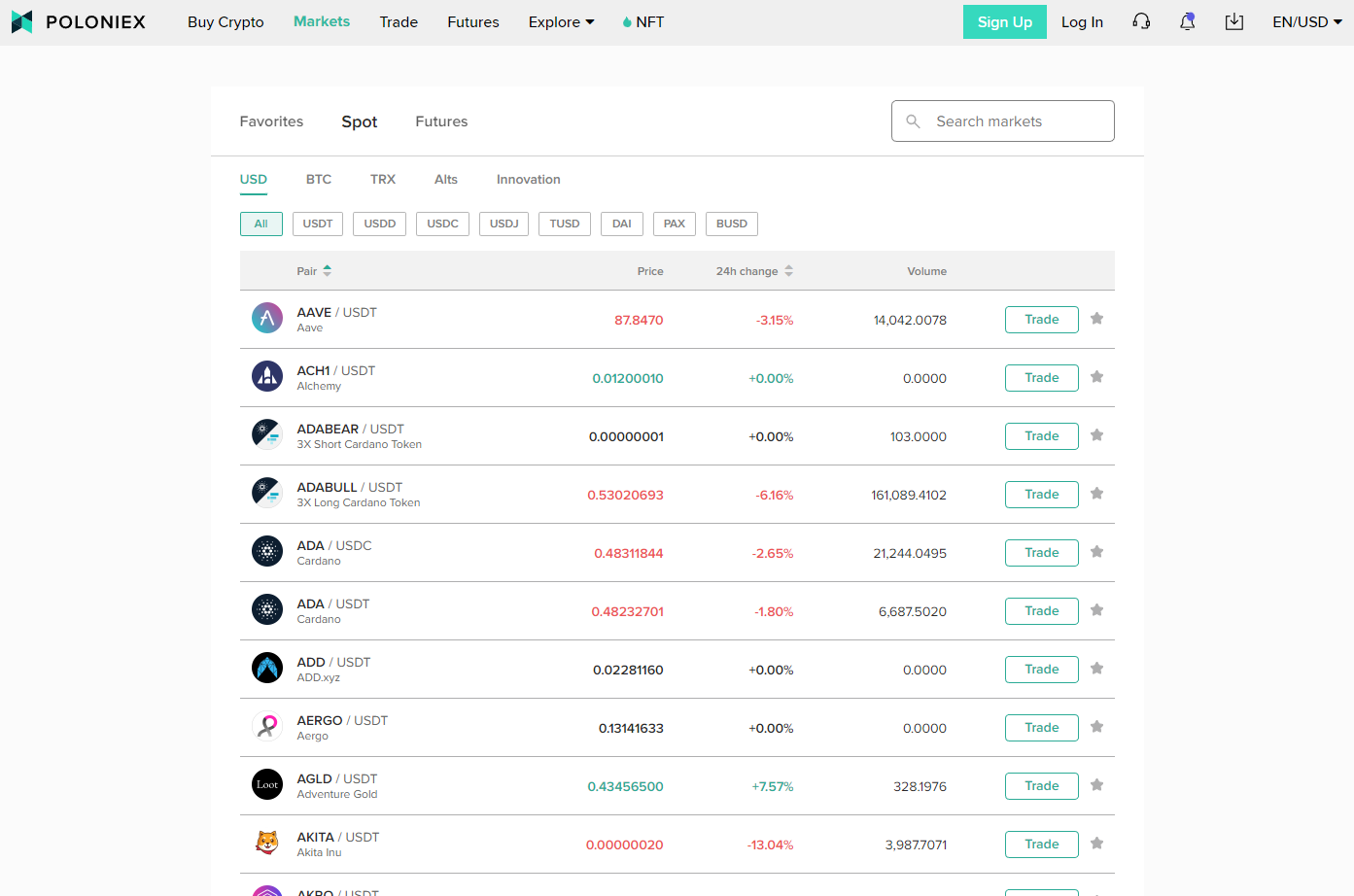 Users can also explore the Futures section, which shows USDT-Margined perpetual contracts for various crypto assets like Shiba Inu, Cardano, Bitcoin, Axie Infinity Shard, and much more.
Trade
The trade section is the primary section of the exchange, which shows the order book, market traders, and the various trading pairs sorted by volume.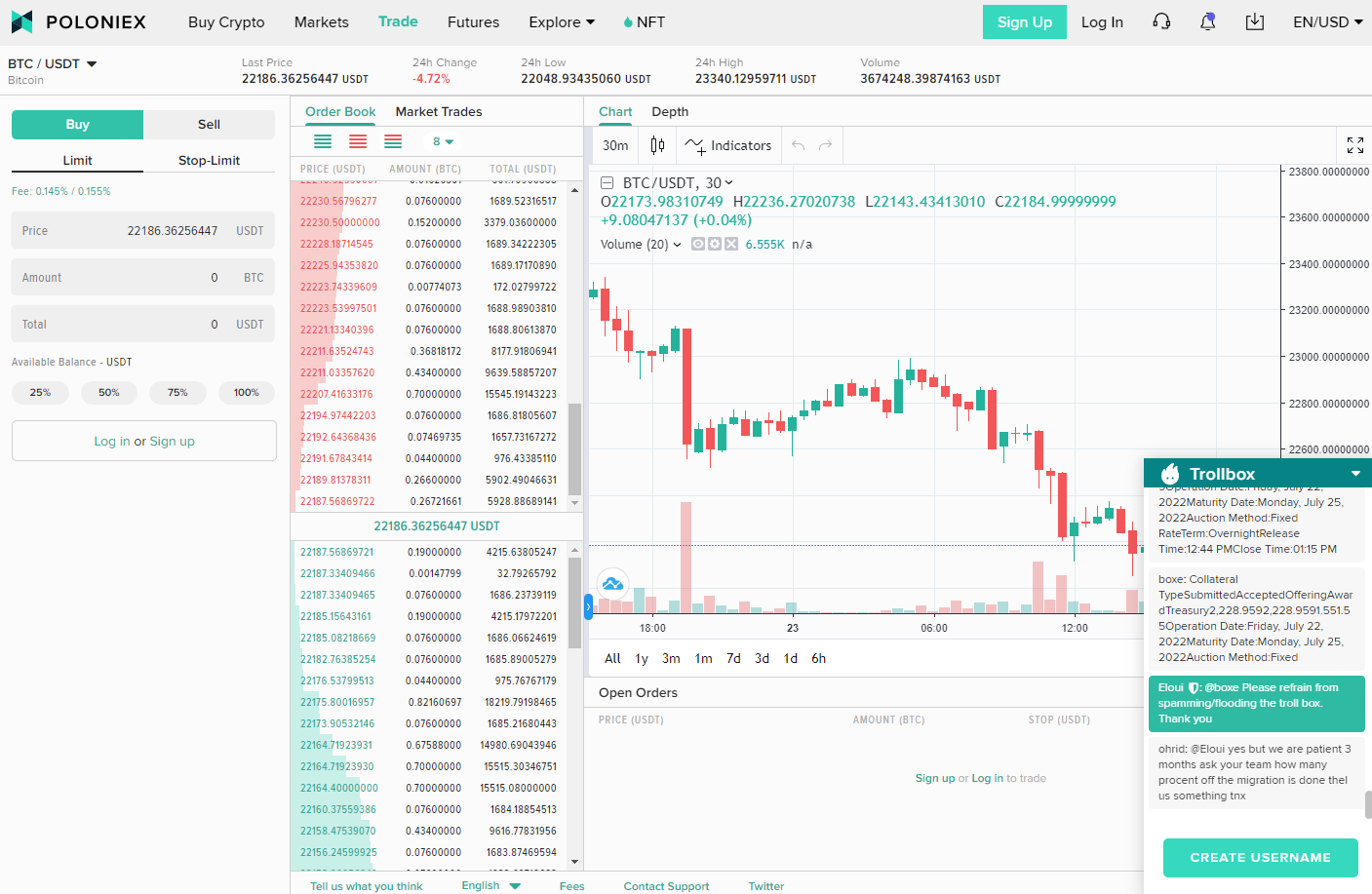 As a homage to the early days of crypto, Poloniex also features the Trollbox in its exchange, a popular feature on exchanges where users could post comments and interact with other traders. Trollboxes were common in the early exchanges as they gave traders a sense of community and interaction.
Futures
The Futures section is similar to the Trade section, but this is where the riskier traders can open positions on USDT collateralized contracts. It's worth noting that there's no Trollbox in the Futures section.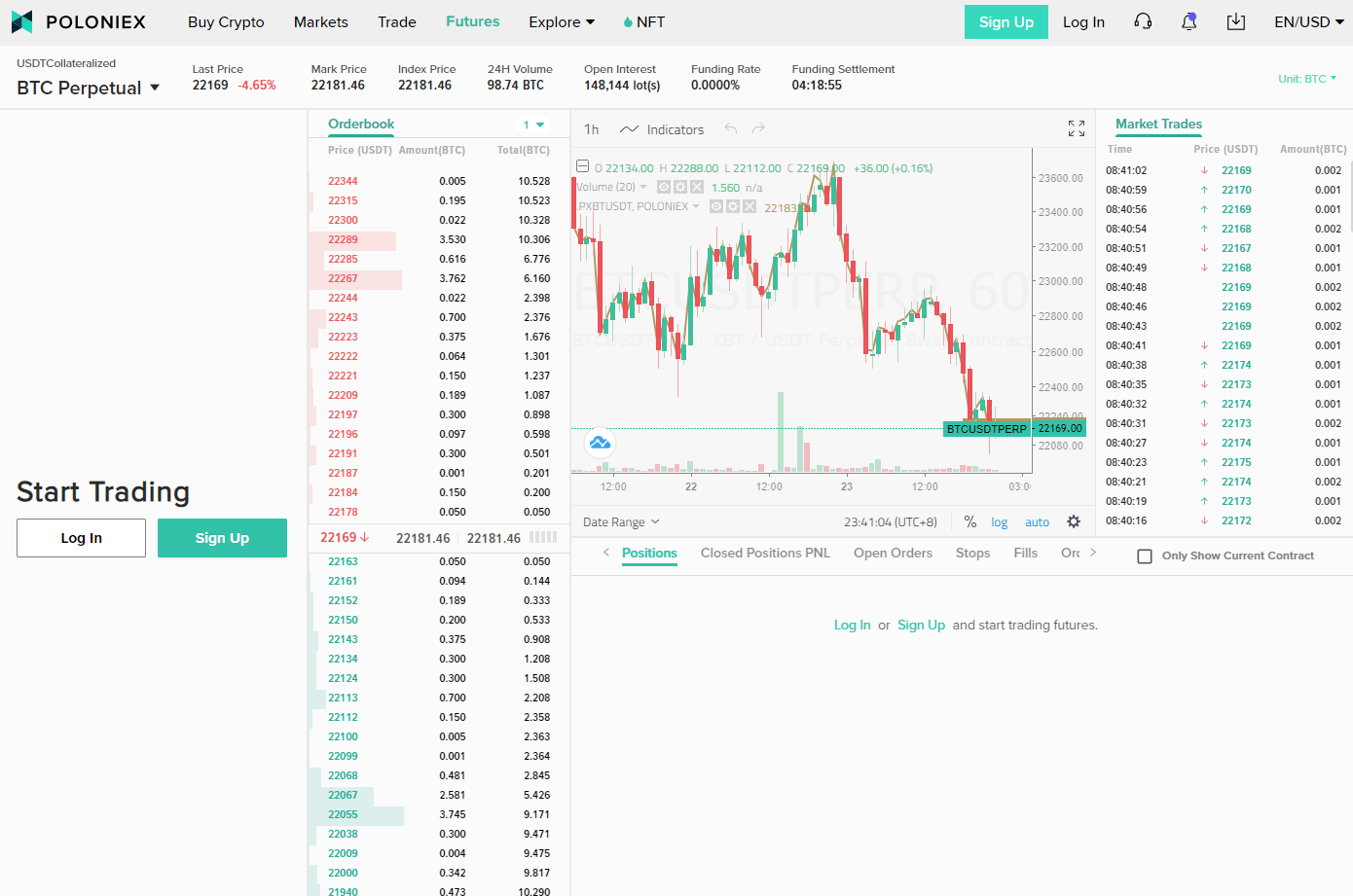 Users can choose the various perpetual contracts available for popular digital assets like BTC, ETH, BSV, BCH, UNI, LINK, TRX, XRP, and more.
Explore
This is the miscellaneous section of the exchange, which includes several sections and services for users.
The LeaderBoard section offers several campaigns for giveaways and prizes users can participate in. If you're looking to earn rewards by completing various tasks, we recommend checking out this section.
LaunchBase, as the name suggests, is a launchpad on the platform which includes upcoming projects launching on the exchange. Users have an option to participate in the launch and claim tokens via an IEO.
The referrals section is a top-rated affiliate program offering a 60% referral bonus for users who complete specific tasks.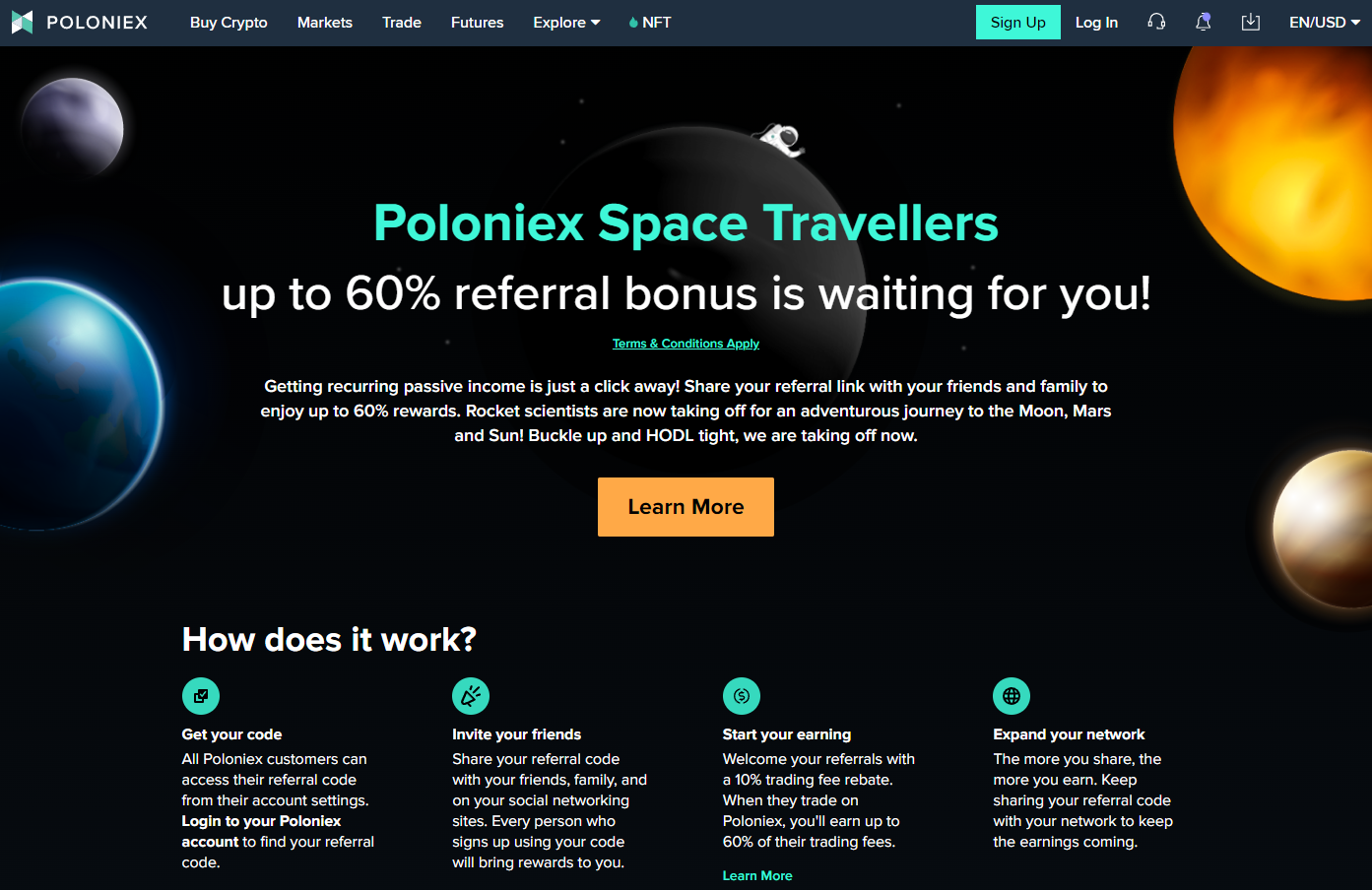 If you're an influencer looking to monetize your audiences and earn a substantial amount on each referral, we recommend checking out this section.
The rewards center provides users with rewards for completing tasks on the exchange. It's similar to the LeaderBoard section, but the rewards section focuses specifically on trading. For example, the latest reward is a $30 trial fund for those who trade Futures for 15 days or more. An effective trading day refers to a period when you trade over 500 USDT in futures.
Last but not least, Poloniex links to SunSwap, a leading Tron-based Decentralized Exchange. It seems the exchange has an official affiliation with SunSwap as they're directly promoting the DEX on their platform.
NFT
Poloniex also seems to have an official partnership with the APENFT marketplace, as the NFT menu section links to apenft.io.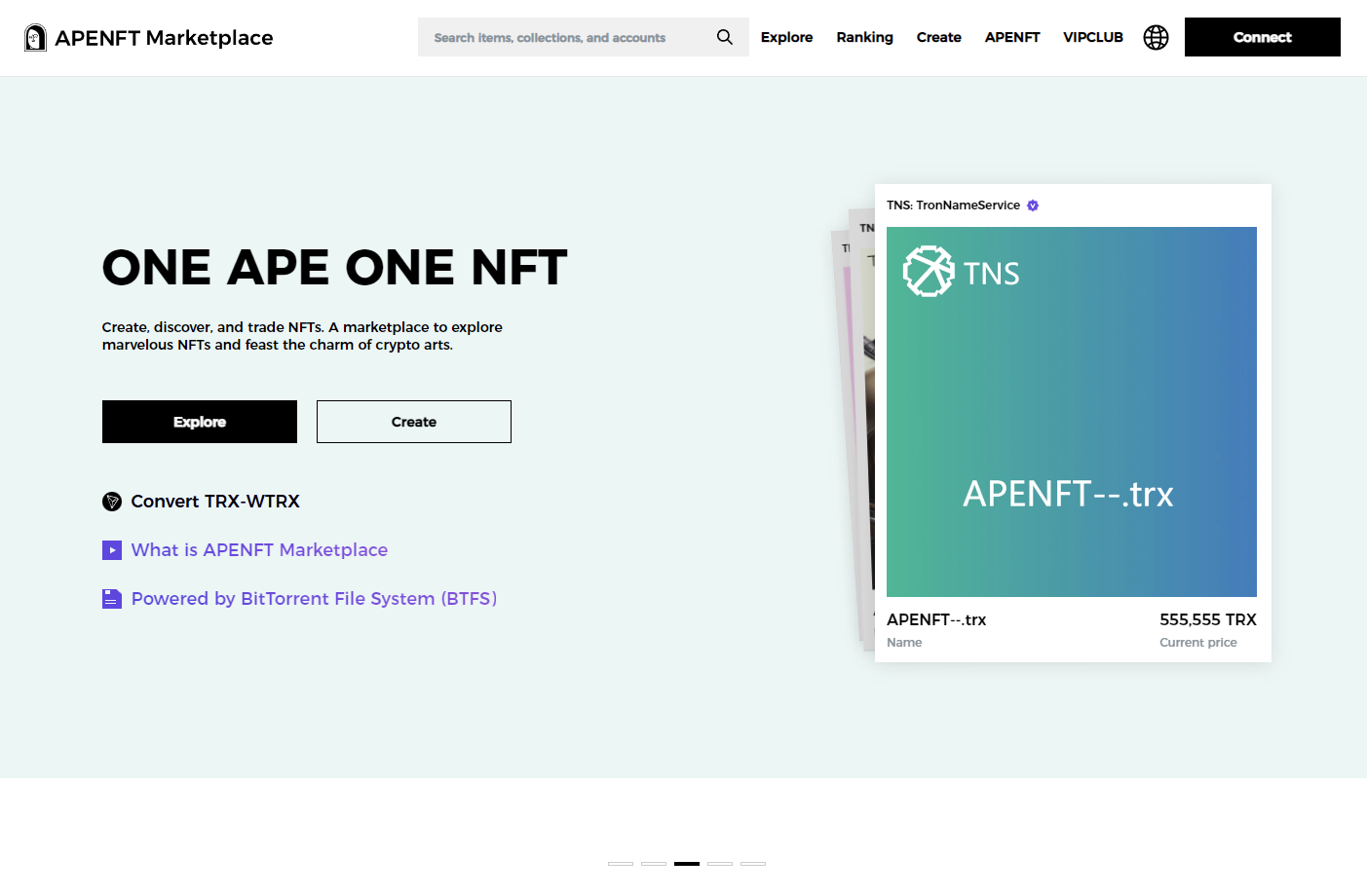 APENFT is a GameFi, Metaverse, and NFT trading platform with multichain functionality and offers dozens of unique collections for NFT collectors and enthusiasts.
Final Thoughts
Poloniex is a highly reputable exchange that's been around for over eight years. While it doesn't have a perfect reputation, the exchange remains one of the more-reputable platforms since it's been running for so long.
If you're looking for a centralized exchange that has withstood the test of time, Poloniex is a great choice. For example, the fact that Poloniex still has a Trollbox today signifies the exchange's deep-rooted history in the crypto community. However, better alternatives exist if you want an exchange with the latest features beyond basic trading/futures.
It seems the exchange prefers to outsource several of its services, including the buy/sell crypto section, its direct promotion of the SunSwap exchange via its menu, and its direct promotion of the APENFT platform. Rather than linking or utilizing third-party platforms, it would serve the exchange well to develop more in-house platforms and ecosystems to grow its community and establish authority in the space.
It's unfortunate that Poloniex doesn't accept US clients. If you're looking for an underrated cryptocurrency exchange as a US resident, consider KuCoin or LBank.
At the time of writing, Poloniex features a 24-hour trading volume of over $51 million, spanning 311 cryptocurrencies with over 476 trading pairs.
Disclosure: This is not trading or investment advice. Always do your research before buying any cryptocurrency or using any exchange.
Follow us on Twitter @nulltxnews to stay updated with the latest Crypto, NFT, AI, Cybersecurity, Distributed Computing, and Metaverse news!