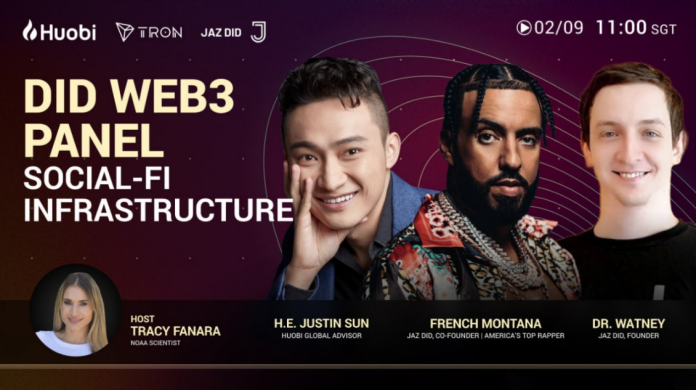 RACA3.com (USM.WORLD) and JAZ DID founders Dr. Watney and co-founder French Montana ('Unforgettable' rapper), and Justin Sun – Huobi Global advisor and TRON founder hosted together a one-hour live panel on SocialFi and DID transformation, and exclusively announced the 2023 roadmap for their projects for the first time.
FINAL CALL! 📢
Join us for an exclusive live video conference with industry leaders @FrenchMontana and @DrWatney as we dive into #SocialFi and #DID!

🗓️FEB 9TH, 11AM SGT
📹Only on @HuobiGlobal w/ @trondao @JAZ_DID

Register now👇https://t.co/nExdbnTDSh pic.twitter.com/a0IIcpQIFk

— H.E. Justin Sun🇬🇩🇩🇲🔥₮ (@justinsuntron) February 9, 2023
The three founders of leading projects on Social-Fi infrastructure in web3.0 discussed the future of decentralized identity (DID) and have revealed an adventure sandbox genre browser game on USM.WORLD, where it can host up to one-billion users, logged in simultaneously and develop minigames with javascript. It is expected the alpha version will launch on their BNB sidechain in Q1 2023.
LIVE COVERAGE🔭 (current: 214K audience)

Founders @DrWatney @FrencHMonTanA with @justinsuntron on USM Roadmap 2023

"We will build an adventure survival sand-box game on https://t.co/eZjwYlJalo – Players can build minigames on it with javascript" pic.twitter.com/lIsV9Sz3Hz

— USMLab.bab 📍🪐 ⚽️ (@USMverse) February 9, 2023
JAZ DID, the leading decentralized identity solution of .bab, has announced a partnership with Vato Labs by Vapollo Group, the biggest virtual anime management that provides in real life virtual anime character concerts. Vato Labs is set to launch numerous games that players can play with RACA. The first game 'LOOKI LOOKI JAZZI', a web3 version of social game 'Among Us' (as known as Mafia or Killer). It is named after bluechip NFT 'Looki' and French Montana 'Jacuzzi'. The game is designed to provide customizable options for skins for partnered Vtubers (Virtual Youtubers) and limited characters for partnered blue-chip NFT communities.
Founder Dr. Watney added, "It's a big advantage to adopt web3.0 technology in the game so players can play with Binance BNB and RACA. For example, Justin, French, Tracy, and I play the game together. Each of us can put down 1BNB for each round as the winner prize pool. The game will become more intense and more fun. If we play 20 rounds, that will be 20BNB on the table. It's a very healthy model for the platform. For players, it's fun to play and skill to earn"
Justin Sun, web3 entrepreneur, founder of TRON, and advisor of Huobi Global, who is also the creator of the stablecoin USDD, spoke about the success of Dominica's decentralized identity program.
"The number of users registering for Dominica's decentralized identity on Huobi has surpassed 150,000, which is double the number of actual Dominica citizens. By exploring and implementing Dominica DID, we aim to lead more people into the metaverse. The metaverse digital identity can be used for KYC verification and metaverse citizens will have their own bank cards, passports, and homes within the metaverse. The metaverse is open and inclusive, and we hope that users from Huobi and other platforms will be able to claim their metaverse citizenships with their own addresses in the future," said Justin Sun.
LIVE COVERAGE🔭 (current: 214K audience)@JustinSunTron on Digital ID with @JAZ_DID founders @DrWatney

"Huobi's vision is to create a global Web 3.0 portal powered by digital identity"
"Dominica IDs gain access to services such as bank cards and bank accounts for globally" pic.twitter.com/jliXAvRAW2

— JAZ DID.bab (@JAZ_DID) February 9, 2023
The panel was a valuable opportunity for participants to learn blockchain and cryptocurrency and to connect with visionary leaders in the field. Grammy-nominated rapper French Montana, co-founder of Jaz DID and RACA, spoke about the importance of the cryptocurrency revolution for artists around the world.
"Everything I do under French Montana represents me, my team, my community, and everyone who supported us to get to where we are today. That's why .bab made sense to me. It's more than just a membership, we can build identities and nurture communities. The community can learn more about artists by viewing their DID history, who they support, how royalties are spent, how they give back to the community, and how they can help the artists do more. And artists can learn more about their super fans and connect with them for more impactful collaborations."
LIVE COVERAGE🔭 (current: 214K watching)

Co-founder @FrencHMonTanA says "We will help each game case by case with @JAZ_DID . Such as to help design new game play, new character, new game skin to make each game more native to web3.0 users with #BAB" pic.twitter.com/py2U2Q0NGZ

— JAZ DID.bab (@JAZ_DID) February 9, 2023
The participants summed up the panel by declaring that 2023 will be a year of many changes in the Web3 ecosystem and reinforced that we are just beginning a major transformation that will change the world.
Disclosure: Null Transaction PR is an official partner of RACA and JAZ DID