RadioCaca (RACA) announced that its marketplace focused on Ethereum-based NFTs, OpenPFP.com, has moved over $40 million of NFTs within 30 days of its launch.
It's been only one month after launch, but our @OpenPFP NFT Marketplace has already passed $40 million in trading volume! (Data as of April 28)

Fees are currently one of the lowest in the industry. pic.twitter.com/5gfrr465Vi

— RACA.bab (@RACA_3) May 4, 2022
Compared with data from DappRadar, this trading volume places OpenPFP as one of the five largest Ethereum-based marketplaces in the cryptocurrency market.
The performance of Radio Caca's OpenPFP should be celebrated, given the current bear market in the cryptocurrency market and the short time since its launch as OpenPFP.com, which was launched on March 28th. In addition, NFT trading, according to Axios data, faced a significant pullback in 2022.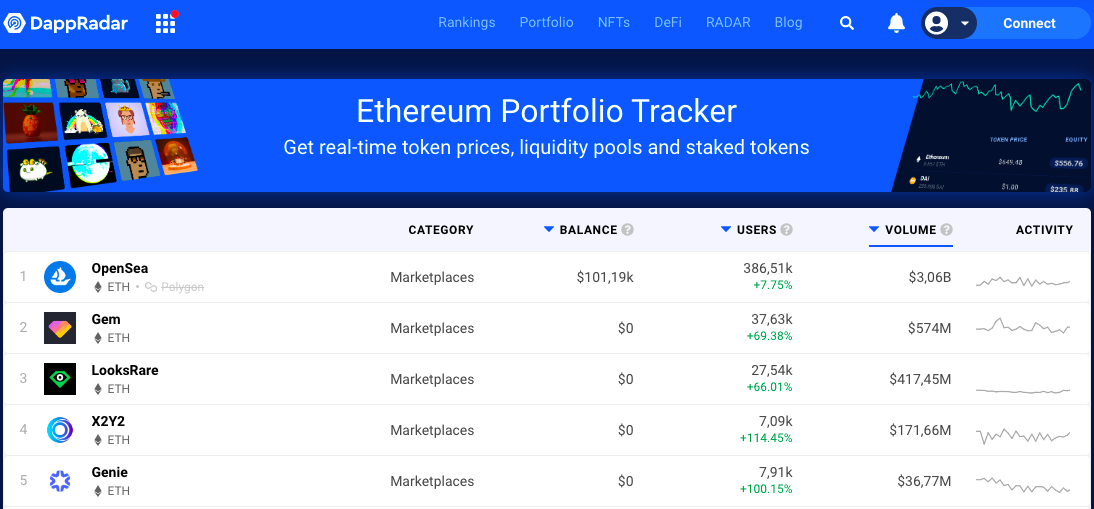 Among the most traded NFT collections on OpenPFP are Terraforms, Dotdotdot, Bored Ape Yacht Club, Azuki, and Mutant Ape Yacht Club. In addition to being a simple and intuitive platform built for trading NFTs on Ethereum, OpenPFP currently has one of the lowest fees on the market at 1%, compared to OpenSea's 2,5% and LooksRare's 2%. This low fee will continue until July 16, when the fee will increase to 2%.
Galleries & Land Drops
Collections on OpenPFP.com will show a link that seamlessly teleports users to a 3D gallery in the USM Metaverse. There you can showcase, view, and explore PFP collections in a truly immersive experience. Like Oncyber, everyone can enter with one click without connecting to their wallet. While in the galleries, users can walk, run, jump and talk to friends and the USM community in real-time.
"The toolkits for gallery development and social event creation will be easier than Sandbox and Decentraland," said Jeff Watney, founding member of RadioCaca. Related to the building toolkit is the announcement of Rare and Super-Rare furniture drops. They can be staked for a month to earn land fragments or staked for three years to earn 500,000 u-RACA. The u-RACA tokens will be distributed linearly daily.
Disclosure: This is a sponsored press release. Please do your research before buying any Metaverse crypto coins.