Wrapped Luna Classic (WLUNA) is an Ethereum token designed to represent Terra (LUNA) on the blockchain. It's not LUNA but a distinct ERC-20 token created to track the value of LUNA.
Wrapped Luna Classic was intended to allow LUNA holders to trade, hold, and engage in Ethereum-based decentralized finance (DeFi) dApps. 1 LUNA can be exchanged for 1 Wrapped Luna Classic through a Wrapped Luna Classic partner, and vice versa.
The Idea Behind Wrapped LUNA
Wrapped tokens can also be defined as a tokenized version of another coin that is usually tied to the value of the asset it represents. Users can redeem or "unwrap" these tokens whenever they choose.
Wrapped Luna will not follow Luna 2.0 but will instead stick to the existing version of Luna, which is now renamed Luna Classic.
The Smart Contract Bridge
Initially, $WLUNA was an Ethereum ERC20 token that tracked the value of the old $LUNA coin, as seen in its smart contract here.
However, the $WLUNA ticker has been deprecated on most wallets since the fork and rebranded as $WLUNC. The value of $LUNC on the Terra Classic chain is tracked by $WLUNC.
Before the fork, Terra governance warned that $LUNA bridged off the Terra chain (such as $WLUNA) could be excluded from the Terra 2.0 airdrop.
As a result, there was no corresponding airdrop of (new) $LUNA coins for $WLUNA balances. The $WLUNA ticker has yet to be changed to $WLUNC.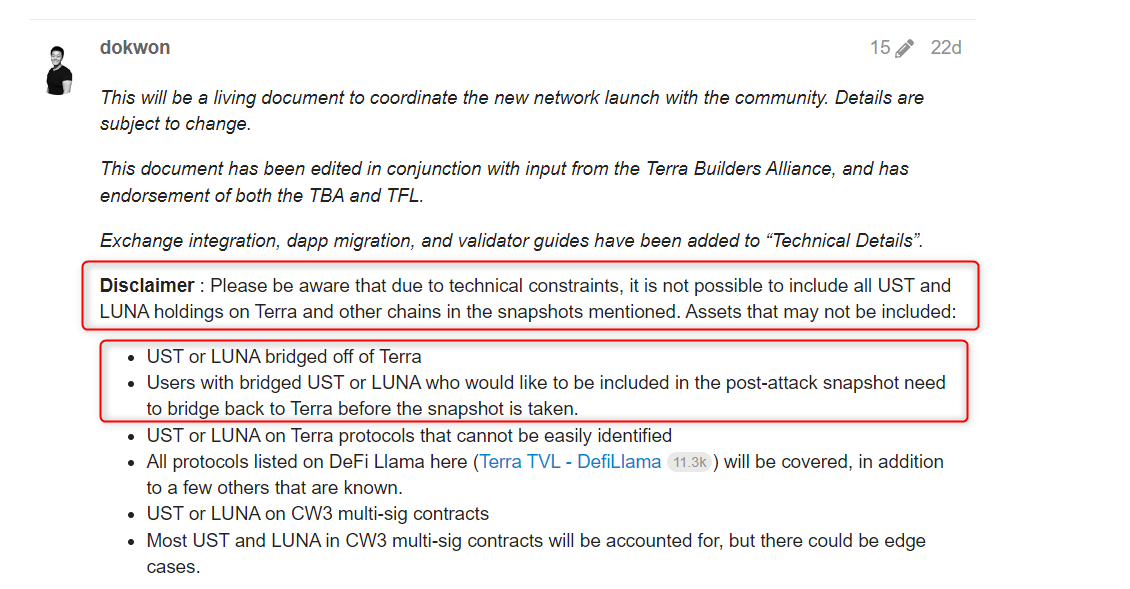 Instead of tracking the old $LUNC coin as it should, $WLUNA is following the new $LUNA coin. As a result, incorrect (and significantly inflated) token balances have been displayed.
In a blog notification, LedgerLive acknowledges this is a bug and promises to get it fixed soon.
📢 Attention #Terra users

LedgerLive is experiencing a display bug with #WLUNA#WLUNA is incorrectly tracking the new LUNA coin instead of #LUNC🐛

More detail below 👇https://t.co/2nfZOhgvB1

Want to learn more about Ledger x Terra? This📽️ can helphttps://t.co/3AEleiiw4B

— Ledger Support (@Ledger_Support) June 8, 2022
The WLUNA contract bug is causing significant confusion in the Terra Luna community, and traders are angry that their inflated token balances are incorrect. There are thousands of WLUNA holders that, for obvious reasons, wish that the exchanges allow them to swap WLUNA for LUNA rather than LUNC.
LUNA is currently trading at $2.50, while LUNC is trading at $0.00005954. Allowing users to swap WLUNA to Terra 2.0 (LUNA) will allow users to cash out significantly more than pairing it to LUNC. The confusion is misleading traders and causing mass confusion in the market.
We can only hope that the contract is fixed ASAP and exchanges update WLUNA to WLUNC if it's indeed tracking LUNC.
Cryptocurrency Regulation
A lot has already been happening over the last few months that have had or will certainly severely influence the general cryptocurrency market at large. 
This is why many governments are clamoring to bring out cryptocurrency regulations to guide the market and even help protect Investor rights and portfolios against similar situations in the future. 
The most popular are the recent LUNA and UST attacks that wiped out 99% of investors' portfolios, and many have not yet recovered from the impact. 
There have been rumors that Do Kwon, The Founder of Luna, already knew what was coming and cashed out $2.7 billion before the Fall. While this may or may not be true, it poses a severe danger to the general public and significantly hinders the reputation of the cryptocurrency industry overall.
🧵 Some of you thought $80m per month was bad. That's nothing. Here's how Do Kwon cashed out $2.7 billion (33 x $80m!) over the span of mere months thanks to Degenbox: the perfect mechanism to drain liquidity out of the LUNA & UST system and into hard money like USDT. (1/13)

— FatMan (@FatManTerra) June 11, 2022

While Do Kwon refuted the claims by clarifying the Luna Terra Community, a bad name has already been created.
5/ Please say things that are proven and true – if you are spreading falsehood that just adds to the pain of everyone who has lost. Thank you.

— Do Kwon 🌕 (@stablekwon) June 12, 2022
Crypto Crimes and hacking have been on the increase, especially in 2022. We can't blatantly blame some countries with strong policies against the Cryptocurrency space like India, China, and the rest. 
Disclosure: This is not trading or investment advice. Always do your research before buying any cryptocurrency or investing in any projects.
Follow us on Twitter @nulltxnews to stay updated with the latest Crypto, NFT, and Metaverse news!
Image Source: kviztln/123RF