Shyft, which will be launching its mainnet soon, took the opposite approach to most blockchain-based startups with a token today.  
"'We asked ourselves, 'If we were to do this properly, what would it look like? And so we decided to build the protocol first, instead of just issuing a token and letting speculation be our driver," said Shyft Chairman Joe Weinberg at CoinDesk's Consensus 2019 after his panel at Construct, the conference's developer-focused track. "It's been a model that has worked well in many cases. But, we took the approach of establishing use cases, which involved dealing with regulators, working with governments, and building out new trust models." Instead of relying on hypotheticals and hype, Shyft raised money privately from investors and started building right away.
In the buildup to Shyft Network's launch, its core developers have written approximately 9,000 lines of code. In the Network's initial stages, the focus is on establishing cross-chain interoperability and broadening its ecosystem. The first integrations, powered by Shyft's Byfrost bridging technology, will include EOS, RSK, and Ethereum,
Their goal is to make it so that any user data held online is managed securely and privately. One major implementation will be to simplify ID verification processes across multiple crypto exchanges, eliminating redundancies and saving both exchanges and users time and money.
It's taken nearly two years of development to complete the network. Now, it's time for network launch. Mr. Weinberg believes they have the right model.
"We believe that raising huge amounts of money, to begin with, is the wrong model," he said. "Incentives don't align properly. You raise $100 million then have to figure out how to build stuff. Plus, it is way too much price pressure for an ecosystem to be dynamic. Then you have these projects that raised funds through an ICO trying to cash out at the same time," said Weinberg. "It affects market prices throughout the entire ecosystem."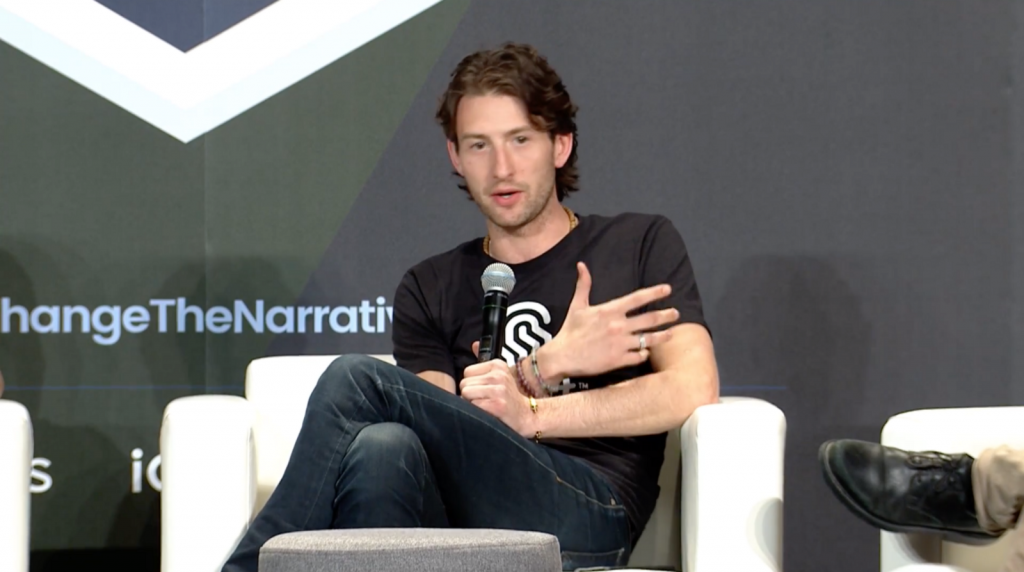 He adds: "You have a lot of big raises, a massive amount of hype, then the product is released and you realize that the infrastructure is not even close to ready or there are no use cases to support the network."
So, Shyft is looking to do a one-of-a-kind multi-year distribution, releasing tokens in batches over an extended period. Given the fact that the markets change fast, they may change their plan over the years when it comes to distributing their SHFT tokens.
"We believe sustainability means aligning incentives of market participants, including the projects, developers, etc." said Mr. Weinberg, who founded remittance platform Paycase. "And so, we're just building to only solve a very small set of fundamental problems: 'How do you trust or how do you basically bind the trust of participants?'"
Shyft's ultimate goal is to allow multiple parties – whether they're from enterprise, governments or users – to be able to transact online in a way that's both compliant and verifiably trustworthy.
"KYC is the only problem the entire crypto space has a problem with," said Mr. Weinberg, who founded the exchange Coinsetter (it sold to the exchange Kraken in 2016). "A big concern is their data leaking. We've focused on bringing institutions, enterprises, and individuals together onto the same standard. We need a way so that all the participants in our ecosystem – whether they're exchanges, decentralized exchanges or projects raising money in an ICO – to more easily conform to a standard."
Shyft believes that KYC in the crypto space is one of the hardest problems to solve in a way that brings regulatory clarify, comfort, and ease to the space. Weinberg believes this problem needs to be solved in a way that regulators understand.
"Many ecosystem players, like exchanges, are unclear on what jurisdictions they can operate in," said Weinberg. Each jurisdiction requires they adhere to Financial Action Task Force rules, which are mandated throughout most parts of the world.
"Institutions, banks, governments, regulatory bodies are all trying to figure out where this space, fits in the context of the traditional world," he said. "They know it's not going away. It's growing bigger. They are trying to get a handle on it. If the ecosystem does not come to the table really quickly and educate the policy writers, then you have a huge gap in which overregulation can flourish because there is no standard."
Shyft's goal is to build a set of architecture where any participants, whether its a government, an exchange, a crypto company or a crypto network can use the same exact standards for smart contracts. That onboarding participants be a simple process is paramount.
"We use trust anchors," explained Weinberg. "These are nodes any exchange, institution or entity running a node on the network.  They must adhere to certain conditions like they meet regulatory requirements. The goal is to attest that a transaction has been done in a compliant manner. Our goal was to build regulation as a protocol with rules and standards that banks are comfortable with, and apply those standards to crypto so that we can build one unifying standard that everyone agrees on."
He adds: "We needed a way for enterprises and institutions to easily adopt network tools and integrate them. This is a huge roadblock now for the blockchain industry."