Cryptocurrency markets are bullish today, with Solana and Ethereum prices showing the most significant price growth this week. SOL is up over 35%, and ETH is up 44% in the past seven days, as the global cryptocurrency markets top the $1 trillion market capitalization level.
Solana Price Prediction – Solana Price Breaks Through $45 Resistance
After peaking at $45 yesterday and returning to the $42 level, Solana's market has found new bullish support as it rallied past the $46 level, peaking at $47 before testing support.
As one of the primary Ethereum challengers, Solana is capitalizing on ETH's recent price growth as traders push Ethereum prices higher due to its upcoming network switch from a proof-of-work to a proof-of-stake cryptocurrency scheduled in September.
While Solana's network isn't planning any significant upgrades soon, SOL's ecosystem continues to expand with Katana, a leading yield generation protocol on Solana, announced that it surpassed over $600 million in options volume yesterday.
One inherent advantage to Solana's network is the incredibly low transaction fees compared to Ethereum, which makes it a highly popular option for traders.
Moreover, Solana offers a unique ecosystem of well-designed and unique NFT projects with a robust community of collectors and artists.
If Solana's price surpasses the $53 level, it will mark SOL's break through its two-month high, signaling additional bullish momentum for the crypto asset. With the crypto market pumping this week, SOL will likely test the $50 level and attempt to reach $53 by the end of the week.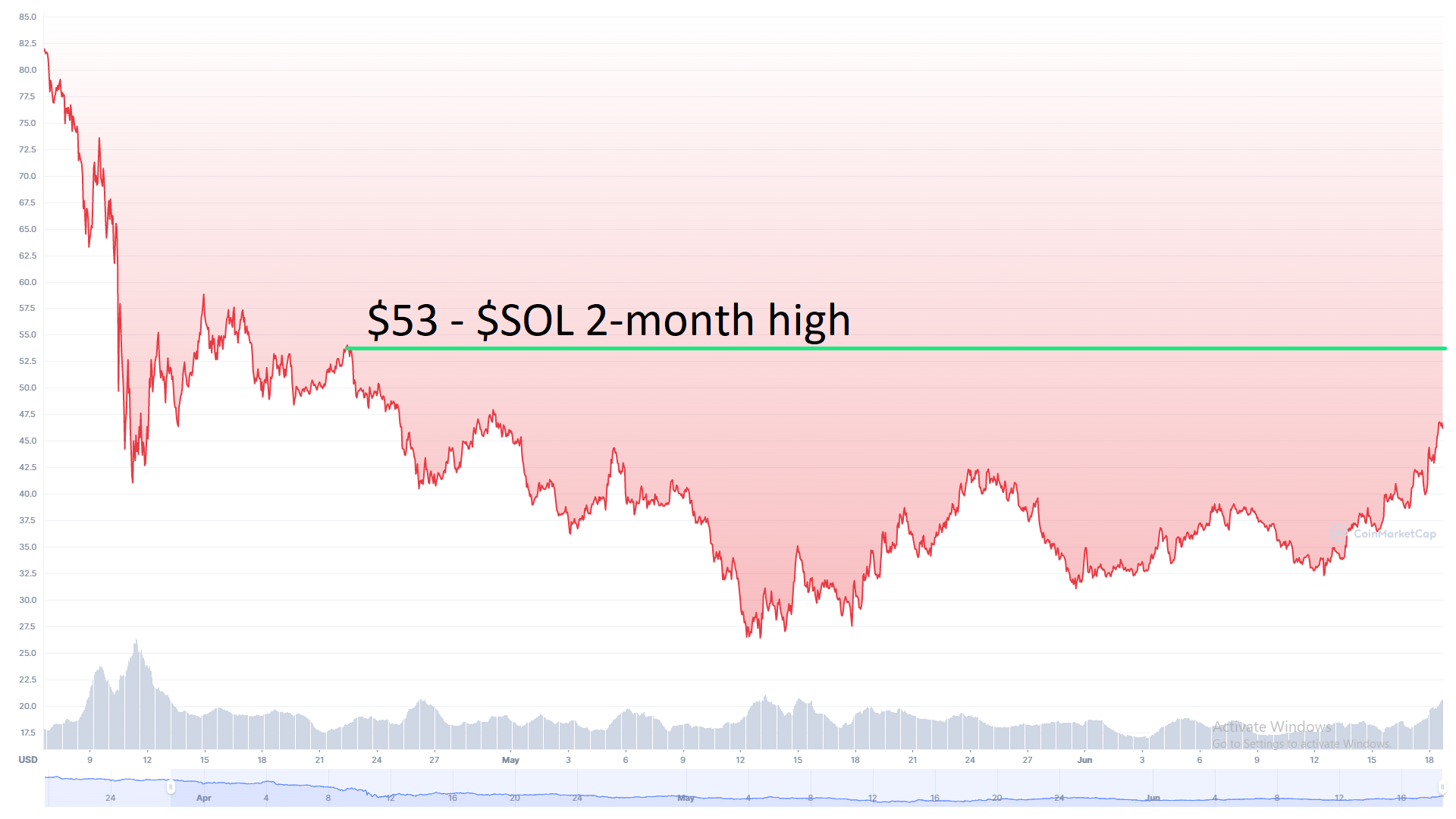 SOL is currently the ninth-largest cryptocurrency, with a market cap of $15.9 billion, following Cardano's $17.1 billion market capitalization. However, Solana's trading volume of $2.6 billion places it as the sixth-most-traded digital asset on the market right now, signaling the tremendous market potential for SOL.
Ethereum's Merge Trading Pushes Cryptocurrency Past $1,500
Ethereum is leading the current cryptocurrency market rally, even pushing Bitcoin prices higher. The hype surrounding Ethereum is its upcoming network merge from a proof-of-work to a proof-of-stake consensus model, making ETH a more sustainable blockchain than Bitcoin.
With the upcoming network merge in September, some analysts say Ethereum could go as far as overtake Bitcoin, especially given the fact that ETH will become an eco-friendly network, rallying additional support worldwide.
After all, one of the biggest detractions from Bitcoin is that it creates a high demand for energy used to perform seemingly "useless" tasks of securing the network. Why waste valuable energy running repeating algorithms when you could use a more modern proof-of-stake consensus model to achieve the same outcome.
For Ethereum's market capitalization to overtake BTC, ETH's price must surpass 15% of Bitcoin. Meaning if BTC trades at $24k, the Ethereum price needs to reach $3,600 to overtake it in market capitalization.
If Ethereum does overtake Bitcoin, that would be a historical moment in cryptocurrency, and Bitcoin's dominance could fall significantly. Ethereum could likely take over as the leading crypto asset and propel the global crypto market to new heights.
Disclosure: This is not trading or investment advice. Always do your research before buying any cryptocurrency or investing in any service.
Follow us on Twitter @nulltxnews to stay updated with the latest Crypto, NFT, AI, Cybersecurity, Distributed Computing, and Metaverse news!
Image Source: kviztln/123RF