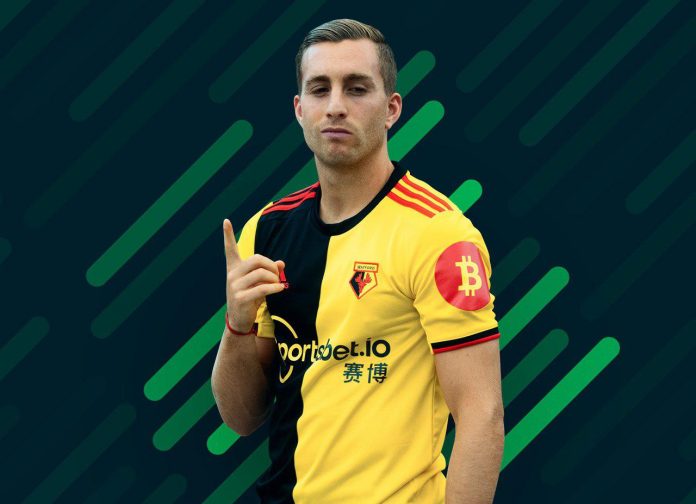 Fans of English football who tuned in to the Premier League match up between Watford FC and Arsenal on Sunday would have noted Watford players wearing a newly-updated home shirt, with a Bitcoin logo featured prominently on their sleeve.
Football club Watford FC and Sportsbet.io, an innovative sports betting platform for fiat and cryptocurrency, have launched a unique publicity campaign for cryptocurrency. This unprecedented campaign aims to bring public awareness to the unique benefits of the technology. In an effort to achieve maximum impact, the football club will update their home shirt to carry a Bitcoin logo on the sleeve all through 2019/2020 season. 
The new shirts will be sponsored by Sportsbet.io during this season.Sportsbet.io and Watford FC are currently working together in that direction, having sealed their partnership back in June. The merger has since fueled remarkable achievements including the launch of Sportsbet.io's 'Know No Borders' campaign, which focuses on the brand's commitment athletes and sportspeople, regardless of country, game or currency.
Sportsbet.io's partnership with Watford will span through a three-year period, ensuring the historical landmark of being the first blockchain-related business to appear on a Premier League shirt is a long term deal.
Sportsbet.io Head of Marketing Justin Le Brocque believes the campaign is a great initiative in bringing cryptocurrency to the public view. He says;
"Some of the biggest challenges we and others like us face are raising awareness, dispelling common myths around cryptos and educating the public on the advantages and opportunities presented by cryptocurrencies… Our partnership with Watford marks a major disruption in the world of traditional sports sponsorship, and by adding the Bitcoin logo we hope this world's first partnership will create even more buzz around cryptocurrencies."
Le Brocque talked of the Bitcoin logo's appearance as a fun way of giving back to the Bitcoin community, which has been "massively supportive" of the gaming platform since its inception several years ago.
The Bitcoin community can also play an active role in the development by contributing towards the program using Bitcoin. Participants holding Bitcoin will enjoy exclusive privileges including opportunities to bid for public LED space display during live matches, exclusive Watford FC merchandise, the use of the Bitcoin box for 8 people, among other exciting perks and thrill only available to Watford FC sponsors. 
Scott Duxbury, Hornets' Chairman & CEO, sees the latest update as a major catalyst for growth within the football industry, especially for Watford FC. He expressed his views, saying:
"Placing the Bitcoin logo on a Premier League shirt is something that challenges the accepted norm. We're excited about the partnerships and the potential for new global conversations that it could help start for our club."
Topping all the excitement were other major giveaways to mark the event. In particular, Sportsbet.io marked the occasion by promising to give away 2 mbtc Free Bet to all Sportsbet.io players if Watford scored against Arsenal. 
Learn more about Sportsbet.io:  https://sportsbet.io/
Disclosure: This is a sponsored article