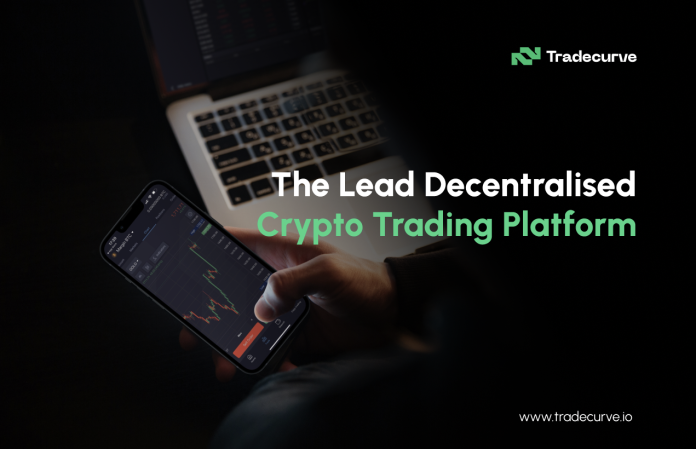 Across the broader Web3 space historically, The Graph (GRT) and Fantom (FTM) managed to get a high level of attention, however recently, they have slowed down in terms of growth, and their token prices have stagnated.
Investors have begun to diversify out of these types of cryptocurrencies, and a new crypto project which is in its first presale stage seems to be grabbing a lot of attention from industry analysts and price is predicted to surge 800% before launch. Today, we will go over each one of these cryptocurrencies to see how far they can really climb.
Tradecurve.io Presale Heats Up Investors Wallets
Tradecurve this year will launch a hybrid trading exchange that will not only specialize in cryptocurrencies, but will also enable anyone the opportunity to access forex, stocks and commodities trading in a truly borderless and decentralized way.
Through the usage of blockchain technology users can simply open an account, connect their wallet and begin trading without the need to complete any complicated registration or (KYC) procedures, and while also being able to maintain full control over their private keys.
The trading platform will offer up to 500:1 leverage, and users will be able to integrate algorithmic trading systems using AI. Experts predict that Tradecurve could become a top 3 exchange by 2025. Its native token (TCRV) which operates on the Ethereum blockchain provides holders with a broad range of utilities and its smart contract has a been fully audited by Cyber Scope as 100% secure.
The initial price of the presale token is $0.01 and is expected to rise by a minimum of 800% before launch.

The Graph (GRT) Price Could Fall Further
The Graph (GRT) gained a lot of attention when it was featured in Fortune Magazine, specifically within the data category of the inaugural Crypto Top 40 List.
Additionally, The Graph (GRT) also posted information about their Developer Newsletter, where they went over payments for queries with a credit card, file data sources, faster indexing, filters, validating GraphQL Entries, and the Graph Node 0.30.0 release highlights. 
When we go over the value of The Graph (GRT), as of April 28, 2023, the cryptocurrency traded at a value of $0.135810.
Within the last 30 days, The Graph (GRT)  decreased in value by 3.6%. In the last seven days, The Graph (GRT)  has been down by 7.7%. Here we can see that The Graph (GRT) is in a downward trend. Investors are diversifying from The Graph (GRT) as a result.
Fantom (FTM) Price Prediction Missed Expectations
Fantom (FTM) made a huge announcement on Twitter on April 27, 2023, where they welcomed Lava Network to the Fantom (FTM) ecosystem.
Additionally, Fantom (FTM) also showcased the hub for some of the most innovative applications within the Decentralized Finance (DeFi) space. 
However, when we go over the value of the Fantom (FTM) cryptocurrency, as of April 28, 2023, it traded at $0.415529.
Within the last 30 days, Fantom (FTM) decreased in value by 2%. In the last 14 days, the Fantom (FTM) cryptocurrency saw a decrease in its value by 18.7%. Within the last week, Fantom (FTM) fell by 10.9%, indicating a bearish outlook.
For More Information About Tradecurve Pre-Sale 
Buy presale: https://app.tradecurve.io/sign-up 
Website: https://tradecurve.io/ 
Twitter: https://twitter.com/Tradecurveapp 
Telegram: https://t.me/tradecurve_official 

Disclosure: This is a sponsored press release. Please do your research before buying any cryptocurrency or investing in any projects. Read the full disclosure here.