Ever since the "DeFi Summer" in 2021, the DeFi track entered a period of accelerated growth, with a large influx of capital that boosted many DeFi projects to offer traders great APY returns (primarily due to the rise in coin prices) while the diversity of DeFi protocols continued to proliferate. Starting in 2021, accompanied by the hike of the NFT and GameFi, a whole raft of market capital and crypto dwellers further tilt towards the new Alpha, leading to the overall growth and dwindling returns of DeFi with heavily homogenized product features.
Especially now, most investors would not consider DeFi as their first choice as returns delivered by the GameFi and NFT are comparably tempting. Indeed, The current APY provided by Harvest, an earning aggregator, is reflective of the average returns one can expect from DeFi.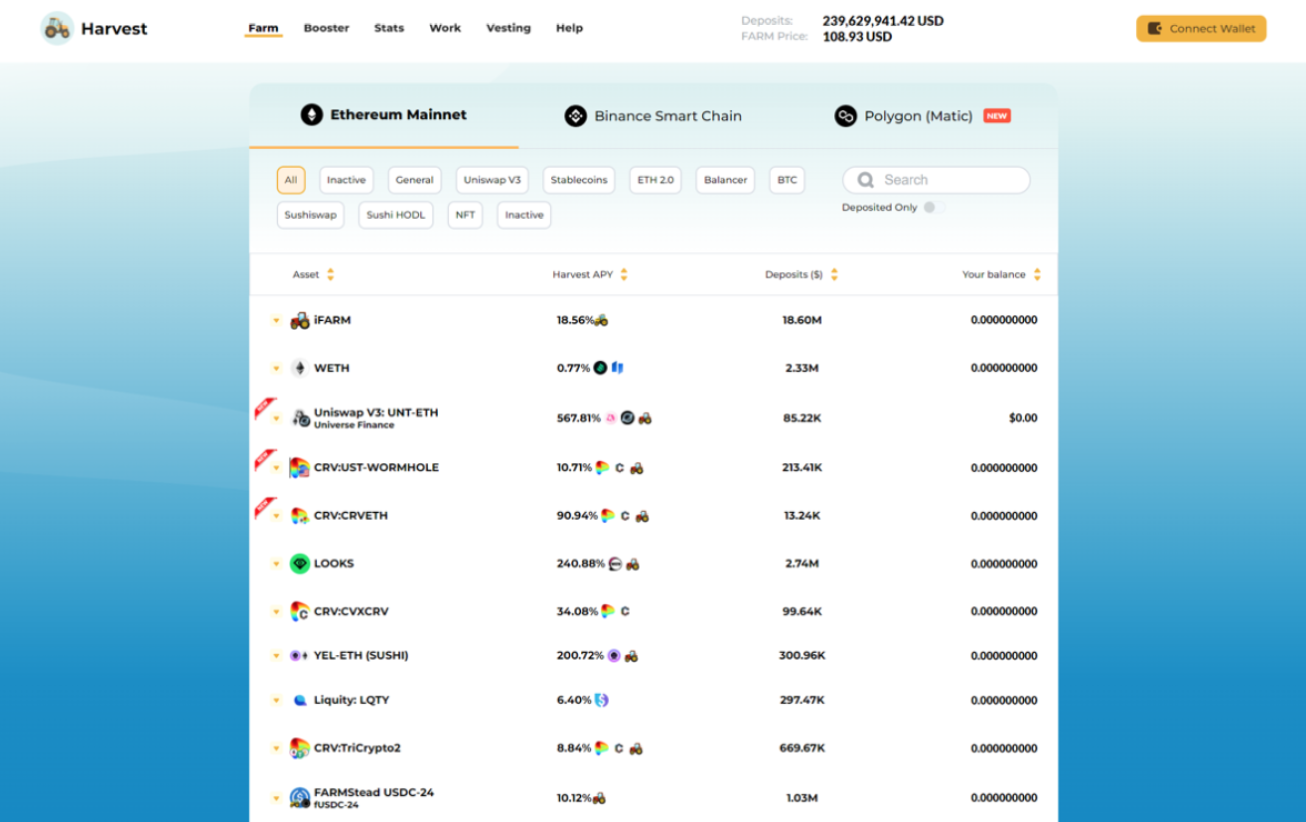 Demon Ecosystem is innovatively building DeFi — in the form of gamification. Indeed, Demon Ecosystem attempts to diversify DeFi's functionalities by introducing and interlinking elements of NFT and GameFi, thereby further driving the growth of DeFi. Currently, Demon Ecosystem's single-coin $Demon staking pool has reached an APY of 2,787.76%, with the average APY in the LP pool over 3,000%. Among these pools, the $Demon—$BNB pool has especially stood out with an APY of 4,373.47%.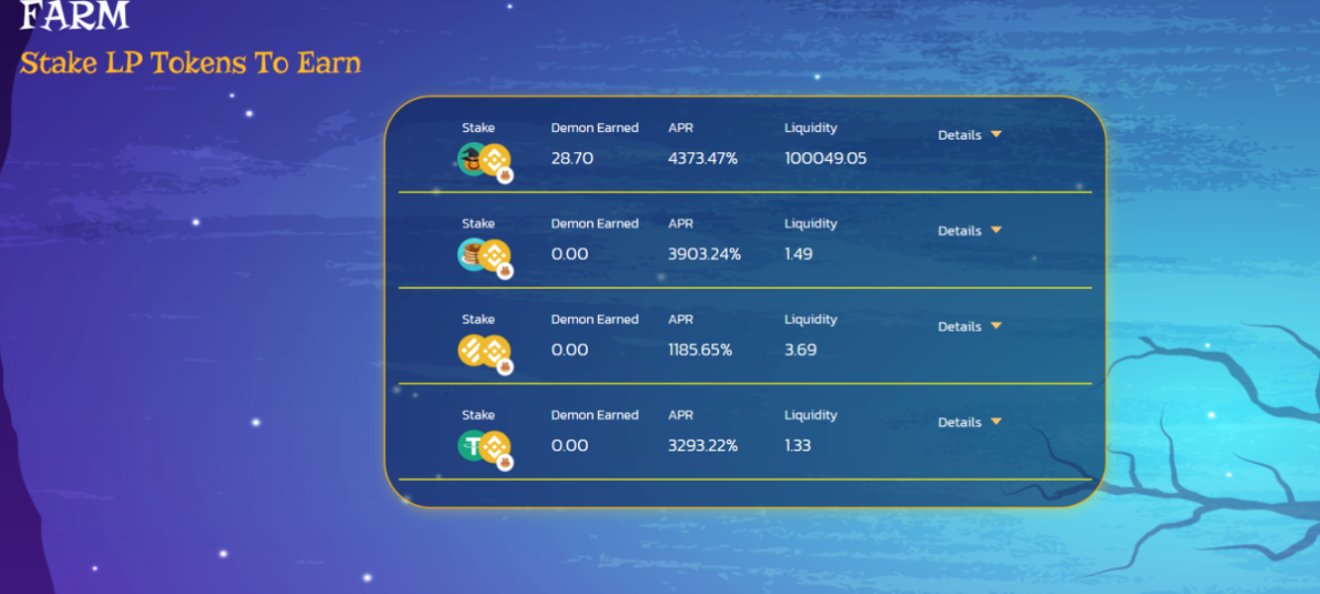 Demon acquitting well on the Yield Farming has attracted considerable interest. In the following content, the article will lead you to sink into Demon Ecosystem and apply it as an instance to explore the feasibility of the broader gamified DeFi.
What kind of ecosphere has been created by Demon Ecosystem?
Demon Ecosystem is built upon a DeFi economic system, containing two interlinked ecologies — DeCo Finance and DemonX. The former focuses on DeFi, while the latter is pertinent to NFT. The article will go deeply into these two foundations and articulate their linkage in detail.
DeCo Finance
DeCo Finance, the DeFi part of the Demon Ecosystem, attempts to enhance the yield of users. The currently supported features include the lottery and liquidity mining, with the token Demons as incentives. Users primarily earn through staking DEMON in the single-token pool (each block yields 1.74 DEMON). When the pool was first launched, the APY reached as high as 8,500% and currently notches up 2,787%, which is still phenomenal.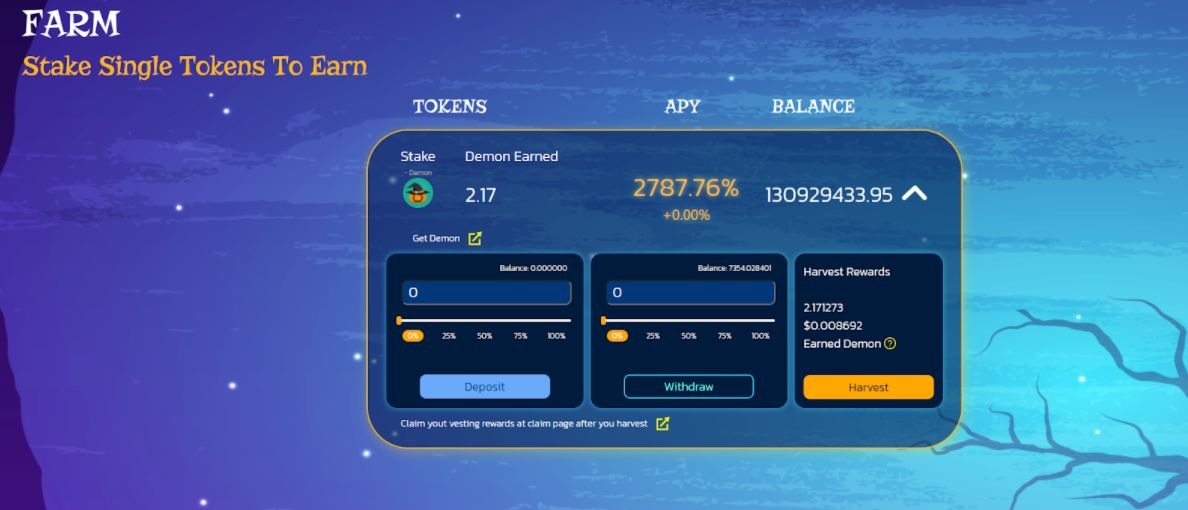 The LP pool currently offers four staking options (3.88 DEMON/block with four pools distributed by weighting), including DEMON-BNB, CAKE-BNB, USDT-BNB, and BUSD-BNB, and users can earn by staking LPs that provide liquidity on PancakeSwap, with the highest APY exceeding 4373.47% (To be noticed, general APY offered in the market is only around 20%).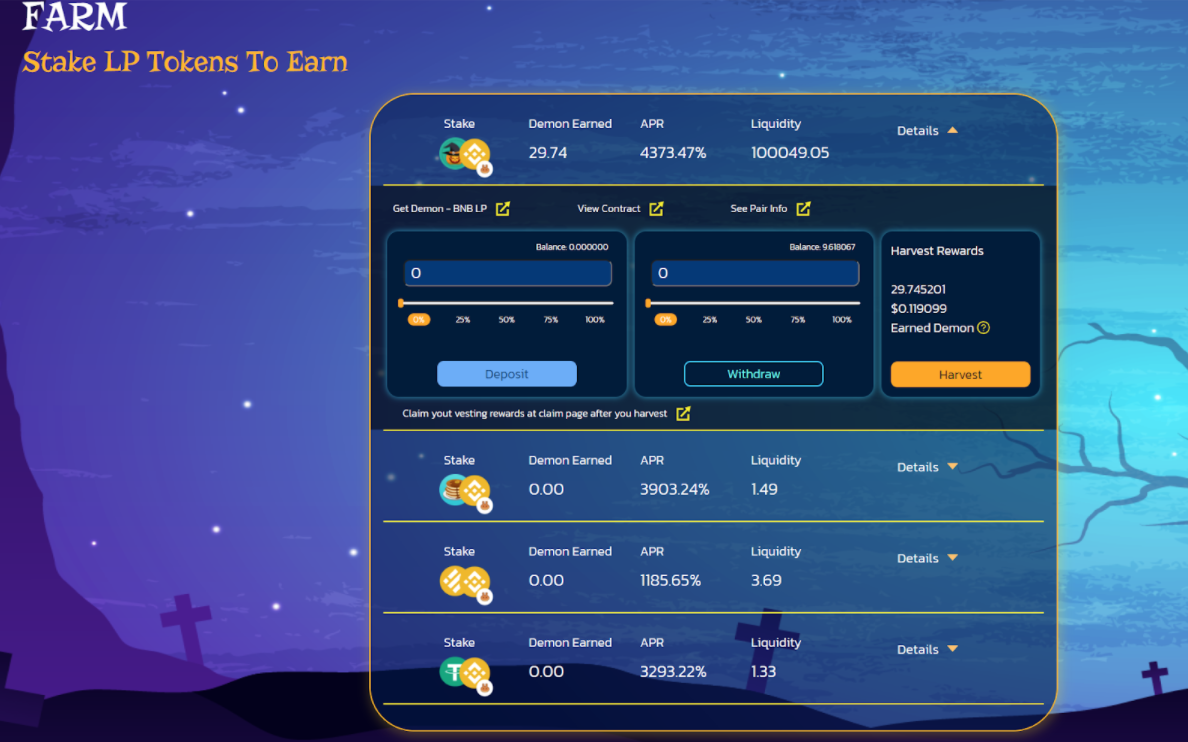 Demon Ecosystem recently announced the DEMON Vault Pools program, which inclines to create additional incentives for DEMON tokens through partnerships where staking DEMON can bring more profits to users and demands of the mass majority as well.
The lottery is another feature of DeCo Finance where you can wager 100 DEMON tokens to gamble for 5x returns. It is not only considered as a use case for DEMON but also conducive for the value deflation of DEMON as wagered tokens are burnt.
Concerning the DeCo finance section, it will launch DemonSwap, a Decentralized Exchange application, and Launchpad, laying the foundation for investment, incubation, and co-developed DeFi protocols.
GameFi & NFT
Demon Ecosystem recently went live with DemonX NFT and is constructing a future P2E GameFi scenario around it. Moreover, based on NFT assets, it connects to DeCo Finance and empowers DeFi via gamification. By participating in the game economy, players unconsciously create value for others and even the Demon Ecosystem, not to mention the game rewards.
Essentially, DemonX NFT is a deck of NFT cards with various attributes (26 characters for Demons, Subhumans, Elves, and Angels), various rarities (6 in total, including Common, Uncommon, Rare, Epic, Legendary, Mythic, Glory, Royal). Different cards are assigned with numerous denominations and ranking rewards according to rarities. NFT cards with the same attributes and denominations can be synthesized to higher levels by consuming DEMON. Furthermore, the team has developed a comprehensive system for NFT ranking and evolution, and each level is also divided into ethnic groups, gender, and rarity. So much to learn.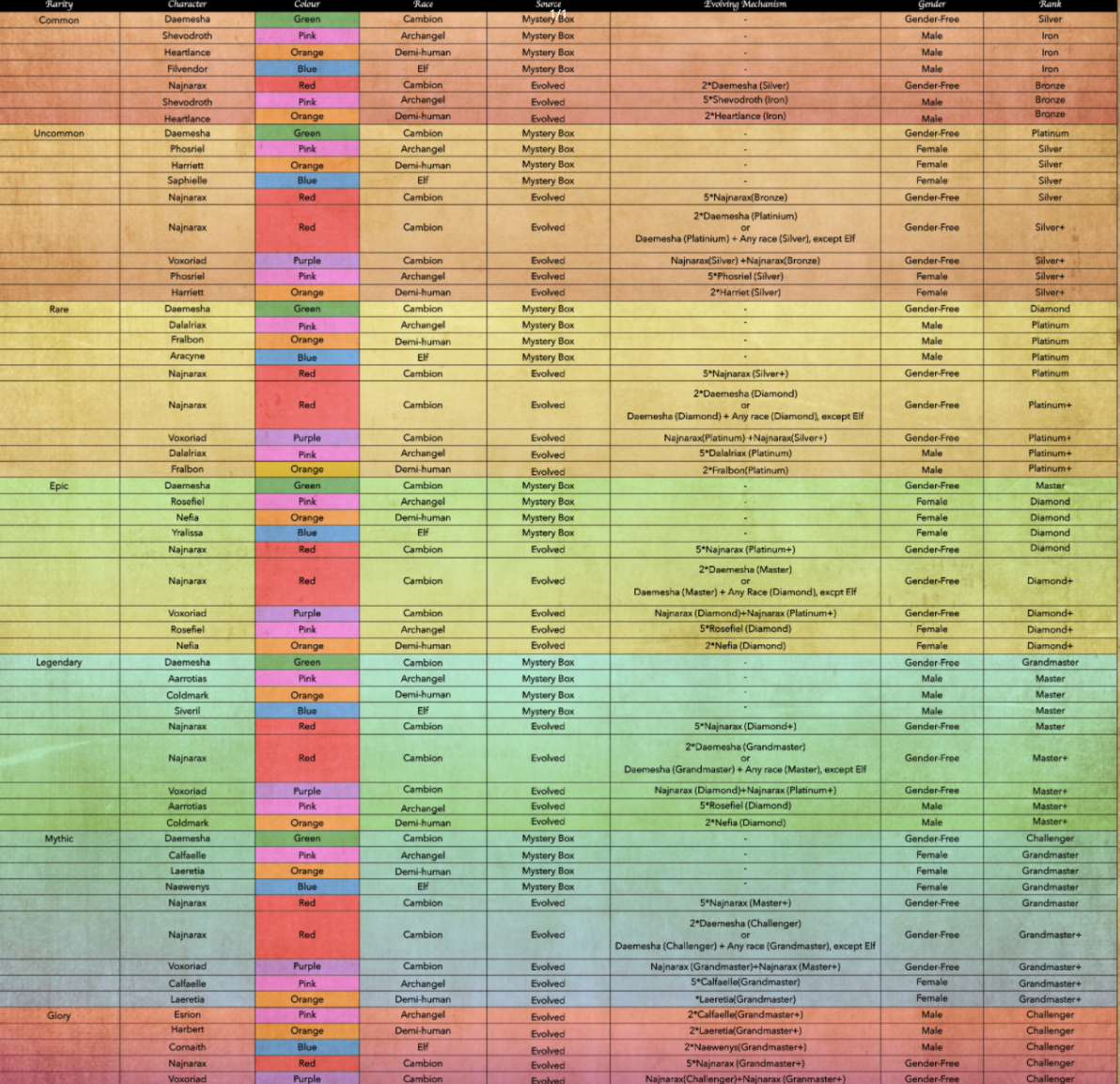 DemonX NFT is mainly obtained through the "mystery boxes," in addition to whitelist and pre-sale. The mystery boxes are categorized into six types, with prices ranging from 10 DEMON to 1,000,000 DEMON (common, rare, rare, epic, legendary, and mythical). The probability of dropping a rare card varies from box to box. Besides, DEMON used to purchase NFT through official release paths will be destroyed.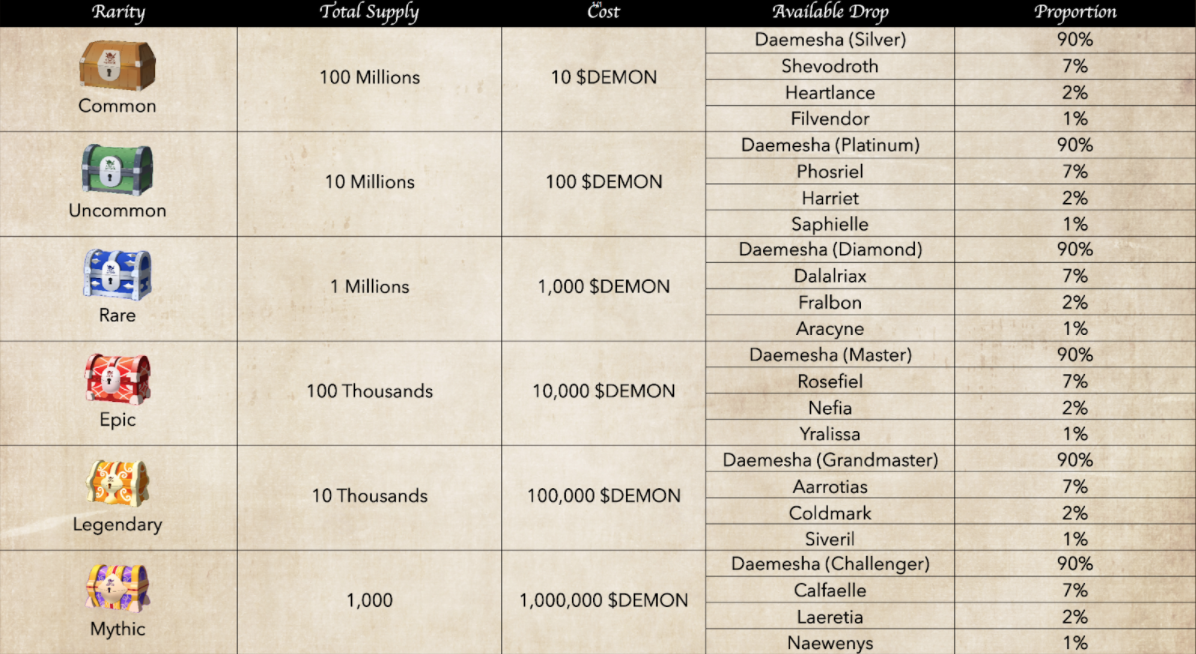 Depending on its rarity, each DemonX NFT is priced and evaluated differently from others. Thanks to a wide range of values assigned to cards, most players can obtain NFTs at a lower cost at the beginning. Nevertheless, due to the scarcity of NFTs, they will be tougher to acquire as more new members get involved. These cards can be traded for profit or staked in DeCo Finance to earn DEMON. Holders of the royal series of NFT cards, the rarest and most valuable series of cards (most upgraded cards), are allowed to enjoy certain benefits, such as ecological revenue dividends, specific "royalty" dividends, etc. (one of the series is currently on pre-sale).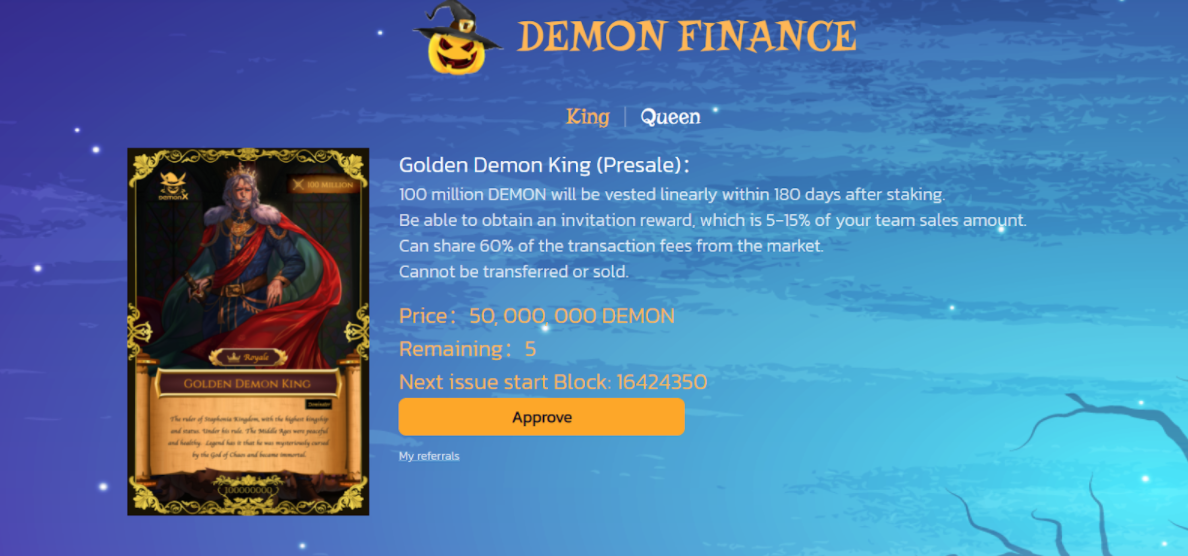 The Dapp of DemonX NFT is now open along with unlocked cards obtained via "mystery boxes." The current price of DEMON is about 0.004 USDT, making the costs of basic and medium boxes stick around 0.04 to 400 USD. Remember this: the more premium the box is, the higher the possibility of dropping valuable cards.

Surprisingly, some players obtained Daemesha and Najnarax separately worth 200 and 2000 USDT from boxes merely classified as uncommon and rare.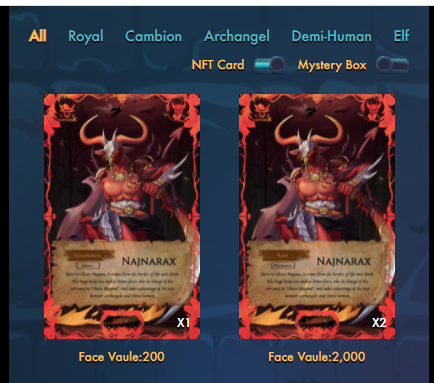 The DemonX NFT Dapp has already integrated the marketplace trading feature for users to interact with cards (buy&sell). Users can also use the "Sale" button above to directly sell the cards dropped from boxes.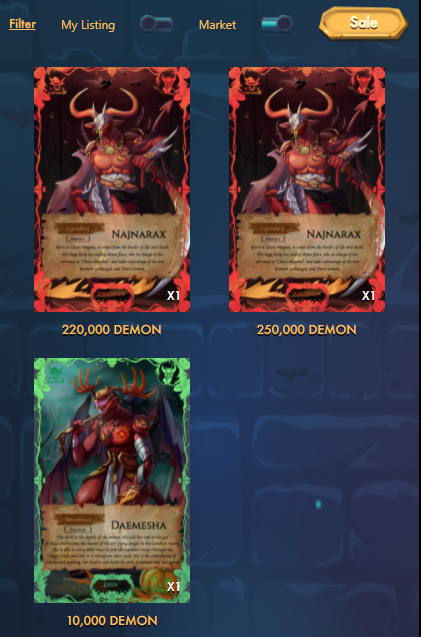 Also, cards can be synthesized with others. Identical cards of the same denomination can be further synthesized through the system to generate higher-level cards. So far, this system has also supported the synthesis of up to 5 cards with the same breath.


It's worth noting that cards can also be staked. Directly find card assets in the backpack and enter the detail page, where users will see the "Sell," "Stake," and "Evolve" buttons. Click on the "stake" to generate profits from unused cards.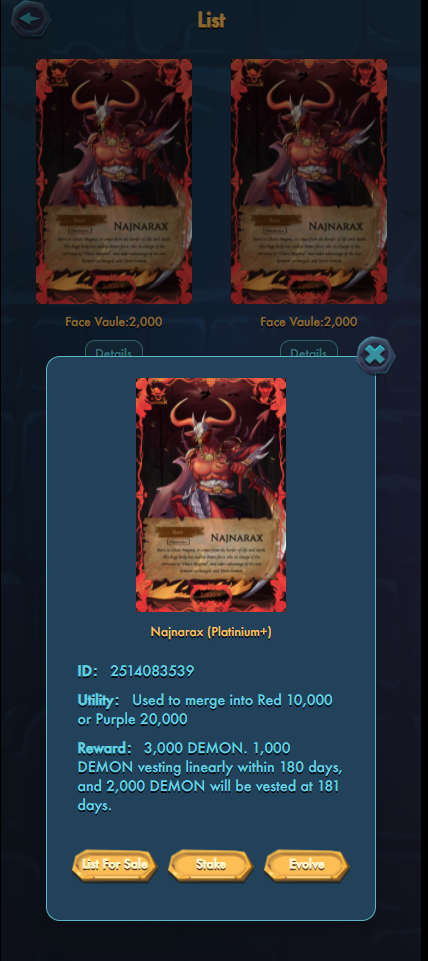 After the successful stake, you will be able to see these cards on the "stake board."

These NFT cards, anticipated to play critical roles in the coming GameFi game, will allow NFT cardholders to map their NFTs into in-game characters to fight, adventure, breed, and complete tasks for DEMONX. As you may have known, the NFT deck consists of a rather complex set of character systems and therefore encourages us to expect a more well-founded and fascinating game ahead. Demon Ecosystem will also apply GameFi as a basis to further develop the Metaverse system.
The paradigm shift brought by Demon Ecosystem
Complaints about the unimaginative borderline, oriented functionality, monotonous services, and devoid of innovation on traditional DeFi seem to be an everyday occurrence. To challenge the status quo, Demon Ecosystem integrates NFT and GameFi, which are simultaneously interlinked. Owing to the adoption of NFT and DEMON tokens, Demon Finance can deeply connect DeFi and GameFi, benefiting both while enriching the usage scenario of DEMON.
For instance, the influx of players in GameFi may profoundly accelerate the destruction of DEMON and empower DeCo Finance, which helps players profit and even hedge against the risk due to NFT value fluctuations, with a richer ecological portfolio and more directional development. Demon Ecosystem is currently highly accepted in the market. The early TVL during the ecological launch broke through $3 million with ease, with a 560% hike in DEMON token price and over 80,000 token holders.
As concluded, the integrated, NFT-based gamified DeFi ecology is in line with the trending of multi-track development in the Web3 world and meets users' immediate needs, especially as evidenced by the current market acceptance of Demon Ecosystem.
Demon Ecosystem Links:
Disclosure: This is a sponsored press release. Please do your research before buying any cryptocurrency.