Looking on CoinMarketCap, we noticed a cryptocurrency by the name of BoleToken (BOLE) registering a 1400% gain in the past 24 hours. Taking a closer look at the token, we noticed it reached a $451 million valuation only 24-hour after being released on CMC. Let's find out what all the hype is about and why BOLE is showing such insane bullish momentum.
What Is BoleToken (BOLE)?
Launched on February 7th, 2022, BoleToken is a community-driven utility token looking to establish itself as a recognized digital asset used in the hospitality industry.
Holders of Bole token get the right to receive rewards, incentives, and promotions for taking specific actions. The native token to the platform is called BOLE and can be used as a currency for payments inside or outside the blockchain platform.
BOLE token is a BEP-20 digital asset living on the Binance Smart Chain. According to the whitepaper, BOLE will be one of many cryptocurrencies accepted at BOLE restaurants, enabling a fast and easy payment method. In addition, the BOLE token can represent loyalty points, and holders will receive various incentives in terms of discounts, free drinks, and more.
Moreover, customers who provide feedback on their experience will receive BOLE tokens as a reward, enabling customer anonymity and incentivizing customers to give feedback on their food and service.
There are currently 14 restaurants part of the BOLE network, where users can spend BOLE tokens and receive rewards.
Overall the idea of the BOLE token is sound, and the fact that the team already has 14 restaurants worldwide as part of its network is a great sign.
Why Is BOLE Price Rising?
BoleToken's restaurant network and their recent listing on CoinMarketCap are significant drivers for the current bullish momentum. However, to find out the real reason why the BOLE token is showing such insane price action might surprise you.
Looking at the distribution of addresses holding BOLE, we noticed that the Deployer has access to 99.9712% of the token's total supply.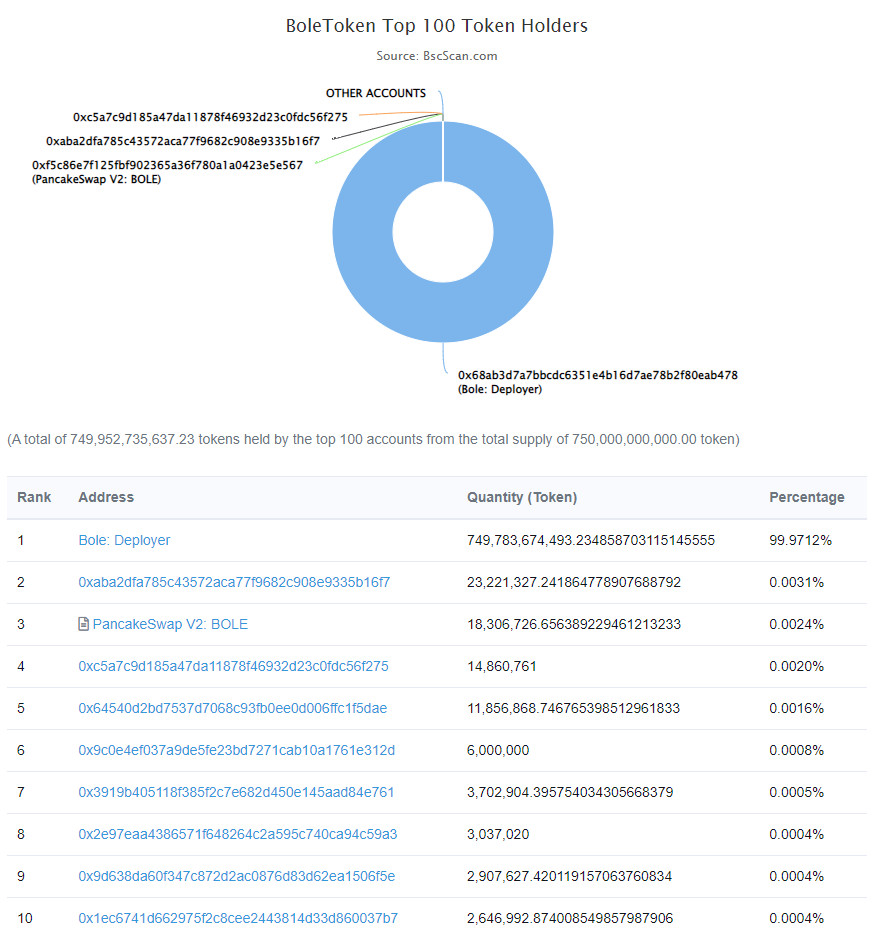 The good news is the last activity on the address was 22 days ago, meaning that the Deployer is not actively dumping tokens on the market. However, it's gravely concerning that one address has access to most of the tokens, which means the owner could easily tank the price in seconds.

Even with one address holding so many tokens, the 24-hour trading volume on BOLE is quite impressive, peaking at over $895k.
If the Deployer doesn't dump the coins anytime soon, we can expect BOLE price to continue its bullish momentum. However, I would urge investors to keep a close eye on the top address as it can easily influence the market.
In addition, the current market cap of $450 million is relatively high for a utility token with no dApp or any technical product.
If the team decided to burn some of their tokens, that would be one way to reassure traders and investors that this project has good long-term potential.
You can purchase BOLE on PancakeSwap and VinDAX.
Disclosure: This is not trading or investment advice. Always do your research before buying any cryptocurrency.
Follow us on Twitter @nulltxnews to stay updated with the latest Metaverse news!
Image Source: Vintage Tone/Shutterstock.com