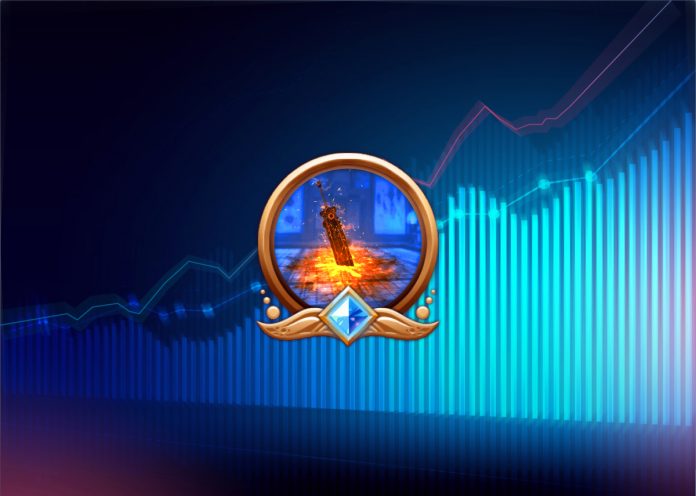 With the crypto markets trading sideways this week, some Metaverse crypto coins manage to see significant price gains. While many Metaverse crypto coins saw double-digit percent price increases today, one project, in particular, gained over 500% today! Let's look at Crypto Sword and its token SWD and see why the price is rising so much.
What Is Crypto Sword (SWD)?
Listed on CoinMarketCap on January 10th, 2022, Crypto Sword is a Game-Fi NFT-based Metaverse game built on the Binance Smart Chain. Crypto Sword wants to create an interesting play-to-earn NFT game with sword battles and immersive combat effects to give players a next-level and enjoyable experience.
To start playing Crypto Sword, players must have more than one Sword in their wallet. The mint price of a Sword is $50 + 0.04 BNB for the fees, which is quite a reasonable price to get started.
Different swords have various levels and styles. The rarity of blades includes Common, Rare, Epic, Legendary, Unique, and Mythical. The Round corresponds to the number of times a sword can enter a fight. The more rounds, the longer the Sword will last. Rounds reset once a day.
After minting their swords, players can challenge the mysterious enemy. Depending on the sword level, players can choose different fight levels. The higher the difficulty, the more rewards users can receive. Players are rewarded with a base 5 USDT worth of SWD tokens, the native BEP-20 utility tokens to Crypto Swords.
Crypto Sword is looking to develop a full-fledged Metaverse experience where users can practice and train their skills, then go into battle modes and fight unknown bosses. This means that a player's skill level will directly correlate to the rewards they earn, improving the gaming experience beyond simple point and click mechanics.
Crypto Sword is a brand new project with the Marketplace and their Metaverse still in development. Users can mint swords, but the other features aren't yet available.
Why Is Crypto Sword (SWD) Price Rising?
Crypto Sword announced today, on January 26th, that their V2 Metaverse Battle Mode is now fully complete and open to the public.
🪐V2 Metaverse Battle Mode is now fully complete and opened!🪐

⚔️Come and experience the exciting battle! ⚔️

Figure out how to defeating the powerful enemies!#NFTGame #GameFi #PlayToEarn #BSC pic.twitter.com/3XwjpJO7yC

— CryptoSword | Play to Earn NFT Game (@CryptoSwordsP2E) January 26, 2022
Nothing is more exciting for traders than announcements of new features, and it looks like the Crypto Sword team has been hard at work.
SWD's price chart has been quite bearish ever since its release on January 10th, but it seems that the project has hit bottom, and the trend might be reversing.
In addition, there's a significant amount of trading volume of over $4 million in the past 24 hours. The project's fully diluted market cap is $900k, making this a highly undervalued project. It's worth keeping an eye on Crypto Sword, and if you're into NFT-based games, I highly recommend checking out SWD and their community.
You can purchase SWD on PancakeSwap.
Disclosure: This is not trading or investment advice. Always do your research before buying any Metaverse crypto coins.
Follow us on Twitter @nulltxnews to stay updated with the latest Metaverse news!