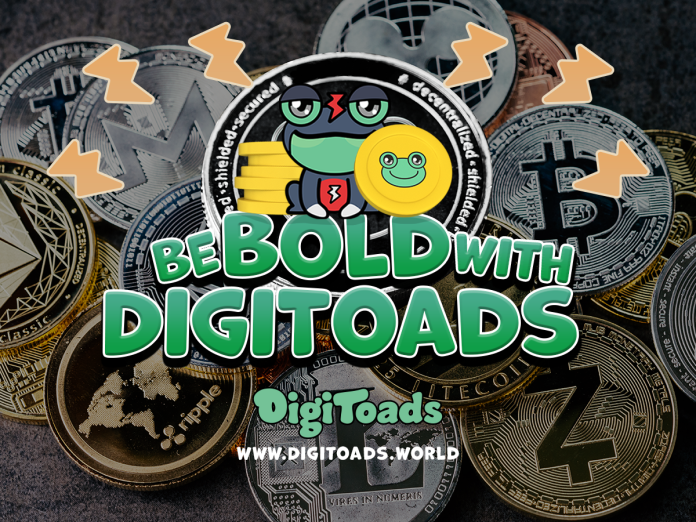 As the crypto market keeps developing, newer projects in the market start shining through the clouds. DigiToads is one of the newest presales in this volatile industry and has taken the market by storm with an innovative offering. Read on to find out what DigiToads is, how it can benefit you, and why investors are joining the presale right now.
What Is DigiToads?
DigiToads is a new meme coin that promotes a new concept: the first meme coin with real use cases and value for its holders.
One aspect behind utility is the fact that the native token of DigiToads, TOADS, fuels an immersive Web3 game. In the Swamp, players become crypto collectors as the play-to-earn mechanism allows the best players to engage in competitions and earn TOADS.
In addition to this, income-seekers can use the TOADS tokens to buy NFTs, which can then be staked to earn regular passive income. This is a rare feature that not even the best cryptos to buy now have.
Finally, TOADS holders grow their crypto holdings indefinitely due to the monthly airdrops. Consequently, you don't need to be a skilled gamer to enjoy the benefits of the DigiToads world – all you need to do is become a TOADS holder.
How Do TOADS Generate Long-Term Value?
DigiToads (TOADS) is a deflationary token due to the crypto-burning events. A crypto burning event removes a portion of the alt coins – 2% in the case of DigiToads – which means a lower overall circulating supply.
The purpose of any crypto burning event is to immediately increase the value of the remaining altcoins. As the tokens are removed from circulation, TOADS become scarcer, so more valuable for their holders.
The project will burn 2% of all the transactions, creating a deflationary factor and protecting value in the long term. This is an excellent feature that benefits long-term holders.
How Do TOADS Benefit Investors & Traders?
TOADS is positioning itself as an emerging mainstream cryptocurrency thanks to its many use cases. Long-term investors benefit the most by joining the presale and buying the TOADS tokens at a discount. Currently priced at $0.042, the TOADS token has already increased by 270% since the first presale stage. Each new stage comes with incremental price increases, resulting in bigger gains for early adopters.
The DigiToads presale is rapidly selling out, with more than 303 million tokens already sold out of a total of 405 million. The token is to be launched at a minimum price of $0.055, and analysts predict that it will grow 100x this year once it becomes available to the masses.
Becoming a TOADS holder comes with various benefits. Apart from being able to play the immersive game and keep earning TOADS tokens, holders can also stake cool NFTs in exchange for more tokens.
Traders, or those who want to become traders, also have several benefits if they buy NFTs with TOADS. For instance, if you own at least three NFTs, you can join the Toad School, where you can learn how to become a master trader on the DigiToads platform. Then, you can join trading competitions and earn regular income from the profit you make on your trades.
Summary
The DigiToads world abounds with income opportunities. One of the main features that attract its supporters is the innovative token burning mechanism that will burn 2% of all TOADS transactions. This comes with huge benefits for early TOADS holders, so this could be your sign to join the TOADS presale today and become a part of the quickly-growing DigiToads community.
For more information on DigiToads visit the website, join the presale or join the community for regular updates.
Disclosure: This is a sponsored press release. Please do your research before buying any cryptocurrency or investing in any projects. Read the full disclosure here.