Metaverse crypto coins with a low unit price are some of the most popular options for new traders and investors looking to accumulate a large number of tokens for a relatively cheap price. There are dozens of low-priced projects out there, and for a new trader, it might be hard to figure out which ones are the real deal. This article looks at our pick of the top three Metaverse crypto coins with a unit price below $0.003 to watch in April 2022, ordered by current market capitalization, lowest to highest.
#3 Starlink (STARL)
Unit Price: $0.0000176
Market Cap: $175 million
Launched in June 2021, Starlink (STARL) describes itself as a virtual blockchain-based space-themed Metaverse where players can play, trade, explore, and socialize with others.
Not to be confused with Elon Musk's company, Starlink one of the most underrated Metaverse crypto coins building its virtual world with Epic Games' Unreal Engine 5.
The project's mission is to provide users with a brand new way to generate a passive income via its gaming ecosystem and NFT-based economy, and the project is a must-watch in April 2022.
Starlink's Metaverse is still in development; however, users can currently explore their PIXELNAUT NFT collection on OpenSea.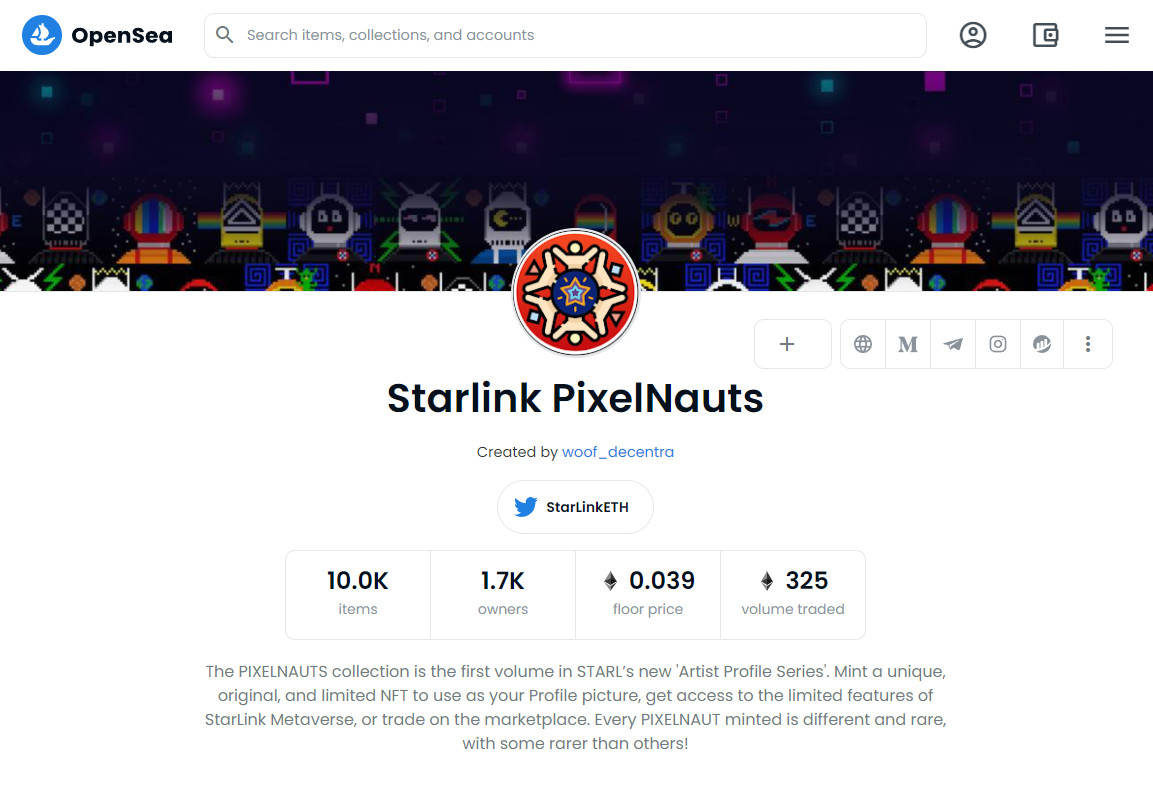 Users can purchase a PIXELNAUTand use it as their profile picture in the Metaverse, get access to exclusive features in StarLink, and trade it on the marketplace. In addition, each PIXELNAUT is unique, some rarer than others.
At the time of writing, the collection features 10k items spanning 1.7k owners. The floor price of each PIXELNAUT is 0.039ETH, approximately $135 at writing.
STARL is the primary utility token on the platform, an ERC-20 asset on the Ethereum blockchain. STARL's utility enables users to modify in-game assets, interact with the project's Metaverse, and purchase various items.
You can buy STARL on LBank, MEXC, Uniswap, Gate.io, OKX, and more.
#2 UFO Gaming (UFO)
Unit Price: $0.00001021
Market Cap: $262 million
Launched in July 2021, UFO Gaming is a top-rated Metaverse featuring a fully decentralized gaming platform bridging traditional games with blockchain tech and allowing players to earn rewards while playing.
UFO Gaming combines blockchain, play-to-earn, Metaverse, virtual land, NFT, and gaming into a one-stop ecosystem. UFO features one of the most substantial communities backing the project that call themselves the UFOARMY. We highly recommend keeping a close eye on this project in April 2022 and beyond.
UFO's Metaverse is also called The Dark Metaverse, featuring an ever-expanding realm and infinite ecosystem that will consist of play-to-earn games, breedable in-game NFTs, a virtual land market, and a Metaverse project launchpad.
The first game that the team is developing is Super Galactic. This RPG/arcade action/ARG game enables players to breed and battle digital super soldiers in UFO's first revealed fourth dimension realm. Super Galactic is a combination of an auto battler decentralized game combining NFTs. The game is built on the Ethereum blockchain and integrates with Polygon.
Check out this YouTube trailer for Super Galactic to get a better idea of what's to come:
UFO is the primary utility and governance asset for UFO Gaming. It's 100% community owners, with 50% added to Uniswap and the other 50% burned forever. In addition, UFO Gaming features Plasma Points which can be earned by staking UFO in the Cosmos. Last but not least, UAP tokens are required to fuse (breed) NFTs in the game, which can only be obtained by playing Super Galactic and completing missions and daily quests.
You can buy UFO on KuCoin, LBank, Gate.io, Uniswap, and more.
#1 Radio Caca (RACA)
Unit Price: $0.002371
Market Cap: $713 million
Launched in August 2021, Radio Caca is one of the most underrated Metaverse crypto coins currently on the market and has seen significant price gains over the past week, rising over 26% in the past seven days alone!
Radio Caca features a robust ecosystem featuring several dApps that compose the project. Radio Caca features a Decentralized Autonomous Organization (DAO) at its core, governing the direction and shaping the project's future. In addition, Radio Caca is working on their USM Metaverse (The United Stated of Mars), a similar experience to the popular Decentraland.

The USM is an in-browser 3D Metaverse currently in its alpha stage. The USM is open for users to explore, and we highly recommend checking it out.
Radio Caca also features a play-to-earn blockchain-based game Metamon, enabling users to earn rewards for participating. To start playing, users must purchase a Metamon Egg with RACA tokens.
RACA is the primary utility token for the platform featuring both ERC-20 and BEP-20 versions of the game, living on the Ethereum and BNB chains, respectively. The RACA token enables users to interact with its Metaverse, participate in DAO governance, and purchase in-game items.
RACA is one of the most underrated Metaverse projects on the market right now, and their OpenPFP project is also worth keeping a close eye on. Check out this photo of RACA's CEO with the world-class icon Steve Aoki, showing the tremendous long-term potential of the project:
Seems the #RACA team is rubbing shoulders with some pretty popular artists @steveaoki … #NFTLA is becoming a great conference for the team to connect with #NFT and #PFP teams, founders and celebrities… LFG! 🚀#RACA #OpenPFP #USM #Metaverse #PotentialCollab https://t.co/6C0AbFCX6L

— RACA.bab (@RACA_3) March 31, 2022
You can purchase RACA on Poloniex, DigiFinex, Hoo, MEXC, LBank, PancakeSwap, Uniswap, BKEX, MDEX, and more.
Disclosure: This is not trading or investment advice. Always do your research before buying any Metaverse crypto coins.
Follow us on Twitter @nulltxnews to stay updated with the latest Metaverse news!
Image Source: ESA/Hubble