This week, cryptocurrency markets continue to trade sideways as Bitcoin and Ethereum manage to hold support. Metaverse Crypto coins show bullish signs, with many seeing single-digit percent price gains this St. Patrick's day. Let's look at our top pick of the top three Metaverse crypto coins with a market cap below $60 million to watch in March 2022, ordered by current market capitalization, lowest to highest.
#3 Highstreet (HIGH) – $47 million
Launched in October 2021, Highstreet is a Metaverse crypto coin and game featuring a unique virtual world built with the Unity game engine. The game features an MMORPG-style world enabling players to take on various roles like Archers and Brawlers.
The game's goal is to protect cities and slay monsters. Highstreet integrates the popular play-to-earn model enabling users to earn rewards for playing the game.
All in-game assets for Highstreet are tokenized, and the game's goal is to bridge the physical and digital worlds into an immersive and engaging experience everyone can enjoy.
Their first continent is called Solera, an open-world Metaverse enabling users to purchase armor and gear, explore their land, and set up their characters to take on various battles.
For a brief overview of Highstreet's world, check out this video preview of Freshmint Island:
Highstreet features a dual-token economy consisting of HIGH and STREET tokens. HIGH tokens are the main governance tokens on the platform, while STREET tokens are the primary utility assets for Highstreet enabling users to interact with its Metaverse.
Highstreet is one of the highest-traded Metaverse crypto coins when compared to its market cap, making it a must-watch token in March 2022. At writing, Highstreet's valuation is $47 million with a 24-hour trading volume of $22.8 million!
You can purchase HIGH on Binance, PancakeSwap, Bitget, LBank, Gate.io, Uniswap, Nominex, MEXC, etc.
#2 Star Atlas (ATLAS) – $54 million
Launched in September 2021, Star Atlas (POLIS, ATLAS) is yet another highly underrated Metaverse crypto coin that's a must-watch in March 2022. It's the leading Metaverse project on Solana and features one of the best designs on the market.
Star Atlas also integrates the popular play-to-earn model into its ecosystem, enabling users to earn rewards for playing the game.
For a sneak-peek at the level of development for Star Atlas, check out their YouTube trailer:
While Star Atlas' Metaverse is in development, users can check out their NFT marketplace featuring various items available for purchase. Star Atlas' NFT marketplace includes a unique order book style for bidding on NFTs, which makes it easier to keep track of the fluctuating prices of NFTs on the platform. We highly recommend checking it out.
Like Highstreet, Star Atlas features a dual-token ecosystem consisting of the POLIS and ATLAS tokens. While POLIS is the primary governance token on the platform, ATLAS is the utility asset for Star Atlas, enabling users to purchase NFTs, interact with its ecosystem, and more.
You can purchase ATLAS on PancakeSwap, Kraken, Raydium, Serum DEX, Gate.io, OKcoin, etc.
#1 Ethernity Chain (ERN) – $59 million
Launched in March 2021, Ethernity Chain is one of the most underrated NFT marketplaces for fully licensed and authenticated NFTs. Ethernity Chain's marketplace features partnerships with world-class gaming brands and sports teams with some of the best-designed NFTs in crypto.
At writing, there are over 30 NFT collections with 100k items on the platform, all fully licensed from influential brands and teams.
Ethernity Chain's marketplace also features various categories, including Basketball, Baseball, Art, Auto, Comics, Boxing, and much more. While some NFTs are pretty expensive, you're bound to find affordable collectibles within your price range.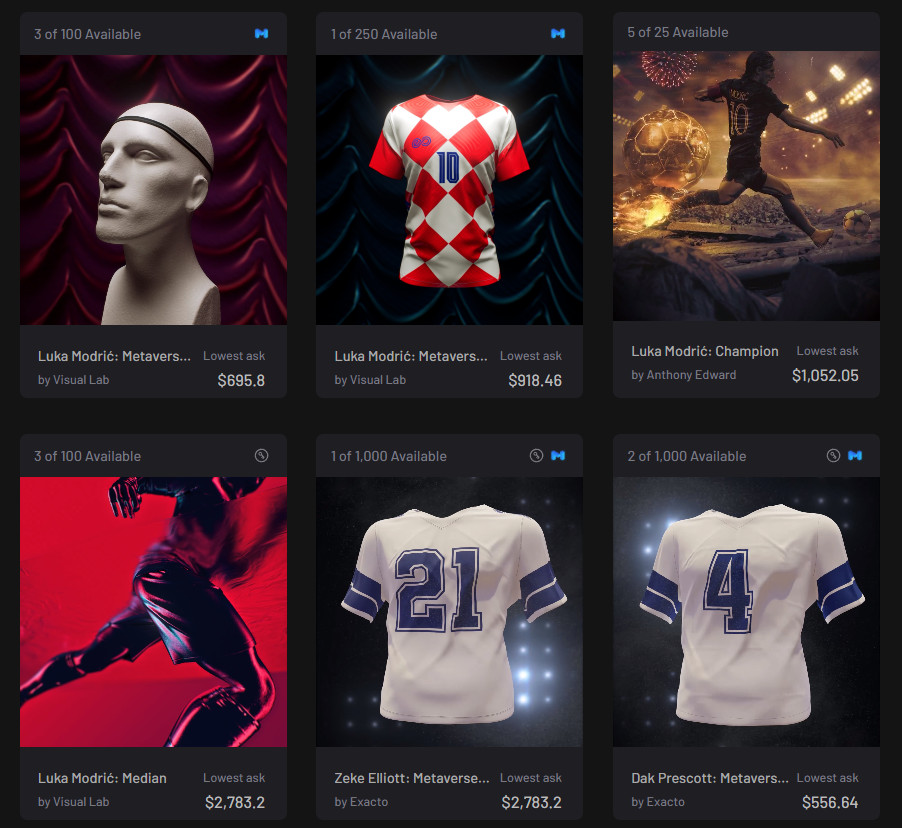 Ethernity's NFT marketplace is available on both the Ethereum and Polygon blockchains.
The primary utility asset on the platform is ERN, an ERC-20 token living on the Ethereum blockchain. Its leading utility is purchasing NFTs on the marketplace.
You can purchase ERN on KuCoin, OKX, Binance, Poloniex, Gate.io, etc.
Disclosure: This is not trading or investment advice. Always do your research before buying any Metaverse crypto coins.
Follow us on Twitter @nulltxnews to stay updated with the latest Metaverse news!