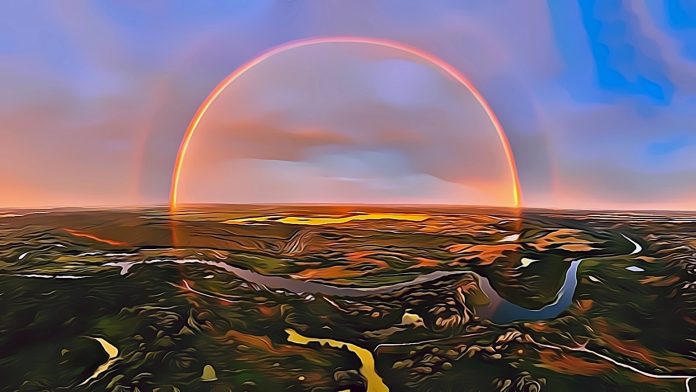 A connection between off-chain and on-chain events, or simply put, between the blockchain and the real world, is made by an oracle. You can obtain information from data sources, including price or related weather information. Oracles are simply Data Feeds. 
ChainLink, NEST Protocol, iExec, and Universal Market Access (UMA) are a few of the top tokens in this category. Still, today we'll be looking at some Oracle tokens with market capitalizations under $6 million.
Note: Tokens are sorted by their market capitalization from lowest to highest
Idena (IDNA)
Unit Price: $0.02936
Market Cap: $1,772,348
Distinct Features: Idena conducts an AI-resistant test simultaneously for all users to demonstrate the humanity and individuality of its participants.
Idena is the first Proof-of-Person blockchain founded on democratic ideals. Each Idena validator is associated with a cryptoidentity, a single entity with an equal number of votes.
Anyone, regardless of who they are or where they live, can obtain their cryptoidentity. You must demonstrate your uniqueness as a human being to become an Idena validator and begin earning with Idena. It does not call for the revelation of any private information (no KYC). To validate your identity, you must be present online and pass a series of flip-tests (CAPTCHAs).
First, peer-to-peer cryptocurrency payments were introduced by Bitcoin. Ethereum later created a virtual machine for running decentralized apps. Cryptoidentity was developed by Idena, enabling users to create democratic online governance. The development of decentralized systems on the Internet has progressed with the help of Idena. 
Exchange: IDNA has a 24-hour trading volume of $71,962.99, trading on top cryptocurrency exchanges such as BitMart, PancakeSwap (V2), ProBit Global, ViteX, and qTrade.
Razor Network (RAZOR)
Unit Price: $0.01076
Market Cap: $3,529,389
Distinct Features: Because it doesn't rely on centralized servers to distribute data across the supported blockchains, it is practical, fault-tolerant, and highly secure.
RAZOR, a fast, reliable, and secure connection between smart contracts and off-chain real-world data, is made possible through the Decentralized Oracle Network. The main building block of Razor's Network is a collection of smart contracts that can function on any Ethereum-compatible blockchain. Smart contracts receive data via Razor.
Razor's Network focuses on decentralization, economic security, safeguarding stakeholders from various attack vectors, and safeguarding clients from nefarious stakeholders. Additionally, it provides developers with ease of use and resilience to corruption, censorship, and bribery.
The native utility token for the system, known as RAZOR, can be used to stake, vote, and pay fees. As a user, processing data requests and submitting information to the network are part of staking with RAZOR.
Exchange: RAZOR is trading on MEXC, Gate.io, LBank, Jubi, and Uniswap (V2) with a 24-hour trading volume of $350,114.
Oraichain (ORAI)
Unit Price: $1.83
Market Cap: $3,730,487
Distinct Features: Oraichain provides intelligent, secure solutions for emerging Web3, scalable dApps, and decentralized AI.
Oraichain supports the creation of a new generation of smart contracts and dApps. The first AI-powered oracle and AI Layer 1 with an entire AI ecosystem. It provides decentralized ecosystems for the Data Economy and AI-based businesses by creating hubs connected to data and artificial intelligence through platforms like Data Hub or AI Marketplace (and future hubs)
According to the website, Oraichain's robust ecosystem includes:
AI Oracles:

provides Price Feed, fully on-chain VRF, Royalty Protocol, and Originality Check

DEX & DeFi:

OraiDEX, yAI.Finance, Trava.

Web 3.0,

which includes Oraichain Data Hub, and Oraichain AI Marketplace.

NFT:

aiRight

GameFi,

which includes Kawaii Islands and Wen Lambo.

Wallet:

Oraichain Wallet for storing and staking ORAI.
Exchange: ORAI has a 24-hour trading volume of $91,164.52, trading on KuCoin, Gate.io, BKEX, PancakeSwap (V2), and BitGlobal exchanges.
Modefi (MOD)
Unit Price: $0.3633
Market Cap: $5,552,883
Distinct Features: With the help of Modefi's Oracle Solution Suite, DeFi protocols can reduce the chances of unforeseen events jeopardizing their customer's money.
Modefi's primary goal is to create Oracle blockchain solutions that enable full data decentralization on-chain for smart contract integration. The Oracle solutions from Modefi's suite will offer greater transparency, data accuracy, and a trustworthy ecosystem.
Oracle manipulation has been an offender to contracts and DeFi attacks. When protocols rely on centralized or single data point oracles within their ecosystems, their users are exposed.
With setup taking less than ten minutes and no API needed, it provides secure access to an unlimited amount of data on any chain.
Exchange: MOD has a 24-hour trading volume of $82,452.47, trading currently on KuCoin.
Kylin (KYL)
Unit Price: $0.02134
Market Cap: $5,752,751 
Distinct Features: Kylin aims to expand the provisional data resources across all conceivable data types and sources, including social media posts, travel information, currency exchange rates, and weather reports.
By utilizing Polkadot and Polkadot Substrate 2.0 Off-Chain Workers, such as Kylin Data Oracle, Kylin Data Analytics, and the Kylin Data Marketplace, Kylin Network will offer a decentralized data infrastructure solution for Web 3.0 dubbed #DeData.

A collection of analytical tools called Kylin Data Analytics is made for data warehouses. It takes relevant data and extracts patterns, interpretations, and low-cost commercialization features for the general public.
A cutting-edge decentralized data feeding mechanism powered by Polkadot, Kylin Data Oracle offers a variety of affordable real-time data sources.
The open marketplace for data interchange and pricing is called Kylin Data Marketplace. Polkadot-based dApps can quickly and effectively gather off-chain and on-chain data while paying a very reasonable charge.
Exchange: KYL is trading on KuCoin, Gate.io, LATOKEN, AEX, and THORChain (ERC20) with a 24-hour trading volume of $232,245. 
Disclosure: This is not trading or investment advice. Always do your research before buying any cryptocurrency or investing in any services.
Follow us on Twitter @nulltxnews to stay updated with the latest Crypto, NFT, AI, Cybersecurity, Distributed Computing, and Metaverse news!
Image Source:mulderphoto/123RF // Image Effects by Colorcinch