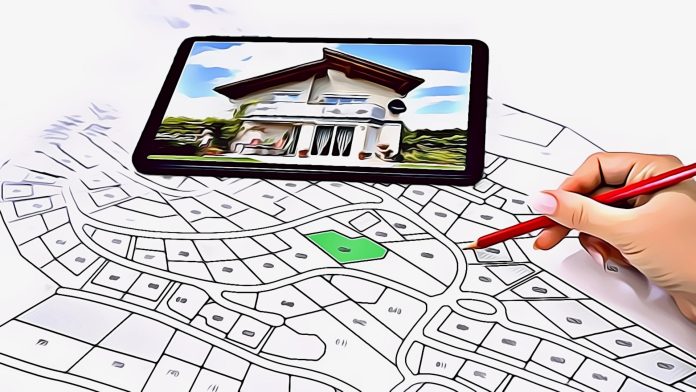 Real Estate has become a thing in the Blockchain Industry, completely disrupting the system with some of these tokens at the forefront. Real Estate Tokens have a combined growing market capitalization of $59,976,121 and a growing total trading volume of $7,960,288, up over 20% in the last 24 hours. 
Note: The tokens are ordered by their market capitalization from lowest to highest.
Etherland (ELAND)
Unit Price: $0.005166
Market Cap: $160,286
Distinct Features: The mobile game platform for ETHERLAND accepts ELAND tokens. Additionally, it will be used to motivate real estate owners all around the world to convert their homes into carbon-free real estate.
Etherland marketplace and mobile applications for virtual lands can be accessed using the ELAND Protocol. The native utility token, called ELAND, is utilized for
Gaining Access To the Etherland Platform.
Acquiring LAND ID Non-Fungible Tokens on the Etherland Marketplace.
Receiving a Carbon Credit Reward for tokenized Real Estate.
For The Creation Of customized NFts of your best location in the World.
Lastly, For Playing with Augmented Reality Mobile Applications.
ELAND token is unique because it allows users to generate and exchange NFTs that accurately reflect real estate worldwide.
Additionally, because the NFTs made with ELAND tokens are connected to IPFS, their information, which includes images, movies, data, and real estate descriptions, is more secure and resistant to censorship.
Exchange: ELAND is currently trading live on Uniswap (V3) and PancakeSwap (V2) with the price up 0.50% in the last 24 hours.
ATLANT (ATL)
Unit Price: $0.009657
Market Cap: $522,918
Distinct Features: ATLANT is a ground-breaking worldwide real estate platform that enables P2P rents and tokenization of real estate ownership.
ATLANT is the world's Real-Estate Blockchain platform, a revolutionary Fintech/Proptech firm,  developers of digital securities exchange, uvas.com, and home rentals platform, karta.com. 
On Karta.com, users can rent apartments with the lowest fees and honest reviews globally. While on Uvas.com, you can invest in tokens representing debt or equity of real assets.
Rebox is another outstanding offering from the team. It sets the bar for the sector by giving institutional, professional, and retail investors access to a robust exchange to trade digital assets immediately, securely, and with the lowest charges.
Exchange: ATL is up 1.98% in the last 24 hours and is currently trading live on YoBit and Mercatox. 
LABS Group (LABS)
Unit Price: $0.001401
Market Cap: $3,088,162
Distinct Features: The goal is to provide an end-to-end investing platform that benefits all parties and to collaborate with the best partners in the world to make real estate accessible to everyone.
By creating the world's first end-to-end real estate investment ecosystem and fractionalizing real estate investments, Labs is upending real estate investments in the most important asset class. Decentralized finance (DeFi) and governance are supported via the LABS (Liquid Assets Brokerage System) ecosystem coin.
By using Web3 to conduct digital asset transactions, linking the real estate sector with blockchain technology, and collaborating with various hotels and properties throughout the world, LABS makes real estate accessible to anyone.
The G.A.I.N.S concept, which stands for governance, access (to projects), incentives, nomination (rights), and staking, applies to LABS tokens, which are utility tokens (for rewards).
Exchange: LABS is currently trading live on KuCoin, Gate.io, BitMart, and PancakeSwap (V2) with a 24-hour trading volume of $56,696.66.
Ecoreal Estate (ECOREAL)
Unit Price: $0.157
Market Cap: $15.41M
Distinct Features: Ecoreal is a source of information on distinctive, continuously updated real estate market offers from around the globe. Ecoreal aims to bring cryptocurrency into this excessively regulated industry to ease international trade.
A decentralized platform called Ecoreal Estate Project allows users to buy or sell real estate anywhere in the world. It embodies a practical and flexible tool for finding and purchasing real estate.
Between the seller and the buyer, collectively referred to as Participants or Members in the real estate market, Ecoreal Platform serves as a highly skilled mediator. 
They do this by putting the four fundamental tennants of the blockchain to use: fairness, Ecoreal Estate Token accessibility, transparency, and trust. This will provide them the freedom to act in the best interests of their customers, effectively securing their access to domestic markets typically closed off to international crypto market participants and allowing them to support the long-term growth of regional communities.
Exchange: $ECOREAL is currently trading live on Coinsbit, P2B, and ProBit Global with a 24-hour trading volume of $83,243.32.
Propy (PRO)
Unit Price: $0.6047
Market Cap: $49,600,505
Distinct Features: For all parties involved in real estate purchases, Propy is automating the closing process to make it quicker, more straightforward, and more secure. Their tools facilitate the transition of brokers, agents, and title agencies to blockchain closure.
By implementing cutting-edge technology, Propy, a business backed by influential figures in Silicon Valley and the National Association of Realtors, is transforming the real estate sector. Propy Offers three distinct ways to buy/sell a home :

Through Bank Transfers –

To complete a transaction, use our integrated tech-driven escrow and title firm on the Propy platform on the blockchain to finish the deal after finding a tech-driven agent. Make/Accept offers through Propy with a down payment through

Propy Online Payment in dollars.

Using Crypto –

On the platform, you may choose a Crypto Certified Agent and make and accept offers in

cryptocurrencies

. Pay with cryptocurrencies using the Propy Crypto Exchange tool, and complete a transaction with a crypto-friendly escrow and title business on the blockchain.

As an NFT –

Discover the revolutionary couple-click home purchase method using real estate

NFTs

. The first home NFTs were created by Propy. A property can be listed on MLS and as an NFT. The 30-day closing period is not necessary when purchasing real estate NFT.
Propy has processed $4bn in transactions for consumers and agents from Compass, eXp, The Agency, Redfin, KW, Remax, Realty Austin, ACME, and others
Exchange: PRO is currently trading live on Bitrue, DigiFinex, Huobi Global, Coinbase Exchange, and HitBTC with a 24-hour trading volume of $3,897,800.
Disclosure: This is not trading or investment advice. Always do your research before buying any cryptocurrency or investing in any services.
Follow us on Twitter @nulltxnews to stay updated with the latest Crypto, NFT, AI, Cybersecurity, Distributed Computing, and Metaverse news!
Image Source: andreypopov/123RF // Image Effects by Colorcinch