CoinMarketCap is a great place to get information about top cryptocurrencies and tokens. With how fast crypto markets move, there are always new tokens on the rise, looking for their market share. In this article, we look at the top 5 trending coins and tokens on CoinMarkteCap for today, December 9th.
MicroPets (PETS)
MicroPets is a meme project built on the Binance Smart Chain. According to its official website:
"We've taken your favorite memes and packaged them up into adorable pets you can trade or stake. The rarer the MicroPet the better the rewards."
To start playing MicroPets, buy a crate from their shop, which you can access via their dApp. Users can access the dApp via their Chrome browser using a MetaMask or WalletConnect extension.
One crate costs 250 million PETS, which at the time of writing was roughly $800. There is also an option to purchase a smaller crate that only costs 25 million PETS, approximately $80 at writing.
The crates have a chance to open a variety of pets, each with a different rarity. The more rare pets offer higher APY, some going as high as 1243% APY for the Mythic Doge. Once you open the crate, you can instantly stake your pet and start claiming PETS rewards.
PETS is a BEP-20 token, and the best place to purchase it would be on PancakeSwap. If you're looking to get your foot in the door with NFTs, staking, and crypto in general, buying the smaller crate from MicroPets could be a great way to start earning passive rewards.
MarsRise (MARSRISE)
MarsRise is a meme token built on the Binance Smart Chain with a deflationary supply. According to its official website, the token is made to "bring a community together on the mission to Mars."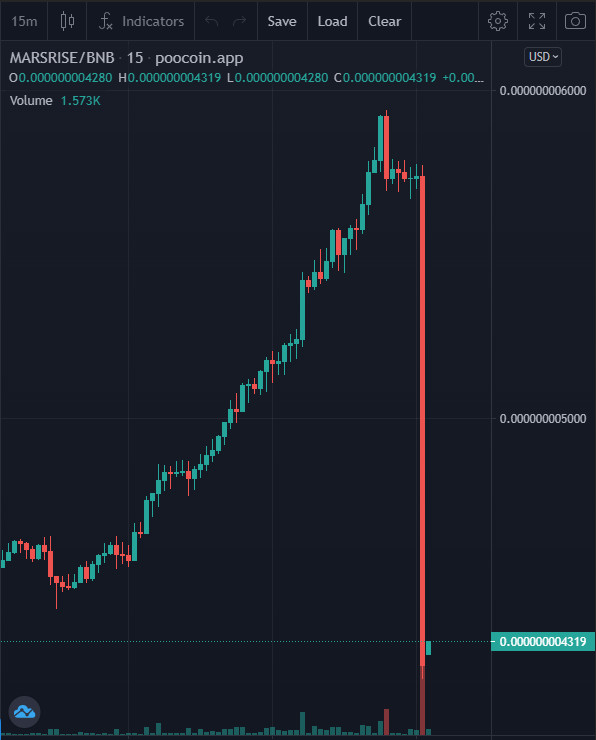 Looking at MarsRise's recent price action, it's clear that this coin is still subject to high volatility. According to the roadmap, MarsRise is still yet to launch the first version of the MarsRise game, which can quickly increase the coin's valuation.
Looking on Twitter, the MarsRise game is scheduled to be launched on December 25th, 2021.
https://twitter.com/MarsRise_Bsc/status/1468434106891616257
MarsRise could easily be 10x from its current fully diluted market cap of $4 million if the launch succeeds. MarsRise is quite an undervalued project, making this a high-risk, high-reward trade. As such, proceed with caution and only invest what you can afford to lose.
GenshinFlokiInu (GFloki)
GenshinFloki is another meme token built on the Binance Smart Chain. According to its official website:
"GFLOKI is an innovative AI Rebase token. AI automatically calculates the most reasonable increase and can passively reward $DOGE coins. The earlier the purchase time, the longer the token holding time, the higher the proportion of dividends."
GFloki is currently trading at $0.00000001254 and has one of the highest supply I've ever seen. It has a total supply of 1 quadrillion GFloki!
According to the official website, the team claims that GFloki will eventually trade at 1USDT per token, which is quite a bold statement to make.
Retromoon (RETRO)
Retromoon is a play-to-earn Arcade platform pioneering the blockchain gaming industry with classic, arcade-style minigames that feature fully playable NFT characters.
At this time, users can check out Retromoon's immersive blockchain arcade experience and start earning rewards for playing various games. Powered by the $RETRO token, the platform seeks to pave the way for the advancement of blockchain gaming.
At this time, players can play Moon Invaders, the first game designed by the studio. It's inspired by the original Space Invaders and features nine waves of invaders with increasing difficulty, followed by the last boss fight on the tenth level.
RETRO is also a BEP-20 token that lives on the Binance Smart chain. It can be purchased from PancakeSwap for the WBNB trading pair.

Prince Floki V2 (PrinceFloki)
As the name suggests, Prince Floki V2 is the second iteration of the meme project Prince Floki. During the first version, the team found an irreparable Rebase vulnerability that continuously added liquidity to PancakeSwap's address. The team decided to relaunch the token under Prince Floki V2 with the corrected smart contract.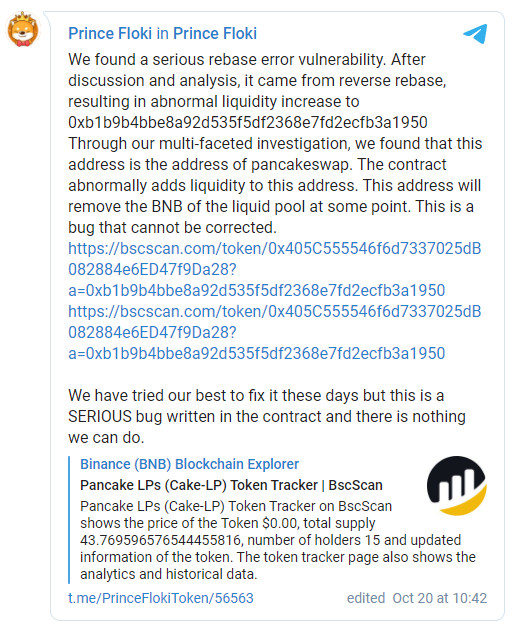 Rebase is the increase or decrease of the total supply of a token. This allows dynamic adjustment of a token's value without affecting the value of anyone's share of coins. This makes the chart look healthier, regardless of dips and volatility.
Rebase makes for a great marketing tool for new tokens looking for placement on top gainers for the extra exposure. Prince Floki Inu used Rebase to their advantage with a unique adaptation that rewards PrinceFloki holders with DOGE rewards. As such, if you hold PrinceFloki, you will receive DOGE directly into your BEP-20 address.
It is an excellent option for those looking to accumulate more DOGE with their existing holdings. You can purchase PrinceFloki from PancakeSwap V2 with the trading paid WBNB.
Disclosure: This is not trading or investment advice. Always do your research before buying any cryptocurrency.
Follow us on Twitter @nulltxnews to stay up to date with the latest cryptocurrency news!