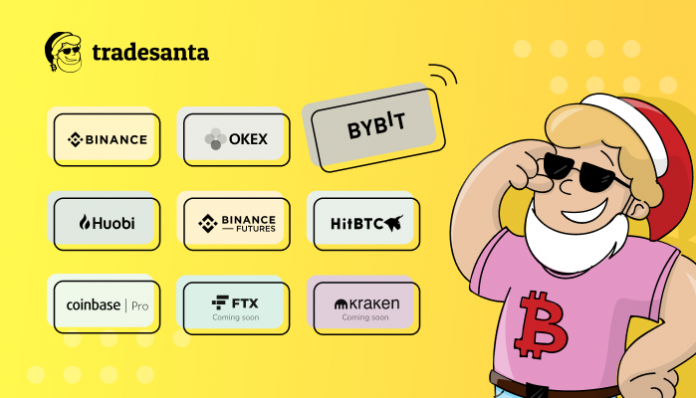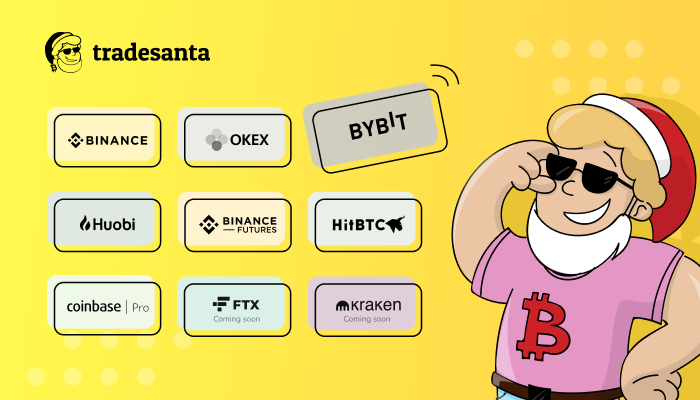 TradeSanta, an online platform for automated algorithmic trading for cryptocurrencies, integrates the popular Bybit exchange announced in a recent partnership.
Users of the popular TradeSanta platform can now connect their Bybit accounts to trade for them using TradeSanta's algorithmic trading automatically. Bybit exchange is one of the top 8 spot exchanges worldwide, serving over 6 million clients globally. Bybit is one of the most reliable exchanges featuring a user-friendly interface perfect for new cryptocurrency users.
TradeSanta assisted thousands of investors by improving their everyday trading, launching initially in 2018. There are over 127k registered users with over 4 million executed trades so far, making TradeSanta one of the leading trading bots on the market. TradeSanta executes trades automatically, which means users can leave the bot on without constant supervision.
What is TradeSanta Exactly?
For those not familiar with trading bots, TradeSanta is an automated trading platform with the goal of streamlining algorithmic trading and making the service more accessible to everyday users. One of the service's top priorities is making the product intuitive and straightforward to use, without the need for complex knowledge of technical indicators and charts.
To start using a crypto trading bot, users must first connect the TradeSanta bot to an exchange account of their choice via API keys. There are several supported exchanges for TradeSanta, including Bybit, Binance.US, Coinbase.Pro, HitBTC, OKEx, Huobi, and Upbit, with more platforms planned to be integrated soon.
The trading bot will execute trades on users' behalf based on their set parameters. The interface is highly intuitive, and even those not familiar with various trading strategies can test out the bot and make a profit with their trades.
In addition, TradeSanta features indicators, signals, risk management tools, and other tools integrated from TradingView, the leading Technical Analysis tool for crypto trading on the market. Moreover, TradeSanta bots can even trade futures and spot markets for those looking to take advantage of higher leverage and are looking for a higher risk-reward trading strategy.
TradeSanta also features a trading terminal that enables users to place manual orders on various exchanges. This means traders can place multiple orders simultaneously on numerous exchanges, making it easier to consolidate trades.
Last but not least, TradeSanta features bulk action tools such as quickly closing all positions and consolidating the entire portfolio to USDT or BTC. For those not looking to utilize TradeSanta's algorithmic trading, there are still helpful tools that can be time-savers. TradeSanta can also be useful for those looking to hedge their portfolio against sudden market crashes and quickly move everything to a stablecoin to fix your earnings.
TradeSanta's Vision & Mission
TradeSanta aims to make it easier for crypto enthusiasts to trade assets. In addition, it's looking to educate the public on how cryptocurrency transactions work by providing video tutorials that guide users through complicated strategies step by step.

According to TradeSanta, the platform's goal is to ensure that users don't have to be chained to their computers and mobile devices for conducting trades. Users can set a strategy and go about their day as the automated trading system executes the trades for them.
TradeSanta Socials:
Official Telegram Community: https://t.me/tradesanta
Official Twitter: https://twitter.com/trade_santa
Official YouTube: https://www.youtube.com/channel/UCXcw4IIdFNIbBJ2ptUunoQQ/
About Bybit
Launched in 2018, Bybit is a leading cryptocurrency exchange. It offers a professional platform enabling crypto traders to leverage their fast matching engine. Bybit features multilingual community support and excellent customer service that can answer any questions users might have.
Bybit provides derivatives trading and spot trading, mining and staking products, an NFT marketplace, and robust API support to its traders.
Disclosure: This is a sponsored press release. Please do your research before buying any cryptocurrency or using any service.