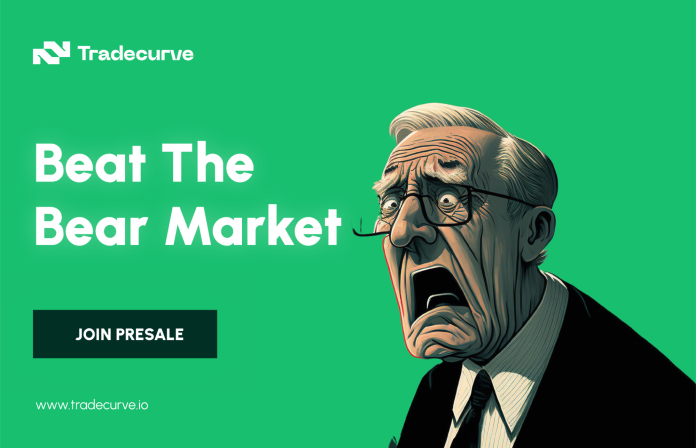 The current downtrend for the TRON cryptocurrency reached a bearish limit, and the uptrend will resume when the cryptocurrency's value ends up returning above the moving average lines. 
Cryptocurrency prices will rise again, and this has also been evident in the upwards recent momentum experienced by the Litecoin cryptocurrency, which indicated green signs. Tradecurve is also at the top of the growing cryptocurrencies lists in the eyes of many investors, especially after it surged by 50%, and is expected to repeat this pattern in June.
TRON and How It Reached Its Bearish Limit
The Relative Strength Index for the TRO cryptocurrency is 32.56. Despite the decline in value, the altcoin is in the uptrend zone, and it can rise further in value when compared to its previous high point. As the price bars are above the moving average lines, this upward trend is expected to resume.
As of June 11, 2023, TRON trades at $0.069306. In the last week, the low point for TRON was at $0.066384, while its high point was at $0.082058. Going over the weekly performance, in the last 24 hours, TRON saw an increase in its value by 1.9%, and in the last month, TRON is up 1.3%. If TRON manages to retain this growth, it can surge past the $0.7 price barrier and reach a new height at $0.9.

Litecoin Showcases Green Signs
Cryptocurrency analysts indicated that there is a bullish momentum that can occur with the Litecoin cryptocurrency. The reasoning behind this price movement is the bullish sentiment about the upcoming Litecoin halving event, alongside the increase in the on-chain metrics. Litecoin is consistently recording an increase in its trading volume, and investors are anticipating a green trend.
On June 11, 2023, Litecoin traded at $78.39. Going over the weekly performance, Litecoin saw its lowest point of value at $75.56, while its highest point of value was at $96.12. In the last year, Litecoin managed to increase its value by 38.9%, and all of these aspects bolstered investor confidence in the future of the project.

Tradecurve Expected to Surge 50% in Value 
Aside from the performance seen by TRON and Litecoin, another cryptocurrency that managed to impress investors with a growth of 50% is Tradecurve, and this same level of growth is expected to occur soon.
This privacy-oriented and accessibility-focused hybrid exchange enables anyone to trade crypto and derivatives from a single platform. Users are not required to complete any sign-up KYC checks, and the platform can also ensure a complete level of privacy and anonymity as a result. Users from all over the globe are able to trade by making a deposit using their crypto wallet and then using that crypto as collateral when making each trade.
Users can access hundreds of algorithmic and artificial-intelligence-focused training systems to enhance and even optimize the performance of their portfolio. Each newbie can also increase their knowledge by joining Metaverse Academy and learning from trading professionals. 
There is even a social tracking infrastructure where users can copy the best trades made by professionals, and they can offer this service as a subscription model. TCRV is the utility token that powers all of this; Holders of TCRV get access to discounts and staking opportunities through which they can get passive income, and they can get exclusive rewards or VIP account status. 
During Stage 3 of its presale, TCRV trades at $0.015. The stage is almost over with 70% complete, and during it, over 52,835,289 tokens have been sold. When the project launches and the TCRV token gets listed on Tier-1 exchanges and on the Uniswap DEX, analysts predict a climb of 100x.
Gain more information about the Tradecurve project below and learn more about the TCRV token presale:
Click Here To Buy TCRV Presale Tokens
Join Our Community on Telegram
Disclosure: This is a sponsored press release. Please do your research before buying any cryptocurrency or investing in any projects. Read the full disclosure here.