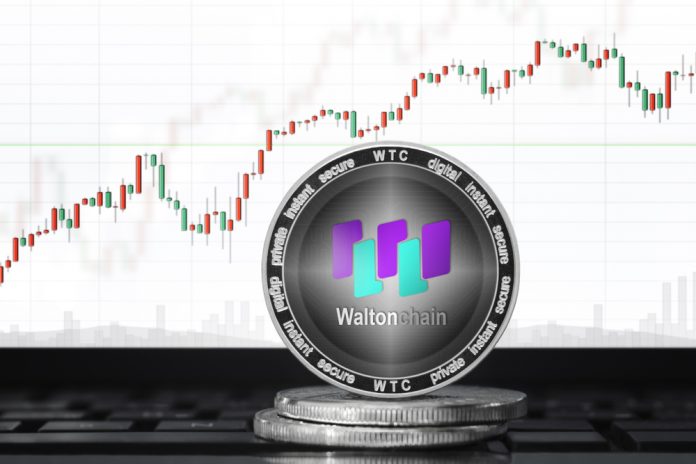 Even though most of the top cryptocurrency markets are still in the red right now, it is interesting to see how some currencies still note solid gains. Waltonchain is going through a nice uptrend at this time, primarily because of its gains over both Bitcoin and Ethereum alike. That in itself shows this altcoin still has some life left after a rough decline throughout 2018.
Waltonchain Price is Rising Quickly
Although Waltonchain used to be an active part of cryptocurrency discussions earlier this year, things have seemingly ground to a bit of a halt in recent months. Considering how the year 2018 is incredibly bearish for all cryptocurrencies, such a negative trend is entirely to be expected. Despite this negative trend, it would appear Waltonchain is trying to achieve one last push in late 2018.
Over the past 24 hours, the value per WTC has risen quite spectacularly. A very solid uptrend is taking place across the USD, BTC, and ETH markets alike. That shows interest in this altcoin isn't slowing down, and its trading volume seems to be shaping up nicely. This current trend is seemingly more than capable of pushing the WTC price all the way to $3.5 and potentially a bit more, although it is still too early to draw any real conclusions.
Looking across social media, it would appear there is plenty of buzz regarding the Waltonchain Q3 work progress summary. A lot of interesting milestones have been reached, and the future work should not be underestimated either. Any cryptocurrency needs to keep evolving at all times, and it appears Waltconchain is checking a few of the right boxes in this department.
Waltonchain Work Progress Summary for Q3https://t.co/UBGqALAzoe#Waltonchain $WTC #Blockchain #IoT #Q3 pic.twitter.com/D78nknXxES

— Waltonchain (@Waltonchain) September 30, 2018
Traders and speculators are also keeping a very close eye on Waltonchain and how things are evolving over the past few hours. More specifically, it appears Waltconchain could break a bit higher in the coming hours, even though there are plenty of people already taking profits at this stage as well. The ongoing search for gains and profits is still in play in the crypto industry after a very rough year.
#wtc looking like it wants to break hhigher enjoying the volume #btc pic.twitter.com/oTSWjFzjdU

— westfsu (@lunastuneas) October 29, 2018
Earlier this week, it appeared the Waltonchain volume on the Bithumb exchange was rising pretty quickly. It is possible this has something to do with the most recent Waltconchain price increase, even though this volume appears to have calmed down a bit ever since. It is very difficult to sustain uptrends in this industry in this day and age.
$wtc volume just topped 150mn on bithumb!! here we go #waltonchain #wtc pic.twitter.com/e1KFoW7vM1

— Johnny BKK (@bkk_johnny) October 28, 2018
All current circumstances paint a further Waltonchain price increase to $3.5 and perhaps slightly more. It will be interesting to see if such a trend can be created, let alone sustained. Bitcoin is still getting battered, and it will drag WTC with it eventually. For now, traders need to enter the market with care, as profit-taking can kick in at any given moment.
Image(s): Shutterstock.com