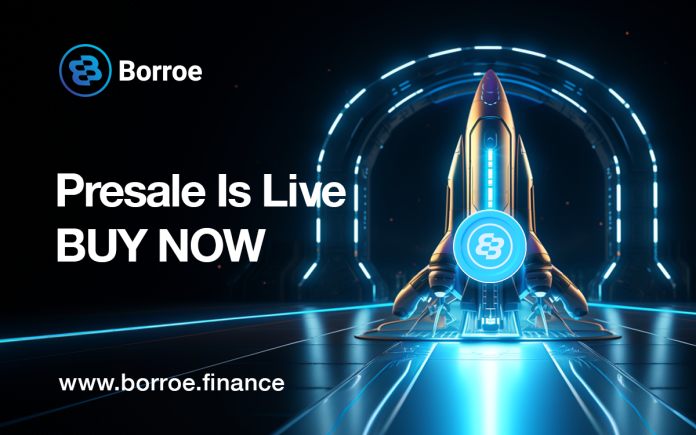 Polygon revealed its plan to upgrade to Polygon 2.0 in June. Tagging the new version as the Value Layer of the Internet, the announcement revealed that version 2.0 would be a set of proposed upgrades that will reimagine everything about Polygon, from protocol architecture to tokenomics and governance. Experts believe the successful upgrade will have a massive bullish impact on Polygon-based assets like Borroe Finance's $ROE token.
Polygon 2.0 Fueling $ROE Presale
For the Borroe ($ROE) project, the Polygon 2.0 upgrade is already fueling massive demand for $ROE during the current presale. In the above-mentioned announcement, Polygon promises that the Value Layer will "expand Ethereum to become what it was always intended to be."
Polygon 2.0 is a network of ZK-powered L2 chains unified through a novel cross-chain coordination protocol. The network can support a practically unlimited number of chains, and cross-chain interactions can happen safely and instantly without additional security or trust assumptions.
The Value Layer presents unlimited scalability and unified liquidity. This is great news for $ROE, built on the flexible, secure, and reliable Polygon network, and has already begun seeing positives about the upgrade. Borroe will also add value to the "value layer," judging by what it brings to the sidechain.
Borroe, through its AI-powered marketplace, will enable Web3 businesses to access funding upfront, hassle-free, and securely.
By solving the funding challenge of Web3 businesses due to their unique nature and non-conformity to the structure of traditional financing, $ROE provides the platform for Web3 businesses to raise funds in a Web3 community.
In the Borroe ecosystem, Web3 businesses get to generate instant cash flow from minted NFT representations of future and outstanding invoices to be sold. This way, the businesses don't have to wait for seed funding before bringing their ideas to life and getting rewards for their creation.
This innovative solution preserves the reason for the Web3 evolution: returning value to its creators. With Borroe, Web3 creators get funding from investors who understand their worth, and so they maintain ownership and control of their works and businesses.
Aside from the use cases of the Borroe project, it also brings thought leaders to the forefront of the industry with its team heads, Maxim Prishchepo and Michael Price.
Highly skilled in IT strategy, blockchain, and DeFi, Maxim serves as the Blockchain Lead at Borroe Finance. He employs his experience with Blockchain and AI development services in the project, ensuring that it brings immense value to Web3.
With over 25 years in the financial services, fintech, payment, and crypto sectors, Michael is highly qualified for his role as the Chief Product Officer (CPO). He will bring his expertise in creating highly-functional solutions in different sectors from his decades of experience to the Borroe Finance ecosystem.
Add BlockAudit's successful audit to Price's and Prishchepo's impact, and $ROE is evidently the token of the moment, and investors who are currently participating in its pumping presale are lucky!
The just-received certificate of compliance from BlockAudit for the successful audit of Borroe's smart contract adds credence to the project and testifies that excellence and safety are a culture for the Borroe community.
The Value Layer, a Successful Beta phase, and an Intensifying Presale
In its Beta phase, the $ROE token sold out in only five days, making it an outstanding success. It is currently in the first stage of its presale phase. Made up of seven stages, the presale phase has a target price of $0.040. $ROE is currently at $0.0125, up 25% from its price during the Beta presale phase.
Polygon 2.0 is boosting the value of both the Ethereum network and other projects built on it. The $ROE presale is ongoing and intensifying, and the price is expected to rise by some percentage points soon.
Explore the Borroe ($ROE) Presale:
Buy Presale | Website |  Telegram | Twitter
Disclosure: This is a sponsored press release. Please do your research before buying any cryptocurrency or investing in any projects. Read the full disclosure here.