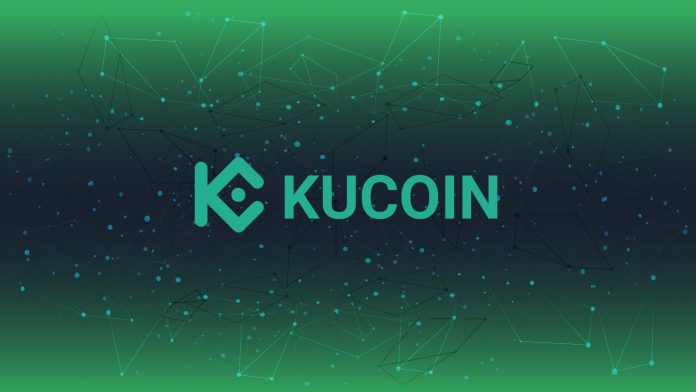 Have you always dreamed of mining cryptocurrencies? However, you were scared by the initial investment cost? KuCoin has decided to go against this problem and has launched the KuCoin Cloud Mining service. It allows you to mine cryptocurrencies in a completely new model that does not require you to own specialized, expensive equipment. In today's article, we will explain to you what KuCoin Cloud Mining is, what advantages it has, and walk you through the process step by step. But before we start, let's briefly explain the KuCoin exchange itself.
What Is KuCoin?
KuCoin is one of the world's largest cryptocurrency trading platforms, but not only. It is a whole ecosystem consisting of many different products. In addition to trading in the spot markets, you can use leverage, play futures, stake your cryptocurrency holdings, provide crypto loans, trade in the P2P model, and use many other products.
More than 18 million people from 207 countries have already trusted the exchange, which can attest to its reliability and security. The platform describes itself as a "People's Exchange." Why? Because it is suitable for both beginners and more experienced users. It's all thanks to a simple interface with advanced features.
Now you might ask what makes KuCoin different from its competitors? First of all, it is a TOP 1 exchange for trading altcoins. It offers a lot of smaller projects that show great potential. Currently, on KuCoin, you can trade more than 700 tokens in more than 1200 trading pairs. Among the recently listed ones, there are gems like BLOK, CHMB, VR, KMA, or DAO.
The most extensive exchange rating services – CoinMarketCap and CoinGecko – rank the platform as the fifth-best!
Now that you know what KuCoin is, it is time to get down to specifics, namely Cloud Mining!
What Is KuCoin Cloud Mining?
Cloud mining is a model of mining cryptocurrencies using rented computing power in the cloud. Cloud miners do not need to own energy-intensive, expensive and complicated machines. They also do not have to maintain them. They participate in the process of solving mathematical puzzles 100% remotely, paying only a small basic fee. Cloud Mining has made cryptocurrency mining accessible to more investors.
KuCoin Cloud Mining is another of the KuCoin exchange products launched by KuCoin Pool. Thanks to it, investors can easily earn rewards in BTC, BTC, and ETH without worrying about the issues mentioned. What's more, they also get access to high-quality assets!
KuCoin Cloud Mining – What Are the Advantages?
KuCoin Cloud Mining offers many benefits, especially when comparing this service to its competitors. Here are some of them:
Low investment cost and entry threshold

– As the cryptocurrency industry has grown, mining coins has become increasingly challenging. Nowadays, miners need equipment with massive computing power, which is simply expensive. KuCoin Cloud Mining reduces the cost of entry. Investors only need to buy a mining contract and pay a low energy fee, and that's it!

Stable earnings

– When mining with specialized equipment, maintenance is necessary. Also, power outages or even natural disasters often prevent further operations. In the case of KuCoin Cloud Mining, the investor is assured of stable earnings without having to bother with unnecessary problems.

Simplicity

– To mine cryptocurrencies with a GPU or ASIC, you need a lot of technical knowledge. KuCoin Cloud Mining allows you to start the process with just one click. Skilled professionals handle the hardware, and the trader only needs to buy a mining contract.

100% Earnings

– Other Cloud Mining platforms charge users huge fees. At least until they get a return on their initial investment. In the case of KuCoin, it is entirely different. The platform gives its users 100% of the earnings generated by their contracts.

Greater efficiency

– KuCoin uses efficient machines, namely the S19jpro and M30S++ models. This allows investors to make stable profits, even in a volatile market.

Ideal for long-term investors

– KuCoin Cloud Mining is an ideal product for long-term investors who believe in the future of Bitcoin.
How to Use Cloud Mining on KuCoin?
Getting started mining cryptocurrencies with KuCoin Cloud Mining is extremely simple. The whole thing comes down to following just a few simple steps. Below you will find detailed step-by-step instructions with pictures. Follow it and start earning a stable income from cryptocurrency mining!
To start your cryptocurrency mining adventure on KuCoin Cloud Mining, you first need to log into your account. You can register by clicking on this link if you don't have one. Creating an account is very simple and no different from other sites.
Now go to the KuCoin.com homepage, hover your mouse over [Earn] at the top of the screen and then click on [Cloud Mining]. You can also go to the Cloud Mining page straight by clicking here.

On the left, you will see a [Store] button. Click on it. This will show you the available contracts and details such as Tenor, Electricity Fee, and Start Mining time. Here you will also see a progress bar indicating how many contracts on the machine have been bought.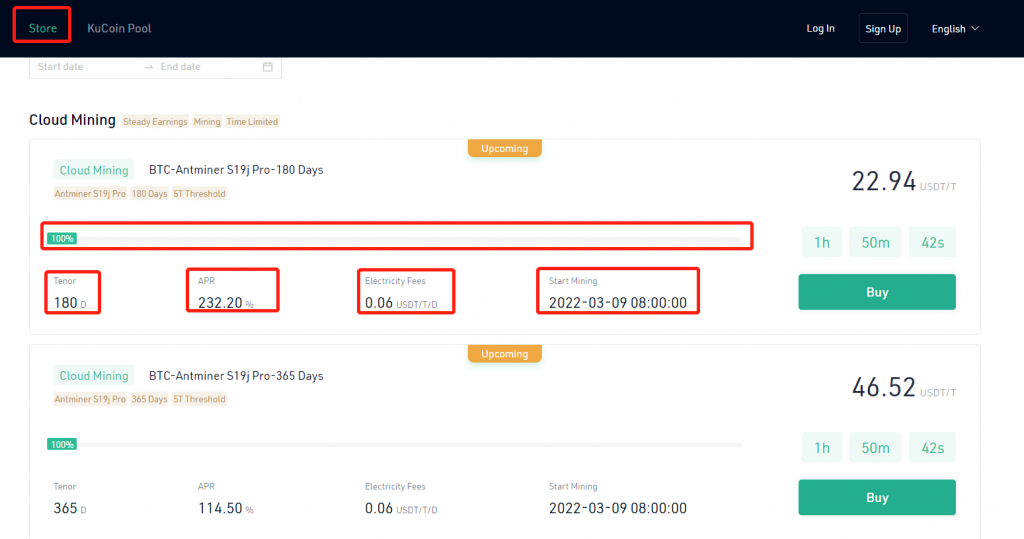 Select the offer that suits you, and then click on the [Buy] button.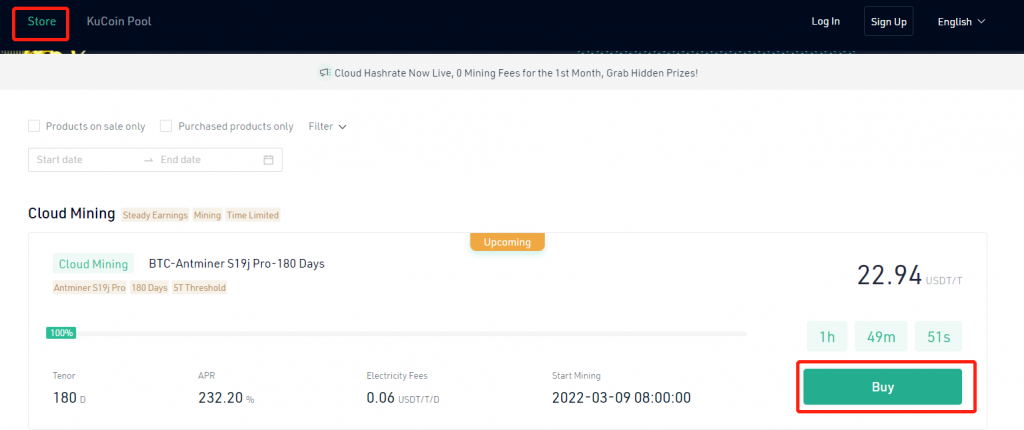 Decide how much hash rate you want to buy and choose if you want to prepay for the electricity used in the process. If you choose this option, the funds will be taken from your main KuCoin wallet. Once you have entered the amount, you will be shown a projection of how many days your payment will be enough for. If you choose not to prepay your energy costs, the corresponding amount will be taken from your earnings.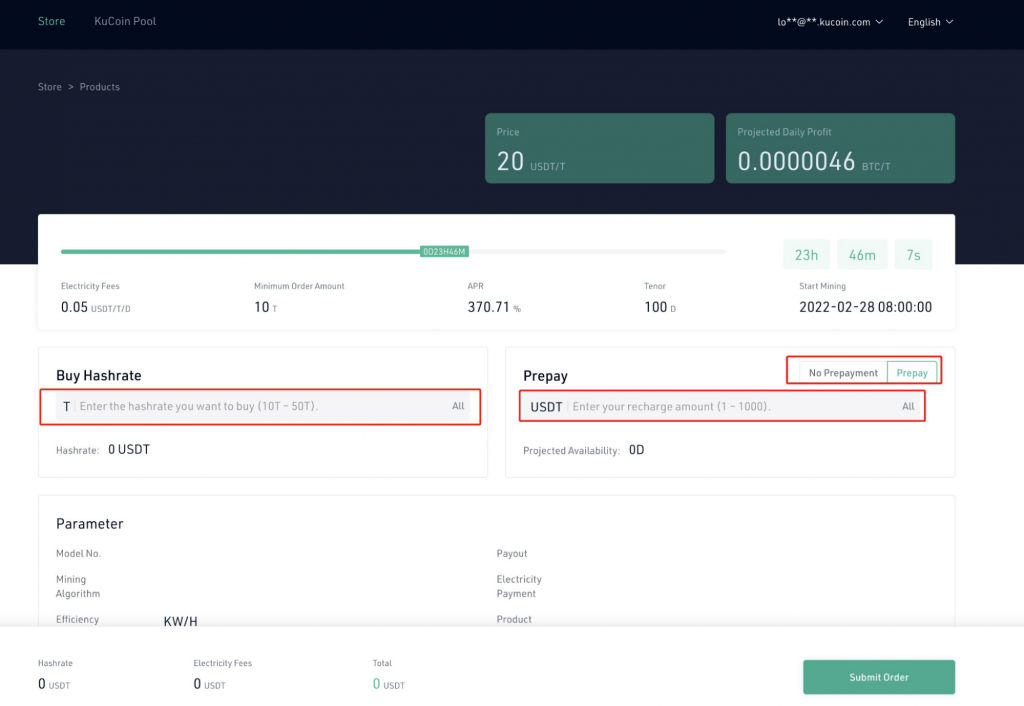 Once again, review all the details and click [Submit Order]. You will now need to go through a security verification. After entering the code from your email/2FA, click the [Buy] button again, and that's it! Congratulations, you have just joined the KuCoin Cloud Mining pool as a miner!

To see your power payment history and mining contracts, go to the Dashboard and then [Orders]. Energy recharge is available in the [Electricity Management] section. Deductions history can be found in [Deductions].

Your Mining Earnings are credited daily to your main account from 04:00 – 10:00 (UTC).

Summary
KuCoin Cloud Mining is an excellent option for people who want to participate in cryptocurrency mining but don't have a wallet fat enough to buy the necessary equipment. This option will also benefit investors who do not want to worry about issues such as equipment maintenance. Moreover, KuCoin Mining is the best product on the market that offers favorable terms.
Therefore, do not hesitate. Sign up for a KuCoin account at this link and join the mining world right now!
Disclosure: This is not trading or investment advice. Always do your research before buying any cryptocurrency or investing in any project.

Follow us on Twitter @nulltxnews to stay updated with the latest Crypto, NFT, and Metaverse news!
Image Source: @kviztln/123RF