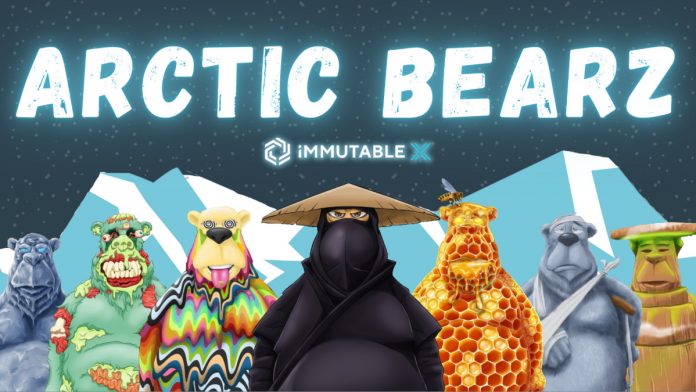 Most NFTs usually create a buzz in the crypto industry by highlighting their ROI benefits. They want to attract as many investors as possible by explaining how becoming a member of the community will provide them with benefits that they can enjoy in the future. Going against the trend, Arctic Bearz NFT has come up with a different approach altogether. Sure, it provides benefits to investors, but they aren't the only highlighting factor.
Here are a few reasons why crypto and NFT enthusiasts are considering Arctic Bearz as an unmissable NFT:
The new horse in the IMX race
There are tons of NFTs in the IMX or ImmutableX platform, with each one having its own perks. But even though Arctic Bearz is still relatively new, people think that it will provide tough competition to others. In fact, many think that it may surpass the popularity of all the other NFTs combined. Why? It's because the project deals with saving endangered animals. According to the founders, decentralized finance is the future of many investors, and it was this idea that allowed them to counter the effects of global warming; saving endangered polar bears being one.
Donate to adopt
Will you consider investing in Arctic Bearz NFT as an investment or donation? To you, as an animal lover, it may seem like a donation, but for hard-core investors, it may feel like an investment with little to no returns. That's why the founders ensured that everyone should enjoy the perks of investing in this NFT.
First of all, you may make money after a few years if you hold the NFT patiently. If the price rises, you may decide to sell and make some profit. Secondly, if you are among the first 100 buyers of this NFT, you will get a chance to adopt one of the polar bears. Finally, the founders will donate 5% of its proceeds to the WWF foundation for the welfare of endangered animals.
Developing an ecosystem
The founders of Arctic Bearz, Zakius and Carter, want to create an ecosystem that will contain male, female, and baby cubs. They believe that creating a sustainable breeding system can ensure that the polar bears don't remain in the endangered category anymore. If you love animals and want to show your affection for them, you can take a small step forward by purchasing Arctic Bearz NFTs. The founders will start giveaways soon, and if you are lucky enough, you may get one of the giveaways.
In fact, the founders also announced on Arctic Bearz's Twitter and Instagram handles that a few lucky winners will also receive female polar bears. If you love animals and want to be a part of a project that safeguards their existence, you should join the Arctic Bearz community.
This NFT project looks to give back to the planet that gives people so many things. The unique plan has already created a buzz among NFT enthusiasts and people are eagerly waiting for the launch of Arctic Bearz. You can register on its Discord to know more about the future plans of the founders.
Disclosure: This is not trading or investment advice. Always do your research before buying any cryptocurrency.