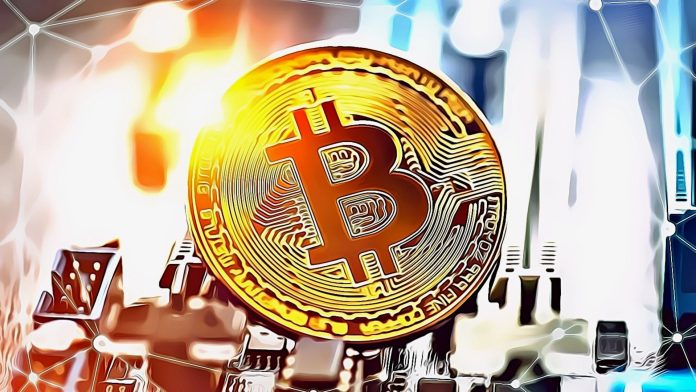 Today's surge in WrappedBitcoin (WBTC) activity, driven by two significant 2,000 $WBTC moves, has led to a drop in exchange supply. This decrease in available WBTC on exchanges suggests increased demand and potential interest from investors and traders. The surge in on-chain transaction volume, reaching its highest level in over a month, indicates a heightened level of activity and engagement within the WBTC ecosystem.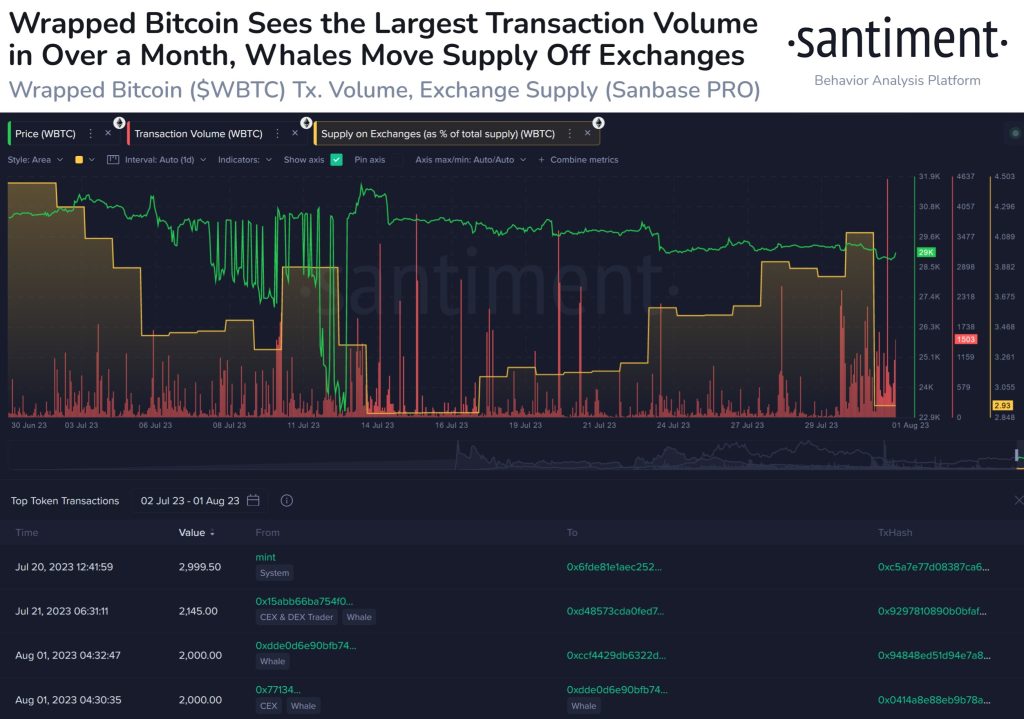 Source : Santiment
Impact On Bitcoin
The impact of this heightened WBTC activity on Bitcoin ($BTC) can be significant for several reasons. Firstly, WBTC is an Ethereum-based token pegged to the price of Bitcoin, and its increasing popularity signifies a growing trend of using Bitcoin on the Ethereum network. This trend can potentially lead to increased liquidity and accessibility for Bitcoin in the decentralized finance (DeFi) space, allowing for innovative financial products and services to be built around Bitcoin.
Exchange Supply Drop
Moreover, the drop in exchange supply of WBTC might indicate a shift towards holding and using WBTC in DeFi protocols instead of keeping it on centralized exchanges. This could result in decreased selling pressure on the BTC market, potentially supporting or even boosting Bitcoin's price.
Other Factors In Play
However, it is essential to note that correlation does not imply causation, and while the surge in WBTC activity may have implications for Bitcoin, it may not directly cause a significant impact on its price or overall market movements. The cryptocurrency market is complex and influenced by various factors beyond WBTC's activity.
Final Thoughts
In conclusion, the recent surge in WrappedBitcoin activity, with large moves and increased on-chain transaction volume, has the potential to impact Bitcoin's market dynamics. It reflects the growing interest in using Bitcoin on the Ethereum network and could contribute to increased liquidity and innovation in the DeFi space. Still, the direct impact on Bitcoin's price and market remains subject to various factors and requires careful observation and analysis.
Disclosure: This is not trading or investment advice. Always do your research before buying any cryptocurrency or investing in any services.
Follow us on Twitter @nulltxnews to stay updated with the latest Crypto, NFT, AI, Cybersecurity, Distributed Computing, and Metaverse news!
Image Source: dedmityay/123RF // Image Effects by Colorcinch