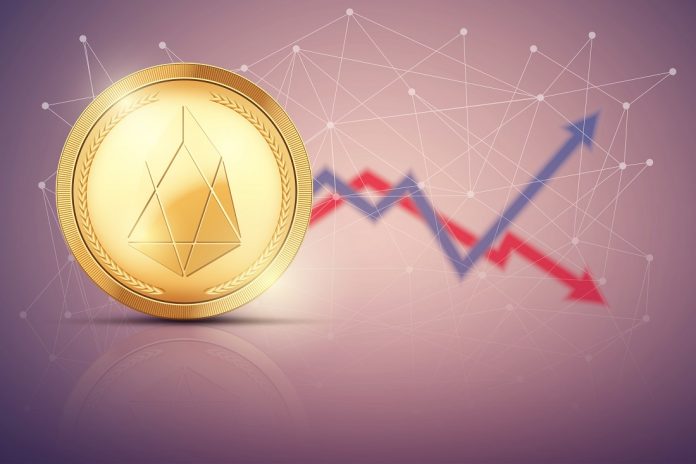 It has become apparent the year 2018 may not necessarily end on a high for most cryptocurrencies. As Bitcoin and top altcoins continue to trend lower virtually every other day, the rest of this year will not be overly pleasant to watch either. The following three short-term EOS price prediction charts confirm things can easily swing in either direction in spectacular fashion.
The EOS Dead Cat Bounce
EOS – Dead Cat? by aliamey on TradingView.com
Several hours ago, it seemed as if the EOS price was preparing to go through a brief bounce. Several top currencies started to note some gains in quick succession, although most traders could see things were not looking all that great. According to Aliamey, this was indeed a dead cat bounce and another breakdown has effectively ensued. The EOS price is currently down in the dirt again and may remain there for some time to come.
His key levels of support for EOS predict a price drop to $3.45, a value which does not sit that far below the current EOS price. If that level were to be reached and subsequently breached, there is no telling where the value will end up at. The coming days and weeks may be very crucial for EOS in this regard, although things could ugly pretty quickly.
Further Declines to be Expected
#EOS Update by HamadaMark on TradingView.com
A very interesting chart is presented by HamadaMark, although it is not a chart that will please too many EOS faithful. Not because it predicts events which seemingly can't come true, but rather because there is a lot of pressure on this market which can easily push the price down to the lower levels.
Whereas this trader initially expected the EOS price to jump to $5.12, today's Black Friday sale shows that will not happen anytime soon. Based on this chart, the drop below $3.87 can effectively trigger a further drop to $2.29. If that level falls as well, a dip to $1.43 is not impossible whatsoever. Not a fun outlook by any means, but it is the harsh reality.
Short EOS to be Safe
EOS – Short by frankdetroya on TradingView.com
Given all of the pressure associated with the cryptocurrency markets today, a lot of speculators will try to short every currency they can. That seems to be the smart play, at this time, even though these markets can easily swing upward when people least expect it. FrankDetroya is simply looking to short EOS and expects more people to look for such opportunities as well.
According to this chart, the EOS price was bound to drop below $4.5 regardless of this Black Friday fire sale. He expected resistance at $3.91, although that has been broken pretty easily. A further drop to a slow as $2.5 is certainly possible, even though that would mean another 20% drop needs to occur to make this happen. That in itself is well within the realm of possibilities, unfortunately.
---
Disclaimer: This is not trading or investment advice. The above article is for entertainment and education purposes only. Please do your own research before purchasing or investing into any cryptocurrency.
Image(s): Shutterstock.com