In a notable turn of events, a substantial amount of 37 million MATIC tokens, the native cryptocurrency of the Polygon Network, was transferred from a whale Proof-of-Stake (PoS) address to a three-year-old wallet.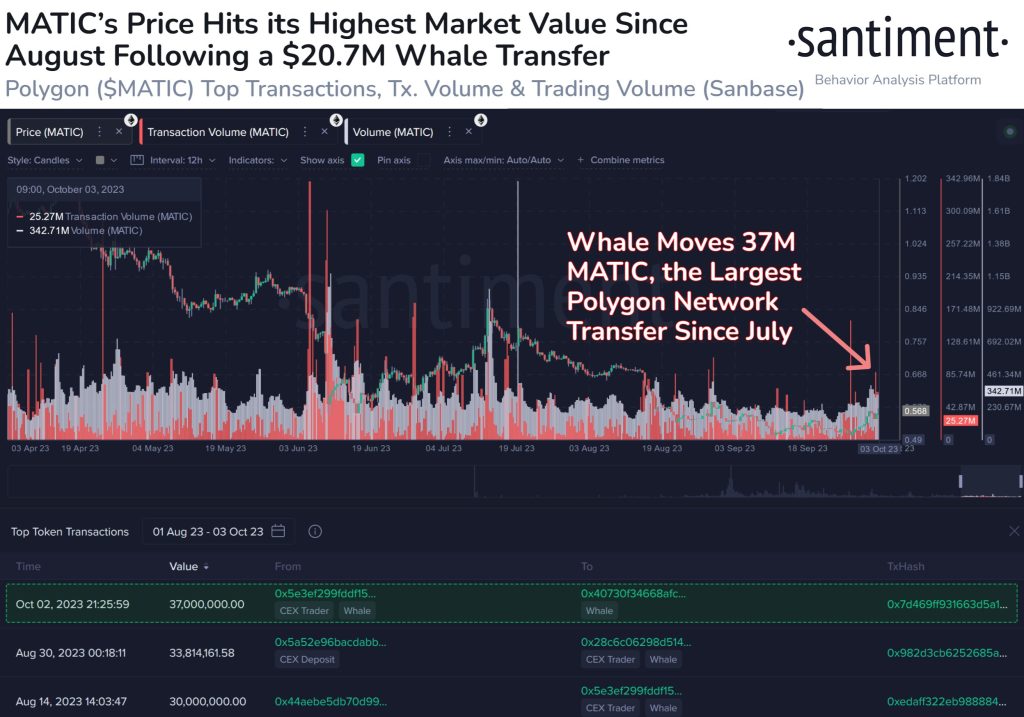 This transaction took place against the backdrop of a relatively mild 4% price increase for MATIC, which currently ranks 13th in market capitalization, while the broader cryptocurrency market experiences a slump. Notably, this transfer represents the largest single transaction on the Polygon Network since July.
Token Movement Sparks Speculations
The movement of such a significant amount of MATIC tokens has ignited speculation within the cryptocurrency community. While it's important to approach such transactions with caution, several possible scenarios could explain this large transfer:
Strategic Investment:

The sender may be a strategic investor or institution looking to diversify their holdings, possibly with a long-term perspective on MATIC and the Polygon Network.
Profit-Taking:

It's also plausible that the transfer could be an instance of profit-taking. The sender may have decided to capitalize on MATIC's recent price increase, leading to the movement of funds.
Staking or Governance Participation:

The transfer could be related to staking or participation in the Polygon Network's governance, where users lock their MATIC tokens to earn rewards or participate in decision-making.
Whale Activity:

Large holders or whales often make significant moves in the cryptocurrency market, which can influence sentiment and prices. This transaction might be part of broader portfolio management.
Conclusion
While this transaction raises questions, it's essential to monitor the situation closely to glean a better understanding of the sender's intentions and its potential impact on the MATIC market. Cryptocurrency markets are known for their volatility, and large transactions like these can trigger a range of responses from traders and investors.
As the cryptocurrency space continues to evolve, transactions of this magnitude will remain subject to speculation, and market participants will closely watch for further developments and their implications on the Polygon Network and MATIC's value proposition.
Disclosure: This is not trading or investment advice. Always do your research before buying any cryptocurrency or investing in any services.
Follow us on Twitter @nulltxnews to stay updated with the latest Crypto, NFT, AI, Cybersecurity, Distributed Computing, and Metaverse news!
Image Source: fellowneko14/123RF // Image Effects by Colorcinch