Tether (USDT), one of the leading stablecoins in the cryptocurrency market, has recently exhibited significant activity, with a notable surge in its presence on exchanges and an increase in holdings among its top addresses. These developments hint at a potential shift in the dynamics of the cryptocurrency market.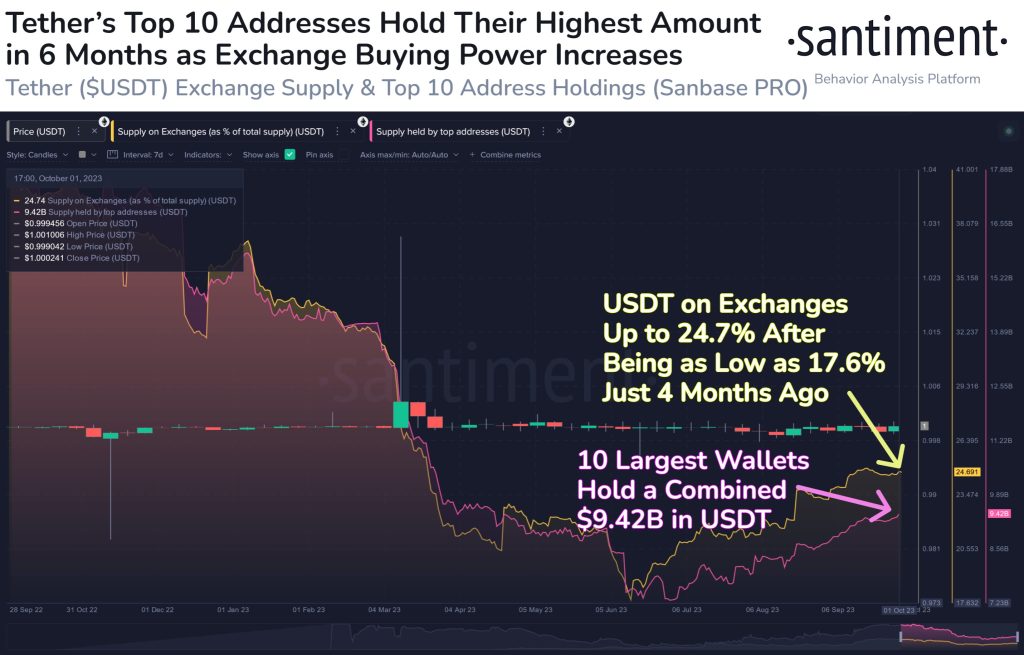 Exchange Supply Increase:

The increase in Tether's supply on exchanges from 17.6% to 24.7% is a substantial rise. This upsurge suggests that more traders and investors are looking to utilize USDT, a stablecoin known for its price stability, as a means of trading in and out of other cryptocurrencies swiftly. Traders often employ stablecoins like USDT as a safe haven during market volatility.
Highest Buying Power in 6 Months:

The surge in Tether's presence on exchanges to approximately the highest level in six months implies a growing demand for stablecoins. Market participants may be seeking refuge in stable assets during uncertain times or preparing for potential market moves.
Top Holder Accumulation:

The increase in holdings among the top 10 USDT addresses, from $7.30 billion to $9.42 billion in just three months, underscores the sustained interest in USDT as a store of value. Large holders often play a crucial role in the cryptocurrency market, and their accumulation can be indicative of broader market sentiment.
Final Thoughts
Tether's recent developments align with its role as a crucial liquidity provider in the cryptocurrency space. Traders often use USDT as a bridge currency to navigate between different cryptocurrencies and as a means of preserving capital during market turbulence.
These trends reflect the evolving landscape of the cryptocurrency market, where stability and liquidity are highly valued. Tether's increasing supply on exchanges and growing holdings among top addresses indicate a dynamic environment with active market participants seeking opportunities amid crypto market fluctuations. As the crypto space continues to mature, stablecoins like USDT are expected to play an increasingly vital role in facilitating smooth and secure trading activities.
Disclosure: This is not trading or investment advice. Always do your research before buying any cryptocurrency or investing in any services.
Follow us on Twitter @nulltxnews to stay updated with the latest Crypto, NFT, AI, Cybersecurity, Distributed Computing, and Metaverse news!