One thousand attendees and nearly 200 speakers recently gathered for LATOKEN's Blockchain Economic Forum. The five-day event was held from June 16th through June 20th and featured headliner Tim Draper, Founder of DFJ Fund, a venture capital firm supporting future entrepreneurs.
The conference took place at the Marriott Marquis, in the heart of San Francisco's financial district, kicking off with a rooftop VIP meet and greet, a tour of SFMOMA for VIPs and speakers, and a special "Exponential Future Party" at the California Academy of Sciences.
The scale of the event brought a variety of voices from government, blockchain projects, the press, and social media influencers. Other notable speakers included Bobby Lee of the Bitcoin Foundation, former US Commodities Future Trading Commission (CFTC) Chair Gary Gensler (2009-2014), Former Canadian Finance Minister Joe Oliver (2013-2015), and current European Parliament member Eva A. Kaili.
YouTube personalities Chris Dunn, Mike Vestil, and Michael Gu of Boxmining also attended the event, along with crypto bloggers with a combined reach of more than two million subscribers. Since the event, there have been more than 2,000 social media posts tagged #beflatoken.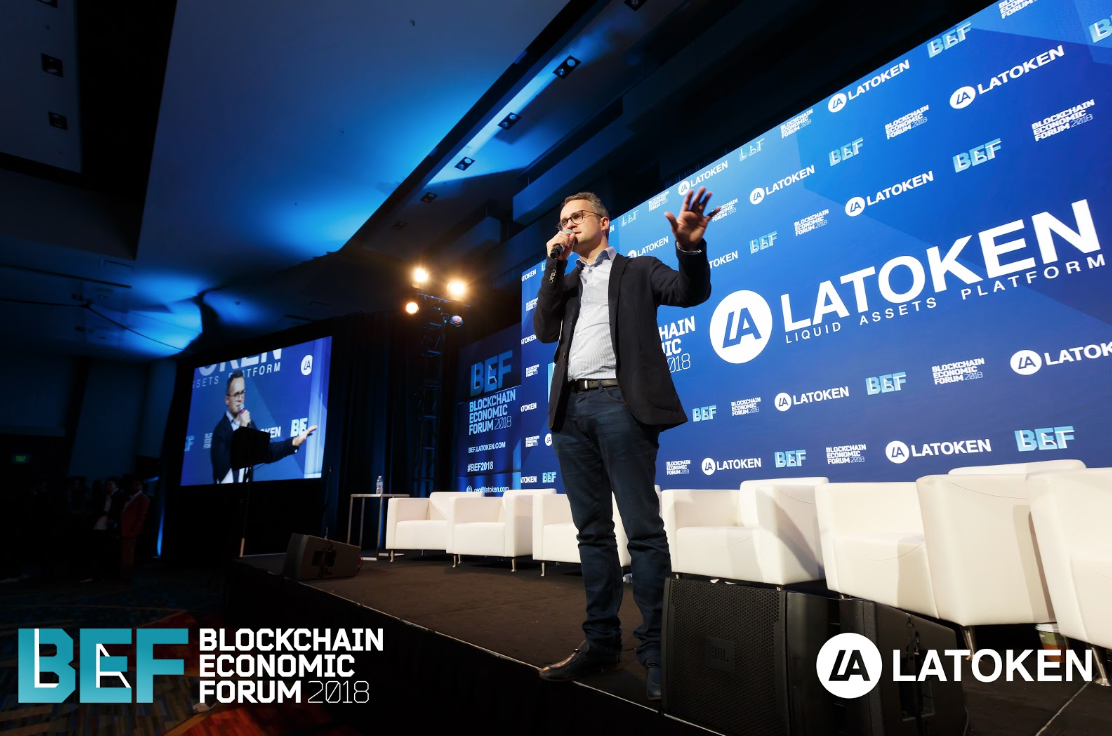 Valentin Preobrazhenskiy, founder and CEO of LATOKEN, a token liquidity exchange, graciously hosted the event. Preobrazhenskiy kicked off the opening ceremonies with a special guest, Sophia the Robot. Though Sophia wasn't using NLP or machine learning to answer questions on the spot, her facial movements were remarkably human.
LATOKEN is an exchange focused on liquidity tokens in new asset classes. Preobrazhenskiy explains, "We release new projects, tokens, and ICO classes. We support projects in real estate, insurance, and other business sectors, making sure we're compliant with security regulations."
Preobrazhenskiy is no stranger to event planning, having hosted over 250 meetups and conferences. BEF San Francisco is Preobrazhenskiy's third event of its kind, with two previous events having taken place in Singapore and New York. These events, he explains, are his "secret sauce to connecting the right people, creating conversations and building an investor base."
There were moments of genius during the event, the highlight being a debate (full video here) between VC founder Tim Draper and former CFTC chair Gary Gensler. While Draper advocates for open access to venture capital investment in crypto projects, Gensler argues there's a need to regulate certain venture asset classes, restricting access for non-qualified investors in order to protect them. Preobrazhenskiy commented, "Rights to invest should be the same as universal rights to vote. Education is better than restrictions. Updating regulations will unlock the potential of tokenization to open venture investing for the general public." Draper's unbridled optimism was tempered prudently by Gensler's cautionary concerns.
There were lavish evening engagements and some excellent minds present at the event, though there were moments that felt disorganized. There were also a few speakers who viewed the stage as a personal platform rather than focusing on moderators. One attendee noted, "I'd rather have quality than quantity, but overall, what I attended was pretty good."
The blockchain industry and various cryptocurrencies' close correlation to Bitcoin's price was cited as an important vulnerability. Should Bitcoin's value continue to dip, it could create impediments to future venture funding, ICOs, and liquidity. Financier Bill Sautter of Galaxy Ventures came away optimistic, saying, "There were some extremely bright people at BEF and a number of very promising ventures."
One ICO brought in young women dressed in tight dresses to pass out brochures and advertise when a company representative would be speaking. Booth Babes, as they're called, have been banned from most professional conferences and give a dated view on the role of women as onlookers rather than active participants in the space. While it's possible LATOKEN wasn't aware this would happen, they made no move to stop it either.
All in all, the conference was well attended and featured a variety of insights. It's not easy to get a huge event 100% right, but some panels, including the pitch competition sponsored by Draper University, took place in loud showcase halls, diminishing their effect and reach. Conversations on this emerging technology are important, and with each iteration, we hope they will continue to improve.
*
PHOTO: VC founder Tim Draper and former CFTC chair Gary Gensler in discussion at BEF San Francisco.
Image(s): Shutterstock.com