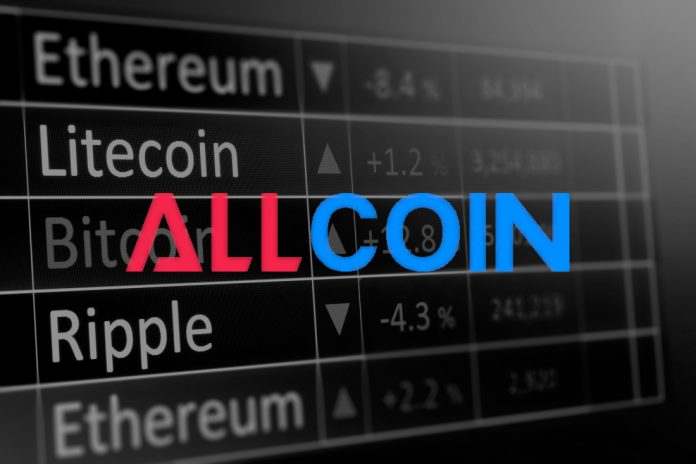 REVIEW OVERVIEW

Customer Feedback
Listed Cryptocurrencies
Trustworthiness

SUMMARY

We used three key points to rate this exchange: Customer Reviews, Listed Altcoins, and Trustworthiness. Because of negative customer reviews on bitcointalk we gave this exchange a 1 star. The listed cryptocurrency pairs are at the very least decent coins, so we give that 3.5 stars. Finally, the exchange is regulated so trustworthiness is also at 4. The reason it doesn't have a complete 5 for trustworthiness is because of the negative customer feedback.
When it comes to trading altcoins, there are several dozen platforms all vying for traction in this growing crypto industry. While Allcoin makes a strong case for itself due mainly to its support to a vast array of coins, putting one's trust in any cryptocurrency exchange remains risky when not aware of all the facts.
The Allcoin Company
Becoming a global digital asset trading platform is an ambitious goal. Allcoin, a Canadian firm owned by Cascadia Fintech Corporation, is looking to make its mark on the cryptocurrency industry since early 2016. To date, the company has expanded significantly in terms of offering different markets. It is also worth mentioning Allcoin's parent company is regulated by FINTRAC in its native country of Canada.
Trading pairs and Markets
Even though Allcoin aimed to support both USD and CNY trading at some point, it seems things have changed significantly in this regard. Neither fiat currency is still supported directly at this time, yet the platform exposes traders to CKUSD. This is a stablecoin linked to the US Dollar, which is primarily traded on Allcoins and BCEX. It seems to provide some additional liquidity, although it will not become an USDT rival anytime soon.
Other currencies traded on Allcoin include Bitcoin, Ethereum, Bitcoin Cash, Qtum, HyperCash, and so forth. There are also a fair few currencies which have not gained any real traction as of yet, which makes one wonder whether or not those additional will yield any successes for the exchange moving forward. The lack of prominent coins such as Litecoin, XRP, and XLM also seems unusual, albeit that situation may change sooner rather than later.
Fees and Listings
Similar to most exchanges, Allcoin does not charge any additional fee for cryptocurrency deposits. There is no apparent trading fee on the marker side, albeit market takers will pay 0.2% in fees for trading cryptocurrencies. There is a lot of uncertainty regarding withdrawal fees, as the company does not list this specific information on their website at this time.
Community Feedback
So far, it seems Allcoin has built up an interesting reputation among cryptocurrencies users. The exchange has been subject to a fair few incidents with users which should have been resolved a lot sooner. Ever since its acquisition by Cascadia Fintech Corporation, it seems things have improved slightly. There is still a lot of uncertainty regarding fees, the website is very sluggish, and there are concerns regarding its overall stability. Always do your own research prior to trusting any exchange.
Disclosure: This is not trading or investment advice. We are not affiliated with Allcoin and cannot guarantee the safety of your funds. Please do your own research before using any exchange.
Image(s): Shutterstock.com