As Bitcoin briefly surpassed the $28,000 mark to kick off October, the cryptocurrency market witnessed several price rebounds, offering a brief window of profit-taking opportunities. Among the numerous altcoins in the market, three specific ones – Aave ($AAVE), Cardano ($ADA), and Curve DAO Token ($CRV) – garnered significant attention as opportunistic traders moved their coins during these short-lived surges. This activity has sparked speculation about the potential decoupling of these altcoins from Bitcoin's price movements.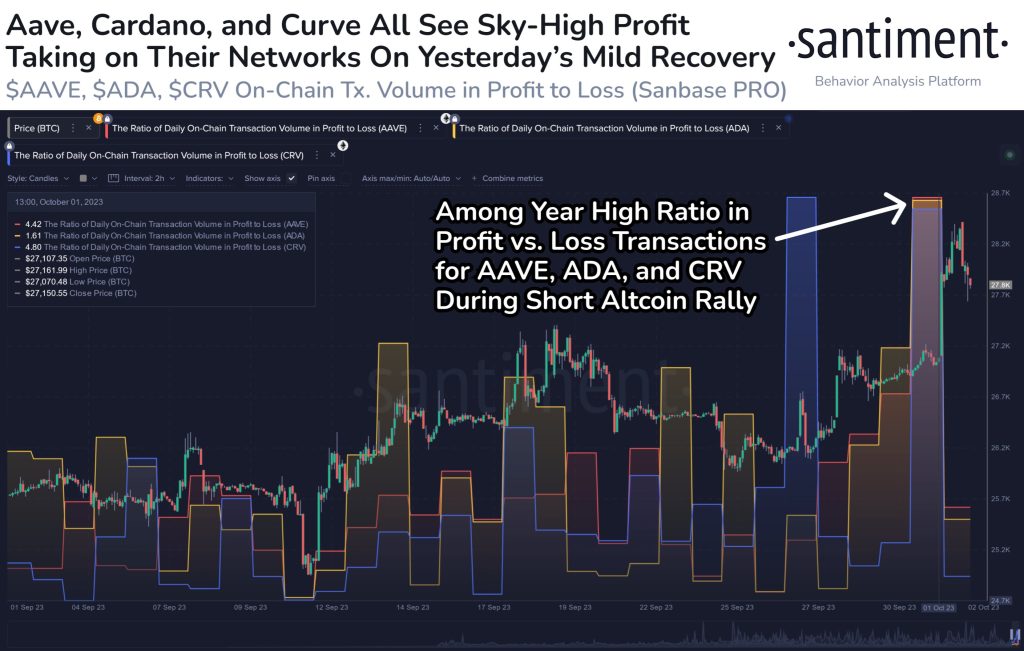 Aave ($AAVE):

Aave, a decentralized lending and borrowing platform, has been on the radar of many crypto enthusiasts. Its protocol and governance upgrades, combined with the broader DeFi (Decentralized Finance) trend, have contributed to its appeal. The recent price movements suggest that traders are closely monitoring Aave's potential for decoupling from Bitcoin.
Cardano ($ADA):

Cardano, often hailed for its smart contract capabilities and scalability, has consistently demonstrated resilience in the face of Bitcoin's price fluctuations. The sentiment surrounding its Alonzo upgrade, enabling smart contracts on the platform, has further fueled interest. The recent price action implies that traders are exploring the possibility of ADA becoming more independent from Bitcoin's influence.
Curve DAO Token ($CRV):

Curve DAO Token, associated with Curve Finance's stablecoin-focused DeFi platform, has also caught the attention of traders. The platform's emphasis on low slippage and stablecoin swaps has led to increased use. Recent trading patterns indicate that CRV may be on a path toward decoupling.
While these observations suggest the potential for decoupling, it's essential to remember that the cryptocurrency market remains highly interconnected. Bitcoin's price movements often have a ripple effect throughout the market. Consequently, altcoins are still influenced by Bitcoin's overall market sentiment.
Final Thoughts
Investors and traders should exercise caution and conduct thorough research when considering altcoin investments. Market dynamics can change rapidly, and the crypto landscape is known for its volatility. Keep an eye on developments, news, and technology upgrades in these altcoins, as they may be the key drivers behind any potential decoupling in the future.
Disclosure: This is not trading or investment advice. Always do your research before buying any cryptocurrency or investing in any services.
Follow us on Twitter @nulltxnews to stay updated with the latest Crypto, NFT, AI, Cybersecurity, Distributed Computing, and Metaverse news!