While some altcoins have seen meteoric rises, others have displayed a rather unassuming price performance. However, two tokens that have recently caught the attention of the crypto community are Linear ($LINA) and Decentraland ($MANA). What makes them noteworthy is the sudden surge in whale transactions (3 months high), which have begun to appear on @santimentfeed's dashboards.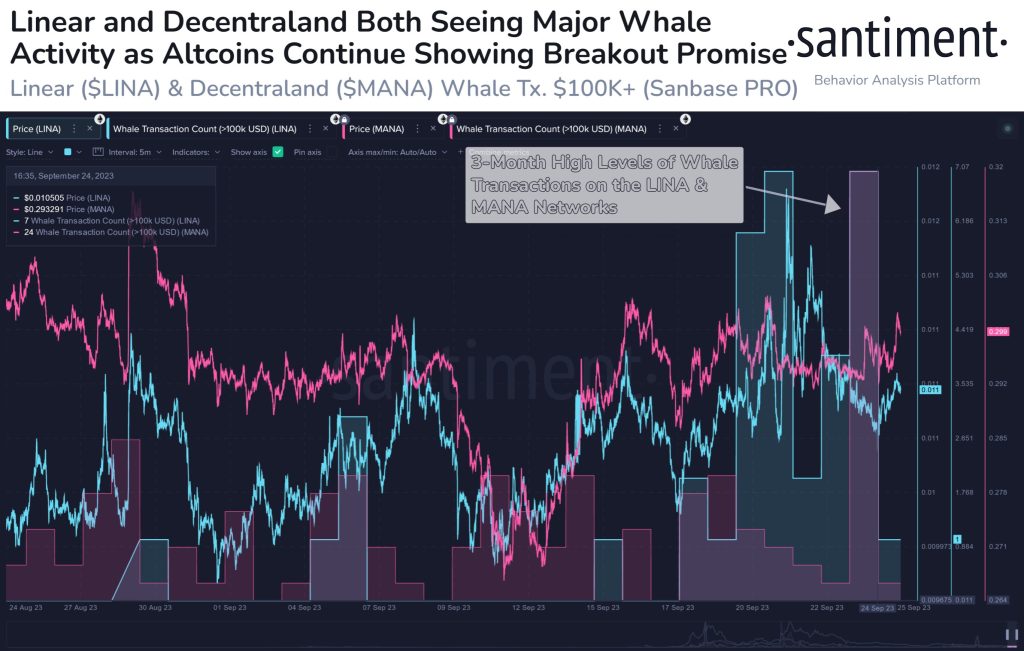 LINA and MANA Whale Activities Surge
Linear ($LINA), a blockchain-based synthetic assets platform, and Decentraland ($MANA), a virtual reality metaverse, have both been regarded as promising projects with unique use cases. Yet, their price movements in 2023 have been relatively quiet compared to the fireworks seen in other corners of the crypto market. This has led many to wonder what's brewing beneath the surface.
@santimentfeed, a popular crypto data analytics platform, has shed light on the situation. Their dashboards are now showcasing a notable increase in whale transactions for both $LINA and $MANA. This sudden uptick in large transactions by influential investors, often referred to as "whales," has piqued the curiosity of traders and investors alike.
Whale Activities Interpretation
The influx of whale activity can be interpreted in several ways. It may indicate a growing interest among institutional players in Linear and Decentraland, potentially foreshadowing a bullish trend. Conversely, it could also signify profit-taking by early investors, which might lead to short-term price volatility.
Final Thoughts
For traders and enthusiasts, the message is clear: keep an eye on $LINA and $MANA. The crypto market is ever-evolving, and the actions of whales can serve as valuable indicators. Whether these altcoins will make significant moves in the near future remains uncertain, but one thing is certain: in the dynamic world of cryptocurrency, surprises are always just around the corner.
Disclosure: This is not trading or investment advice. Always do your research before buying any cryptocurrency or investing in any services.
Follow us on Twitter @nulltxnews to stay updated with the latest Crypto, NFT, AI, Cybersecurity, Distributed Computing, and Metaverse news!