As the cryptocurrency market experiences an extended ranging period for Bitcoin, the decoupling of various altcoins from each other is becoming increasingly evident. This phenomenon is exemplified by the recent performance of specific altcoins, such as FET, LRC, REN, and TVK, each with its unique characteristics and supply dynamics.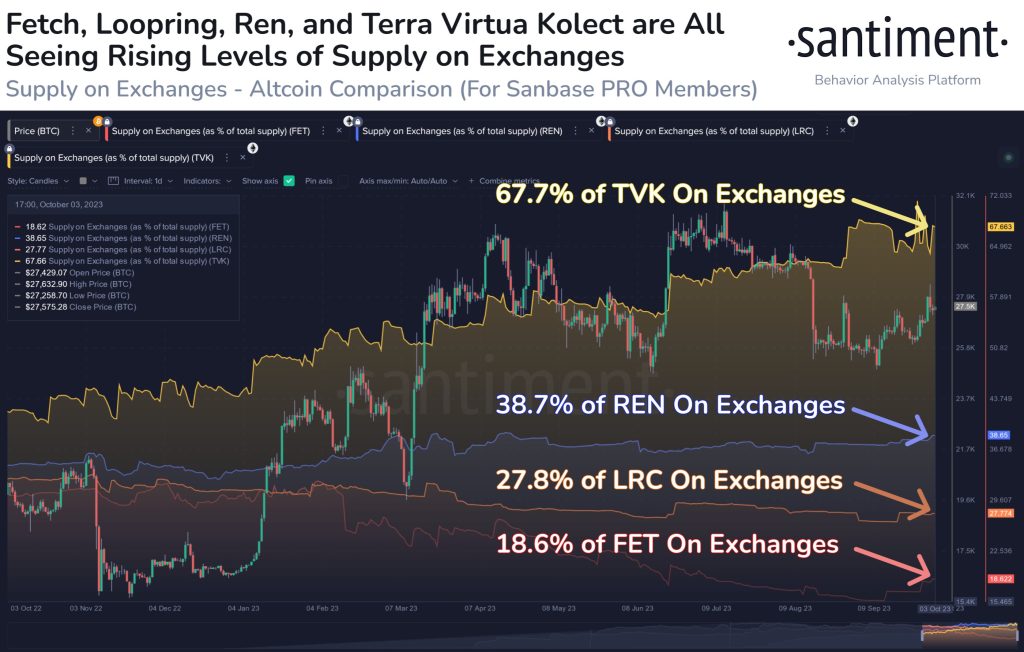 FET (Fetch.ai):

With approximately 18.6% of FET's supply on exchanges, this altcoin is demonstrating increased liquidity. A higher ratio of tokens on exchanges suggests that traders may be actively buying and selling FET, potentially contributing to future price volatility.
LRC (Loopring):

LRC boasts a notable 27.8% of its total supply on exchanges. This elevated supply on trading platforms could signify heightened trading activity and interest in LRC, which may lead to price fluctuations in the near future.
REN (Republic Protocol):

REN stands out with approximately 38.7% of its supply on exchanges. A significant proportion of REN tokens being available for trading could indicate potential price swings as traders respond to market developments.
TVK (Thetan Arena):

TVK takes the lead with a substantial 67.7% of its supply on exchanges. The exceptionally high ratio implies that a substantial portion of TVK tokens is actively being traded, making it particularly susceptible to price volatility.
It's important to note that a high ratio of tokens on exchanges does not inherently indicate a negative trend. Instead, it suggests that these altcoins are actively traded and may respond more quickly to market sentiment changes.
Final Thoughts
In this evolving cryptocurrency landscape, monitoring supply ratios, understanding each altcoin's unique attributes, and staying informed about market dynamics are essential for making informed investment decisions. The decoupling of altcoins from Bitcoin presents both challenges and opportunities, highlighting the importance of diversification and risk management in the crypto market.
Disclosure: This is not trading or investment advice. Always do your research before buying any cryptocurrency or investing in any services.
Follow us on Twitter @nulltxnews to stay updated with the latest Crypto, NFT, AI, Cybersecurity, Distributed Computing, and Metaverse news!