In a twitter post yesterday, Adam Aron, CEO of AMC Theaters, announced the company's plans to integrate Shiba Inu for online payment within the next 60-120 days.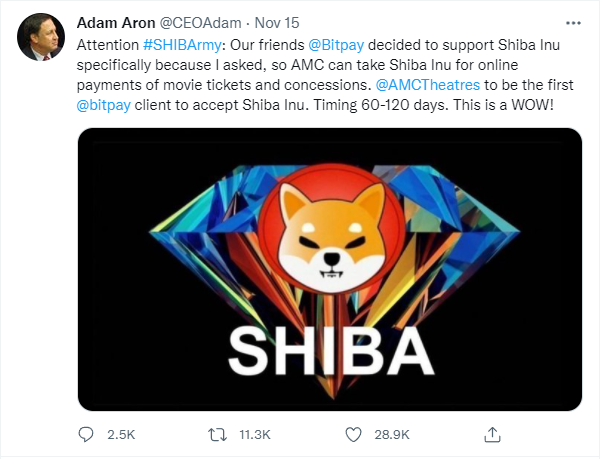 According to the announcement, a big reason for AMCs upcoming integration is the fact that BitPay decided to add support for Shiba Inu on their payment platform.
BitPay is a cryptocurrency payments service provider that has been operating since 2011. It's one of the most reliable crypto payments providers on the market and is perfect for handling high volume transactions.
While The VR Soldier already reported about the upcoming AMC and Shiba Inu integration last week, it seems that the recent tweet sent by AMC's CEO, got all the news outlets to pick up the story again.
For those of you wondering why Shiba Inu's price didn't see a major increase today, the reason is that the recent news have already surfaced last week. In fact, the saying in crypto is buy the rumor, sell the news. So it's only natural to see SHIB's price experience some bearish momentum today.
Shiba Inu Price Prediction
With the recent tweet from AMC's CEO that they will start accepting SHIBUSDT within the next 2-3 months, SHIBUSDT has seen some bearish momentum today, dropping below the $0.00005 support level.
The $0.00005 level has served as support for quite some time, and if SHIB doesn't bounce back up above that level, traders are going to start selling, causing a further price decline.
One of the major problems for SHIB right now, is the fact that Ethereum price isn't doing so hot either. Overall, crypto is going through a few rough days which can cause the markets to trade lower than usual.
On the upside, 2022 looks to be a bright year for SHIB, but for the time being I would expect SHIBUSDT to continue trading sideways, if it doesn't bounce back up above the $0.00005 level, then we can see another 10% decrease in price in the short term.
Disclosure: This is not trading or investment advice. Always do your own research before purchasing any cryptocurrency.
Follow us on twitter @nulltxnews to stay up to date with the latest cryptocurrency news!