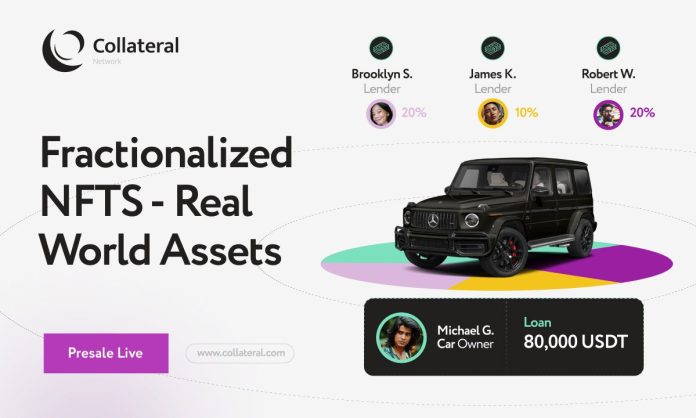 This week, cryptocurrency markets have been showing signs of life after a dull weekend. Bitcoin failed to maintain its value around the $30,000 mark, PancakeSwap (CAKE) has announced plans to reduce its inflation target, and Collateral Network (COLT) is predicted to experience a massive 3500% growth before 2024. 
Collateral Network (COLT)
As altcoins start to gain momentum in the markets, Collateral Network (COLT) — an innovative Web3 lending platform has experienced a remarkable 40% surge in value, with prospects for continued expansion.
Collateral Network has piqued the interest of many, as it is poised to revolutionize the lending space by becoming the first-ever peer-to-peer platform that enables owners of high value physical assets to bring them on-chain and use them as collateral to obtain crypto loans. 
This is achieved with a unique lending protocol that utilizes asset backed NFTs and blockchain technology.
The experience is just as unique for lenders worldwide who are looking for rates of interest on capital than that on offer in savings accounts. Anyone with a crypto wallet can help fund a loan and receive an agreed rate of interest effectively becoming their own bank.
Smart contracts on the Collateral Network are used to automate the entire process and eliminate third-party interferences. This solves many of the problems inherent in the current lending market. Transactions between parties are all on-chain meaning they are frictionless, discreet, transparent and immutable (no one can renege on the deal).
Since Collateral Network presale launch, COLT has risen from $0.01 to $0.014, providing significant returns for those who got in early. However the bull run is only getting started, with analysts predicting a 3500% growth in value as it changes the billion-dollar lending industry.
Bitcoin (BTC)
Meanwhile, Bitcoin (BTC) has struggled to maintain its value above the $30,000 mark. The world's leading cryptocurrency rallied to a peak of $31,100, but Bitcoin (BTC) has since been downward to a current price of just $27,500.
This Bitcoin (BTC) dip seemed to appear out of nowhere, and analysts are divided on the reason. Some suggest that Bitcoin (BTC) profits were taken off the table as Bitcoin (BTC) approached the strong resistance level of $32,000, while others argue that the looming recession has dampened investor sentiment in higher-risk assets like Bitcoin (BTC).
Whatever the cause, the recent dip in Bitcoin (BTC)'s value is likely to have short-term implications on the market. Investors should keep an eye out for any further dips and be prepared to adjust their strategy accordingly. The $25,000 level is the next zone of support for Bitcoin (BTC) and could provide a floor for the currency's value in the near future.
PancakeSwap (CAKE)
Finally, PancakeSwap (CAKE), one of the most popular decentralized finance (DeFi) protocols, has announced plans to reduce the PancakeSwap (CAKE) inflation target from an annualized rate of 20% to just 3-5%.
The proposed 'version 2.5' tokenomics would transition PancakeSwap (CAKE) toward a deflationary model by significantly reducing the rewards paid to PancakeSwap (CAKE) traders and stakers by more than 68%.
This change would also affect PancakeSwap (CAKE) emissions on the Syrup Pool — PancakeSwap's (CAKE) primary liquidity pool on the Binance Smart Chain — with a 94% reduction proposed.
The price of PancakeSwap (CAKE) has yet to react positively to the news, as investors are still digesting the implications of such a drastic inflation adjustment. PancakeSwap (CAKE) is trading for $3.34, representing a 28.78% loss in the last eight weeks.
Find out more about the Collateral Network presale here:
Website: https://www.collateralnetwork.io/
Presale: https://app.collateralnetwork.io/register 
Telegram: https://t.me/collateralnwk
Twitter: https://twitter.com/Collateralnwk
Disclosure: This is a sponsored press release. Please do your research before buying any cryptocurrency or investing in any projects. Read the full disclosure here.